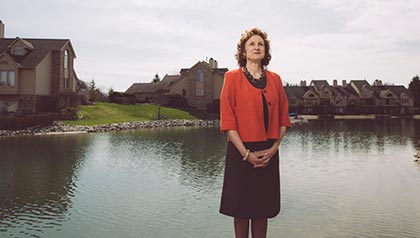 Few federal laws have generated as much confusion, misinformation and heated debate as the Affordable Care Act.
That's why Barbara Spreitzer-Berent of Northville is leading a corps of nearly a dozen AARP volunteers who are crisscrossing Michigan to demystify the health care law.
"We've found that people are hungry for objective information," said Spreitzer-Berent, 60, who retired in 2010 after careers in urban planning, gerontology and public health.
"People are frustrated with the emotions surrounding the law," she said. "They want to know how it will affect them and their family members."
Although parts of the Affordable Care Act (ACA) have been in effect for more than three years, a recent poll by the Kaiser Family Foundation found that 57 percent of Americans say they don't have enough information to understand how the law will affect them. Among the uninsured, 67 percent said they don't know enough.

Community conversations
AARP hopes to help fill that knowledge gap. So far, AARP Michigan has reached about 3,000 people in community conversations at senior centers, libraries and service clubs. Volunteers have also addressed minority groups, disability rights organizations and other community gatherings. They hope to reach an additional 2,000 people this year.
The volunteers received training on how to respond to the most common misperceptions about the law by using independent fact-checking sources such as PolitiFact.com.
Some of the most commonly asked questions are about how the ACA would affect Medicare. The law doesn't cut money from current Medicare spending, but it does slow the expected growth of Medicare outlays in order to extend the program's fiscal solvency by a decade.
Spreitzer-Berent, AARP Michigan volunteer state coordinator for health and supportive services, said many people at the informational sessions want to know how the ACA will affect health care costs and how they can buy insurance through a health insurance exchange.
Small businesses and individuals who are not covered by employer-sponsored health insurance plans will be able to enroll beginning Oct. 1 and purchase insurance that will go into effect Jan. 1.
Michigan's exchange likely will be run by the federal government after efforts by Gov. Rick Snyder (R) to get the legislature to approve a state-federal partnership exchange failed.
Details of the enrollment process will be unveiled in coming months.

Provisions begin Jan. 1
Starting next year, insurance companies will be prohibited from denying adults health coverage because of preexisting conditions, or from charging higher premiums due to gender or gender-specific medical needs.
Premium subsidies will be available for individuals and families with limited incomes. People who elect not to have health insurance coverage could face a penalty.
Andrew Farmer, AARP Michigan associate state director for health and supportive services, developed the outreach idea during the health care reform debate in 2009. It is now being used by AARP in most states.
"I was floored by the tenor of what I was seeing," Farmer said. "How is this so upsetting? I thought health policy is boring and only people like me are interested in it."
Farmer hit the road with his presentation on health care reform and found people were not just interested but passionate about the topic.
More volunteers are welcome. Anyone wanting to volunteer to lead community conversations can contact the AARP Michigan office at 866-227-7448 toll-free or email miaarp@aarp.org.
To download ACA fact sheets, go to aarp.org/hcr. To host an ACA information session, email afarmer@aarp.org or call 517-267-8921.
—By Rick Haglund

Rick Haglund is a writer living in Birmingham, Mich.