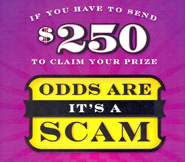 In honor of National Consumer Protection Week, AARP has teamed up with the U.S. Postal Service and the Postal Inspection Service to combat foreign lottery fraud, one of most malicious scams targeting older Americans today. One scam in particular, the Jamaican Lottery, could be milking consumers out of as much as $1 billion annually, and is noted for its aggressive threats to cause bodily harm to victims.

But how do you know if you're being had? Easy. You know the refrain: if it sounds too good to be true…

Four hallmarks of a scam:

Lots of rich promises, usually involving easy ways to win, make, or borrow money.
Give money to make money? If you are asked to send money in order to enter a contest, win a sweepstakes, or claim a prize – you are being scammed.
TMI, or too much information. Be wary when you get requests for your bank account or credit card number when you are not making a purchase with that account.
Bullying is not just for the schoolyard. Watch out for scare tactics or pressure to act immediately.
Scams are also easy to spot for what they WON'T do. Often, scammers will:

Refuse to stop calling after you've asked not to be called again,
Avoid sending you written information before you agree to buy or donate,
Withhold the details of the offer before you make any payment.
Local resources:

In Massachusetts, the Attorney General's Office is hosting informational workshops at local community centers and senior centers throughout the commonwealth. Topics include finance, fraud, and mortgage and foreclosure issues.

AARP resources:

Six Ways to Avoid Telemarking Fraud

Ten Most Common Consumer Complaints

How well do you think you know scams? Take AARP's quiz to find out.

Other free resources:

The Federal Trade Commission offers ten tips to avoid fraud

Stay up-to-date on the latest scams.