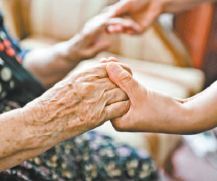 -- By Ian McDonald --


Jean, a former real estate planner from Old Saybrook, CT, was looking forward to retirement with thoughts of travel and more free time to do the things she loved. Her life changed dramatically, but not as she expected, three years ago when her mother suffered a massive heart attack. Jean was told by hospital staff to "say goodbye," but her mother rallied. After being discharged home, Mom was living independently again. However, the ordeal had left her considerably weaker and more reliant on Jean than ever before.

Jean is not alone. She is one of more than 700,000 family caregivers in the state of Connecticut doing all they can to keep their loved ones safe and at home. The unpaid care they provide – everything from cooking, cleaning, transportation to doctor appointments and grocery shopping, to more medically oriented tasks, such as wound care and medication management – is valued at $5.8 billion annually. These family caregivers are the backbone of Connecticut's long-term care system. Unfortunately, caregivers like Jean are not always recognized in hospital settings for the indelible role they play in their loved one's care. AARP is hoping to change that by passing Senate Bill 290, known as the Caregiver Advise Report Enable (CARE) Act this legislative session.

The CARE Act has received bi-partisan support in the state legislature (UPDATE: the bill passed unanimously in the State Senate on May 7, 2015 and in the House on May 20! The bill now goes to the Governor for signature.). The bill features three main tenets, aimed at recognizing caregivers for the unsung heroes they are, and granting them the tools and resources needed so they can continue to care for their loved ones. The CARE Act would:

Allow patients to designate the name of a family caregiver in their record upon admission into the hospital;
Provide adequate notification to family caregivers before their loved one is discharged; and
Give family caregivers the opportunity to receive plain language instruction in the after-care tasks included in their loved ones discharge plan.


"I have worked with patients who take twenty to thirty medications per day," says Joanne Davis, a retired Connecticut nurse and family caregiver for her husband. "Often times, medications are changed when a patient is discharged from a hospital or short-term rehab facility. Even though the patient receives a list of discharge medications, the day-to-day management can be very confusing. Without proper guidance, there is an increased likelihood of unintentional non-compliance."

Preventable mistakes due to a caregiver's inadequate preparation can often lead to costly re-hospitalizations. "For me, it is very simple: if we don't give caregivers the tools they need to succeed, we are setting them up for failure," says Richard Bright, an AARP volunteer leader in Connecticut who spent several months talking to caregivers across the state. "We are adding undo pressure to an already stressful situation. When it comes to performing complex, medically-oriented tasks for their loved ones, caregivers are often left to their own devices; presented with a flurry of information and then shown the door."

To be sure, providing care to a loved one while also trying to juggle a job (most family caregivers also work, at least part-time), social and family obligations, is challenging. But most family caregivers say they wouldn't have it any other way. "At the end of the day, the primary goal is making sure my mother is safe," says Jean. The CARE Act offers up a commonsense, no cost solution that would make things a little easier for her and the thousands of other family caregivers in Connecticut.

Share your caregiving story at www.iheartcaregivers.org. To learn more about what AARP is doing to support family caregivers, visit www.aarp.org/SupportCaregivers

Ian McDonald is completing his Master's in Social Work at the University of Connecticut. He served as an intern in the AARP Connecticut office during 2014-15.