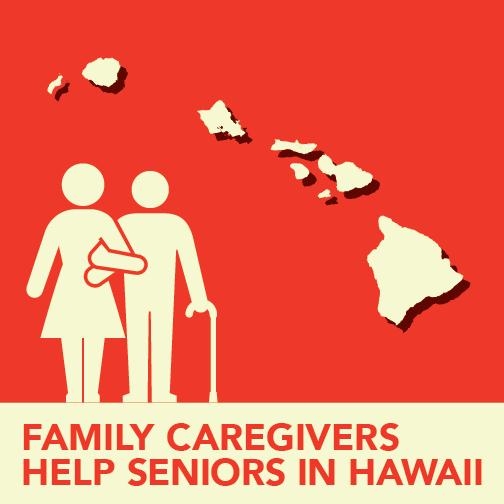 Over half (53 percent) of Hawaii residents age 45 and older say they are providing or have provided unpaid care for an adult loved one in their early eighties who is frail or who has a disability. This, according to an AARP survey of Hawaii registered voters on their experiences with family caregiving and their opinions of proposals to support family caregivers.

According to the survey, most Hawaii caregivers are helping or have helped their loved ones with shopping (86 percent), transportation (85 percent), meal preparation (83 percent), household chores (82 percent), as well as more complex care like managing medications (72 percent) and other nursing and medical tasks (70 percent). The majority (73 percent) of these caregivers says it is likely that they will need to provide this type of care in the future.

Most survey respondents said that being cared for at home with caregiver assistance is the ideal situation when the basic tasks of life – such as bathing, dressing and toileting – become more difficult due to aging or illness. As such, among the top community services that Hawaii residents believe are extremely or very important to have to help people remain in their homes as they age are hospice (85 percent), visiting nurses (81 percent), well-trained certified home health care providers (81 percent), transportation services (81 percent), and breaks for family caregivers (77 percent).

The average age of Hawaii caregivers is 62 years old and the majority is female (59 percent), married (65 percent), has a two-year college degree or higher (66 percent), working either full of part time (53 percent), and has a household income of less than $100,000 (58 percent). Many of these caregivers have had to use their own money to help provide care (62 percent) or make changes to their home for the loved one in their care (43 percent). Over a quarter (27 percent) says they have felt financially strained because of their caregiving responsibilities.

"As our population ages, it's important for state policymakers to understand the critical role that family caregivers play in Hawaii's home health care system," said AARP Hawaii State Director Barbara Kim Stanton. "Being a family caregiver is a life-changing experience, and many residents juggle their responsibilities at home while working full or part time and raising families of their own. Caregivers desperately need services, training and other resources that support their ability to help older loved ones stay in their homes and communities for as long as possible."

Support for Family Caregivers in the Workplace and at Home
About half (49 percent) of Hawaii caregivers say they are working or have worked full time while providing care to an adult loved one. More than seven in ten (72 percent) working caregivers have had to go into work early or late, or take time off to care for a loved one. Three in four (75 percent) have had to adjust their work schedules once a month or more to provide care. Over half (51 percent) of working caregivers report feeling stressed out in trying to balance their job and family.

Survey respondents strongly support proposals to help family caregivers care for their loved ones and continue to work. Specifically, they support ensuring employers cannot fire employees for taking time off for caregiving purposes; requiring employers to provide a limited amount of unpaid leave to employees who have to take time off for caregiving; and requiring employers to provide some paid leave to all employees that can be used for caregiving purposes.

Many Hawaii caregivers report feeling emotionally and financially stressed as well as not being able to take care of their needs and the needs of their other family members due to their caregiving responsibilities. Survey respondents overwhelmingly support a proposal to provide short-term help from a home health aide so caregivers can take a break from their care duties. Moreover, nearly all (95 percent) say having community services that would allow family caregivers to take a break from their caregiving duties is important.

Support for Family Caregivers When Loved Ones are Hospitalized
Hawaii registered voters age 45+ strongly support proposals to help family caregivers navigate the health care system on behalf of their loved ones. Specifically, respondents support requiring hospitals and health facilities to explain and demonstrate medical and nursing tasks that family caregivers will need to perform after the patient returns home (95 percent); keep a family caregiver informed of major decisions, like transferring or discharging the patient (93 percent); and record the name of a patient's family caregiver in the medical record upon admission (86 percent).

AARP commissioned the telephone survey of 1,000 Hawaii registered voters age 45 and older, who were interviewed between August 28 and September 9, 2014. The data has been weighted by age, gender and geographic area of residence to reflect the Hawaii population of registered voters age 45+. The survey has a margin of error of ± 3.2 percent.