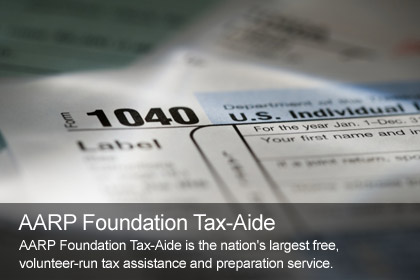 This year again, the AARP Foundation Tax-Aide Program corps of volunteers offers tax preparation and filing assistance. In it's 48 th year, Tax-Aide is the nation's largest free tax assistance and preparation service that gives special attention to the older population – and you don't have to be an AARP member o a retiree to use the service.

Last year, AARP Foundation Tax-Aide's 36,000 volunteers at nearly 6,000 sites provided over 2.5 million people with free tax help. In Missouri, more than 650 Tax-Aide volunteers across the state helped over 60,000 taxpayers.

"In addition to saving taxpayers the cost of having returns prepared, we assisted them in receiving more than $23 million in refunds for 2012," said Lynn Boulware, AARP Missouri Tax-Aide state coordinator "Fifteen percent of those qualified for the Earned Income Tax Credit, a Federal credit for low to moderate working individuals and families."

Craig Eichelman, AARP Missouri state director said, "Tax-Aide volunteers enthusiastically provide this service in their communities. This free, quality and confidential program also provides year-round service, and in some instances, volunteers can make visits in nursing homes and other locations if taxpayers are physically unable to make a site visit." The service is offered at approximately 148 sites in Missouri, including senior centers, libraries, and other convenient locations.

For more information or to locate an AARP Foundation Tax-Aide site, visit www.aarp,org/findtaxhelp, or call 1.888.AARPNOW ( 1.888.227.7669 ). AARP Foundation Tax-Aide is a program offered in cooperation with the IRS.