Dozens of baseball fans are sporting custom AARP Houston Astros jerseys after attending AARP Day at Minute Maid Park on Tuesday, September 27. Anyone who registered received a ticket to the game. AARP volunteers and staff distributed the jerseys, and other AARP branded swag during the Houston Astros and Arizona Diamondbacks matchup.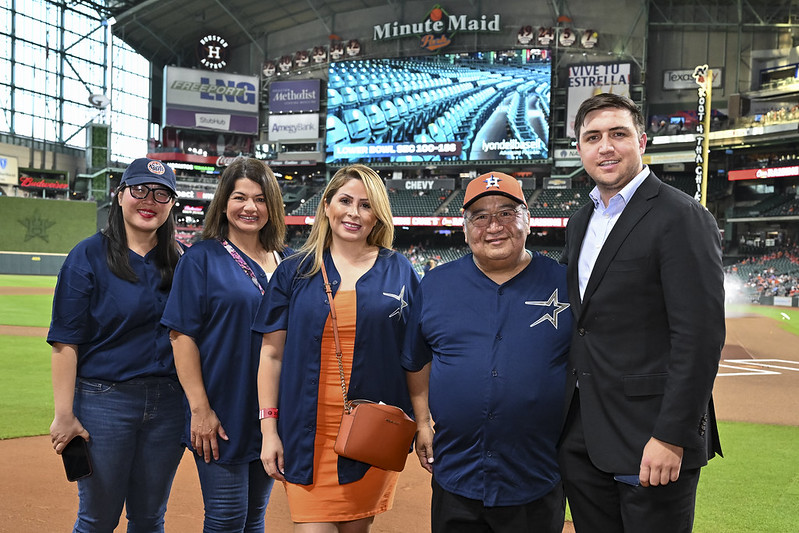 CLICK HERE to see more AARP Day at the Astros game images
AARP Houston was a Series Presenting Partner for the Houston Astros game on September 27 and the following day, September 28. Bringing our community closer through a shared spectacle of America's favorite pastime was behind this Houston event. More than 200 members, volunteers, and thousands of fans were also present to see AARP Texas state president John Vasquez throw out the first pitch.

AARP Texas State President John Vasquez Throws Out First Pitch

When asked how it felt to throw the first pitch, Vasquez said, "It was a true honor because growing up in Texas, in San Antonio, I would listen to Astros games on the radio station all the time. It was wonderful to remember all those beautiful memories I had listening to the radio and being there. I've been to the stadium before. But to be part of it and to be able to throw that first pitch out was an excellent recollection for me."

Vasquez said this was a great collaboration, since both AARP Houston and The Astros help local communities. He said the Astros help build Softball and Baseball fields for children who may not usually have access to them to get more people to be active outside, while AARP Texas helps connect people to information about the upcoming elections, healthy lifestyle tips, local advocacy for communities, and much more.

When asked what Latinx means in today's world, Vasquez said, "so for me to see myself and even my grandchildren being represented with people like them, it's just such a wonderful thing to feel included in part of baseball, representation matters to everyone."

Rosalinda Martinez, AARP Texas Director of Community Strategy, spoke on the connection that the Houston Astros have with AARP.

"Collaborations with sports organizations like the Houston Astros allow us to have an opportunity to reach non-traditional audiences that probably would not know about AARP," said Martinez. "It allows us to use their trusted brand ... People know the Astros. People love the Astros. They're famous not just in Houston but in Texas, and I would even say outside of Texas. And so, it allows AARP Texas to amplify its voice."

Martinez said collaborations like this one are essential for AARP because it allows for a continued relationship with the Houston Astros, and it is vital to reach Latinx people and younger generations. The idea is to make non-traditional audiences aware of AARP and what it can offer as support.

During the pandemic, the connection between the Astros and AARP Texas went virtual, but the focus was still on issues that make an impact. Issues like promoting voting during the vital presidential election, the U.S. Census, and the importance of getting vaccinated.

"This year, for the very first time, we're in person. We're so happy to finally have the presence in person, to activate a table, and to promote voter engagement this year," said Martinez. "It is a unique way for us to insert our campaigns, our messaging that's important to Houston and our community, while at the same time having lots of fun with the Houston Astros."