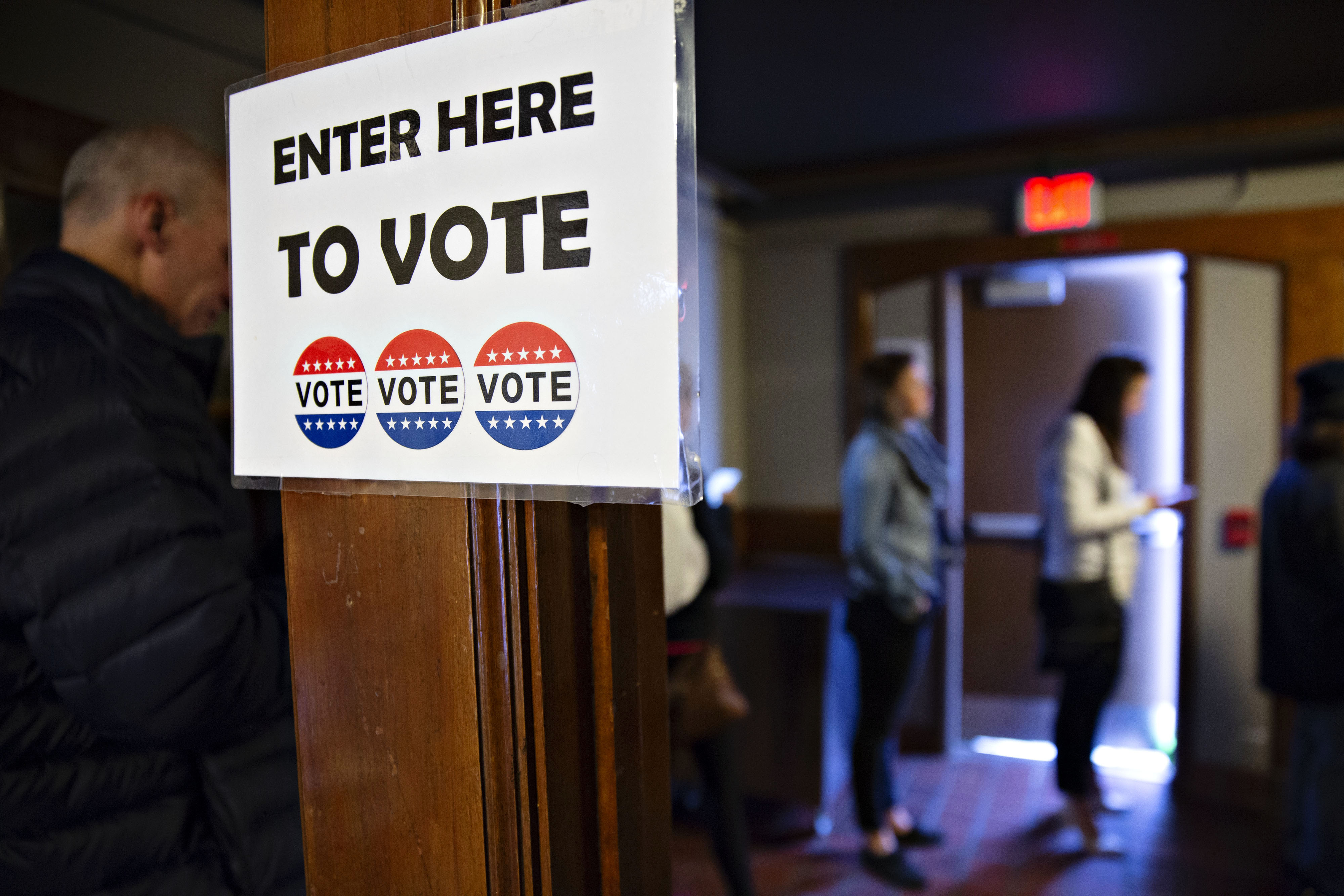 Bexar County voters will decide several closely watched races in November, including the county judge race featuring Republican Trish DeBerry and Democrat Peter Sakai. The candidates are vying to succeed Nelson Wolff, who is not seeking reelection.

AARP Texas spoke with the candidates to hear where they stand on key issues for 50-plus voters. Here's what they had to say:


How would your administration increase access to healthy food options in Bexar County communities, especially for citizens in underserved areas?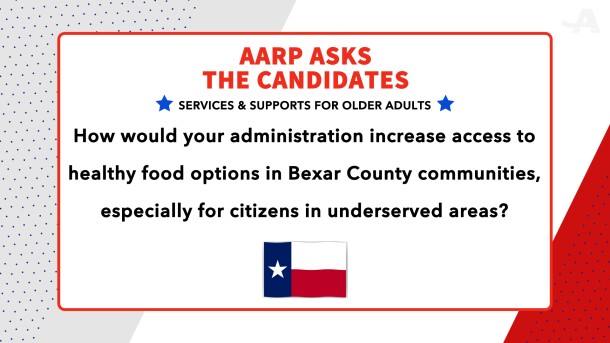 Services and Support
DeBerry: The mantra for my campaign is bold, brave and better for Bexar, meaning I want to bring a bold vision and big ideas to the table, especially regarding health care. We have the same poverty right here in Bexar County that we've had since the 1980s. In fact, we're shooting this in the heart of the poor zip code, 78207, which is an underserved community that does not have access, healthy access to affordable health care and nutrition. This is what I would call a food desert. So we've got to make sure that as a county, we are making sure that that is a priority, and how do we do that? If we take a look at a merger between the metro health department and university health system of the county, I think personally we can really begin to scale impact when it comes to a lack of healthy food options, the food deserts that we have here and really accessibility and affordability to health care overall. Understand that I will make that a priority in my administration, and I look forward to making it happen.

Sakai: As your next county judge, I'm committed to create this new public health entity that the current commissioner's court has committed to with ARPA money. What this public health entity is going to focus in under my administration is nutrition and wellness, focusing on the diseases such as obesity and diabetes. It's about education. It's about making sure that we have nutrition and wellness in our communities and our neighborhoods. I want to partner up with Commissioner Tommy Calvert on the urban farms and make sure that we are producing those fresh vegetables and fruits that we can distribute. I want to partner up in a public-private partnership with the food bank and make sure that we deal with the food insecurity issues in our neighborhoods. That's my commitment to you as your next county judge.


How do you plan to involve citizens, especially older adults, in local decision-making?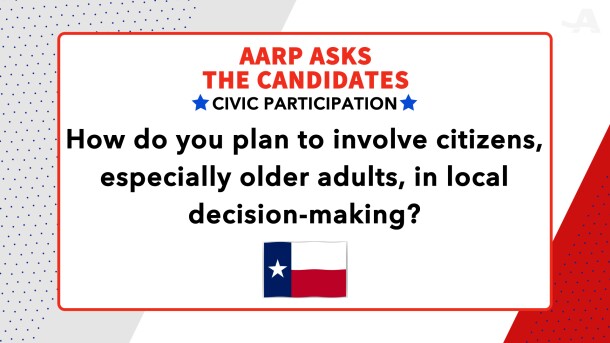 Civic Participation
Sakai: We need to maximize the tools. Obviously, I'm committed to open and transparent government, and so it's gonna be incumbent, it is the responsibility of county government, especially commissioners court, to go out and make sure that we are educating and advocating for our seniors, especially in those difficult issues that they're facing, grandparents raising grandchildren. The other part and strategy is to partner up with a nonprofit such as AARP. You are the strongest and most powerful voice for the seniors. You advocate and you empower them with education. And that's the key. We need to get information. The default position shouldn't be that the seniors don't know what their rights are. We gotta continue to make sure that our seniors understand their rights, especially with the difficult issues of aging in place, making sure that they can keep their legacy home ownership to pass on to their heirs.

DeBerry: As a marketer myself, I know how important it is to engage the community, and one place that I think what we've fallen short is really engaging the senior community. The beauty associated with seniors is they typically have a little more time on their hands, because many of them are retirees. I don't think we're proactively reaching out in an engagement fashion to make sure that we're soliciting their feedback and really bringing their ideas to the table. You know, we can do it through AARP. We can do it through nutrition sites. There's a plethora of opportunity here in Bexar County where we can target seniors and we can get their feedback regarding housing opportunities, regarding nutrition and what do they wanna see regarding entertainment. But it's a missing if we don't do that. And not only do we have to listen, but we gotta take that feedback and then we have to actually take action. That's where the rubber meets the road, and that's what I will bring to the table as your next Bexar County judge.


Given rapidly increasing housing costs over the past decade, what policies will you support to protect the large and growing population of older adults and their ability to afford safe, accessible housing?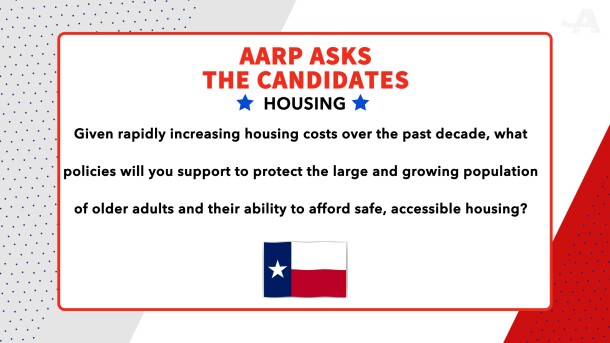 Housing
DeBerry: First and foremost, the senior population here in San Antonio and Bexar County is critically important. In fact, it grows bigger every single day. When we look at keeping seniors in their homes and making things more affordable, nobody understands that better than my 96-year-old father, who is scammed every single day on the internet or in the mail regarding somebody who's trying to take advantage of him or get him to appropriate money to help him out with his home. That's not honest policy. We gotta dig in, and we have to do better. And that means, number one, from a rehab standpoint, it's a very successful program here in San Antonio, Bexar County, but we don't have enough money in it. We need to make sure we're appropriating more monies for rehab so that the seniors, the same seniors that have built this community, can stay in their homes. Number two, we have to make sure that we're working with a development community to make sure that we have affordable housing stock. The average home in San Antonio is $415,000. That is not affordable for a senior. Working closely and incentivizing developers regarding affordable homes is where we need to be.

Sakai: As your next county judge, I think it's important to recognize the tax burden that has been put upon our seniors, especially veterans, disabled. We're gonna have to work on the rising property taxes. We're gonna have to control property taxes, we're gonna have to control the property appraisals, and as your next county judge, I'm committed to work with the seniors. We got to make sure that we maximize the tools that the property owners, especially seniors, understand the tax benefits and the tax advantages of homestead exemptions that there are tax abatements, there are ways in order that seniors can age in place, and I think AARP has done a great job in advocacy and education in making sure that our seniors are well aware of their rights, and that's the biggest issue I believe, that are confronting the seniors today, especially here in Bexar County.


Also of Interest: