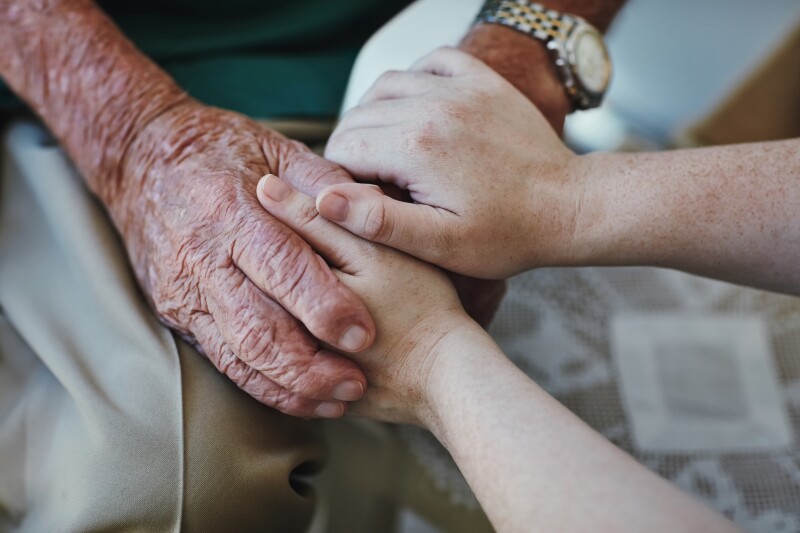 This past summer, while interning with AARP Texas, I stayed in Austin with my aunt, uncle and grandfather, Da.
Living with them was fantastic. My commute was much shorter, and I could hang around Austin with friends. But these aspects paled in comparison to the joy I felt after conversations with my grandpa, who has dementia.
Da has been living with my aunt and uncle for a few years. He is 85 and partially blind. He lost his hearing in one ear, and has neuropathy in his lower legs, but he also has a head full of the thickest, whitest hair you could imagine.
Talking is hard for Da. He has a limited vocabulary and can't remember names or proper nouns. But he loves to tell stories: stories about when he was growing up, his children and grandchildren, and Texas Longhorn football.
When I first moved in, I wasn't sure what to expect. I had never been around someone affected by dementia. The only exposure I had was through television and movies, so I was left with these stereotypes. As I walked into his room downstairs the first time, I didn't know whether he would recognize me or if he would understand what I would say to him.
I went into the bedroom with reserved pessimism, but my mind changed after spending only a few minutes with Da. His eyes lit up when he saw me. He laughed, and I laughed, too. Even though things were different, it was familiar, comfortable. I knew he was Da, and he knew I was me.
Most days after work, I would spend time with him as he watched television in bed. Some days he was talkative and could remember what he had done earlier in the day and the major details in his stories. Others, he struggled to put together a sentence, often trying to tell me the same stories from yesterday.
Even on the days where he couldn't communicate the thoughts running through his mind, it was still nice to sit there. When he became frustrated with himself for not being able to talk, when he couldn't express what was on his mind, I would reassure him that everything was okay. We focused on things that made him laugh instead: cats, squirrels running outside near the sliding door in his room, a quirky commercial.
Da's dementia progressed this summer. He hallucinated at night, sometimes trying to leave the house. He organized old documents for hours on end. There wasn't a clear connection to his organization, but it made sense to him, at least for a moment.
Though my grandfather may not appear to be who he once was, he has moments of incredible clarity. There are moments that feel like I'm talking to the Da I spent so much time with growing up, the Da that cracked jokes at any opportunity.
Even though these moments are rare, I feel so lucky to experience who he was with me again. I love hearing him laugh again, seeing his face light up, cracking a smile because he's aware of the world around him. Sharing those moments with him is special to me.
People have told me dementia changes people past the point of recognition. That is not the case for Da. I am not talking to the shell of my grandfather. He is the same person he once was, just not as often. He cannot communicate or remember as well as before, but that does not mean that he is gone. He is still himself, with the same laugh, the same love for animals, and yes, the same knack for joking around.
Most importantly, I knew it meant something to my grandfather when I walked into his room after work. His eyes would light up and he would laugh in excitement. I knew that my presence made Da happy, even if he didn't know what to say or how to say it.
My grandfather still appreciates the present. He still sticks his head out to see birds visiting the bird feeder outside his window. He still laughs at commercials. He still asks me how I am doing, and he cares how I answer.
"Look at that," he would say, pointing at something on TV or showing me pictures he taped to a folder. He was happy to show me anything that meant something to him. He cared about things as much as he used to, and sharing these things showed he cared for me, too.
When I started working with AARP, I knew little about dementia and Alzheimer's disease, and even less about caregivers' struggles. I feel incredibly lucky to have had the chance to spend time with my grandfather, but also to be exposed to AARP's caregiving resources, and to be part of an organization that has helped so many.
With compassion, understanding and a lot of patience, I felt as close to my grandfather as I ever had. People affected by dementia are the same as they ever were — just less often.