The COVID-19 pandemic changed the world. It changed the way people worked, went to school, and lived their lives. It affected individuals from marginalized communities and left them unemployed, causing economic hardships. The fear of the unknown is intimidating. Trust me, I know.

Before applying to my AARP internship, I was unemployed. Jobs and internships were scarce for undergraduate students like me, who at the time were forced to live out their college experience staring at a computer screen. I had two major responsibilities. It was to gain experience as a storyteller and pay for my education at the University of Houston.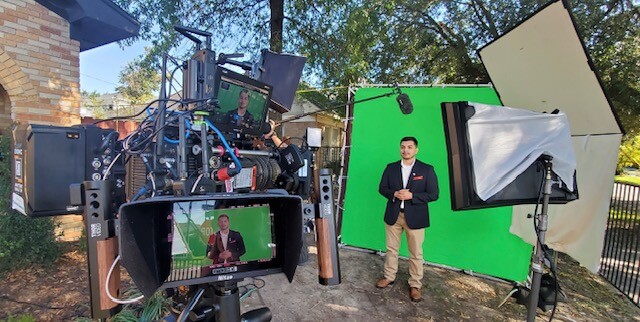 I was always looking for ways to advance my career, but was often faced with denied opportunities. That is, until I came across AARP.

Like many, my first thought was that AARP offered insurance. That wasn't the case. I did my research and learned that AARP empowers adults 50 and older to choose how they want to live. It was an organization that I wanted to play a role in and liked.

AARP gave me a chance, and my start was exciting. I met the AARP Texas team, who work endlessly on important issues like social security, retirement, and caregiving. Instantly, my mentor Juanita Jimenez-Soto pushed me to become a better storyteller. She made sure my writing was on point for every blog and video feature I created. She provided advice on how to structure my pieces better so that they would resonate with my audience. Her guidance helped me sharpen my creativity during the storytelling process.

I was able to adapt to moving parts during the pandemic. Despite the constant change, the mission stayed the same– to become a better storyteller and enhance the quality of life for everyone as they age.

Celebrating Monthly Observances
I created video vignettes highlighting several people from different walks of life across Texas. We celebrated individuals and their contributions for Black History Month, Hispanic Heritage Month, Women's History Month, and Asian American Pacific Islander Month. While working on the vignettes, I was able to build my network outside of Houston. I met athletes, community members, artists, and volunteers, to name a few.

Caregiving
Throughout my internship, I've learned the importance of caregiving. This year, my grandpa and his siblings became caregivers for their mother, who was diagnosed with dementia. Her condition gave me a new perspective on family caregiving. My grandpa and his siblings spend their time and efforts focused on the daily life of my great-grandma. They are her eyes and ears. They communicate with doctors to ensure everything is on track and help with basic needs like eating, grooming, and cleaning. Ultimately, caregivers are the backbone of long-term care.

My time as an AARP intern has exceeded my expectations. AARP has provided me with amazing opportunities to create content. From disaster awareness and home safety to genealogy and crafting, I've widened my knowledge on different topics that I've never covered before. I've also been able to adapt to change, whether the transition from virtual to in-person or the 45-minute drive from my house to the Houston office. The internship has helped me grow as a storyteller and as a human being. I plan on applying the knowledge that I've learned to the next chapter in my career.