With COVID-19 vaccination rates slowing and the holidays approaching, state health officials are encouraging older Texans and others to get vaccinated now.

"We know that you're looking forward to seeing your friends and family, and the key to enjoying the holidays this year is vaccination for everyone possible," said John Hellerstedt, commissioner of the Texas Department of State Health Services.

Hellerstedt was among leading experts from the Texas Department of State Health Services who discussed COVID-19 vaccines and booster distribution plans during an AARP Texas-led telephone town hall on Nov. 2.

Hellerstedt said there have been over 45.6 million confirmed cases of COVID-19 in the United States since the start of the pandemic, with Texas reaching over 3.5 million cases. Texas is approaching 70,000 COVID-19 fatalities.

"We need your help to encourage your loved ones to get vaccinated and get their booster doses as well," he implored.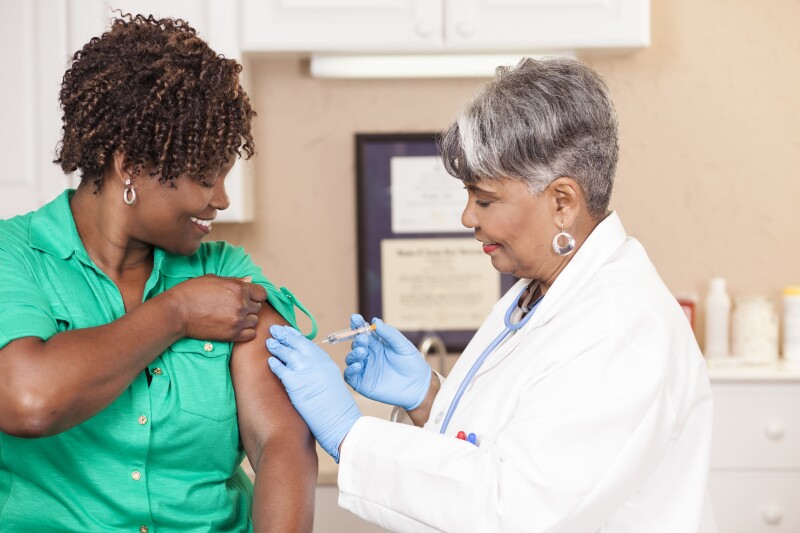 Vaccine rates in Texas are looking good, with 33.2 million vaccine doses being reported to have been administered to Texans, yet the number of people getting their vaccines has slowed.

Chief State Epidemiologist Jennifer Shuford said COVID-19 vaccines are 90 percent effective at preventing hospitalization and deaths, yet it's known that some people –- a very small percentage -- do not respond well to the vaccines if they have other health conditions.

"Most people are going to have a fantastic response to these vaccines. They're very strong and very safe vaccines that can protect against hospitalization and death," Shuford said.

It's recommended that individuals who have COVID-19 wait to get a vaccine until their acute illness is over, usually after 10 days of first getting symptoms, Shuford said.

The Delta Variant is the predominant strain of COVID-19 seen in Texas currently, with many cases across the state and the U.S. now dealing with it. The Delta Plus Variant, which is rare in Texas currently, is a mutation of the Delta Variant that is more contagious.

"We are watching very closely for those Delta Plus Variants here in Texas and across the United States," Shuford said. "We'll make sure to get that information out when we start to see those [cases] increase."

Individuals aged 65 and older are qualified to receive a booster shot six months after receiving their second dose of a vaccine, Senior Scientific Advisor Saroj Rai said.
"Those individuals that have underlying medical conditions and are 65 and older…I really highly encourage to get your booster dose as soon as possible," Rai said.

People do not have to match their booster to the messenger vaccine they've received, whether that be the Moderna, Pfizer, or Johnson & Johnson vaccine.

"You can mix and match those for your booster dose...you just need to make sure that the timing is correct," Rai said.

Vaccines and boosters are free for those eligible, and there is no worry of a shortage in Texas.

"We have plenty of vaccines out there all across the state in a variety of locations," said Associate Commissioner of Laboratory and Infectious Disease Services Imelda Garcia.

Individuals wanting to find a location near them to get either the vaccine or booster shot can visit www.vaccines.gov to find that information, Garcia said.

Those that are fully vaccinated and have had their booster are still encouraged to practice personal infection control behaviors like continuing to wear face coverings, maintain social distancing, and having good hygiene, Hellerstedt said.

"I think it's a personal choice and if your personal choice is to absolutely maximize your protection from COVID-19, then I think all of those behaviors like masking make complete sense," Hellerstedt said.

For updates on COVID-19 vaccines and boosters in Texas, visit www.dshs.texas.gov. And for more information, visit aarp.org/vaccinefacts.