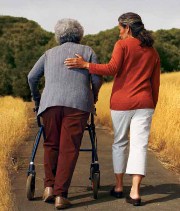 Radio host and AARP volunteer Peter Rosenberger has this to say about caregivers: "If you live long enough, you'll need one. If you love someone, you'll be one."

Caring for a frail loved one takes a lot of energy and compassion, and through a radio show sponsored by AARP Tennessee, Rosenberger, 51, offers a voice and a listening ear to family caregivers. He has been his wife's caregiver for 30 years, helping her through 78 operations, the amputation of both legs and $9 million in medical bills.

Caregiving affects more than one-fifth of the U.S. population. In Tennessee, more than 1.1 million family caregivers provide more than a billion hours of care each year, according to the AARP Public Policy Institute.

Tune in to the show Sundays at 3 p.m. at WLAC 1510 AM in Nashville or go to wlac.com and click on Listen Live.