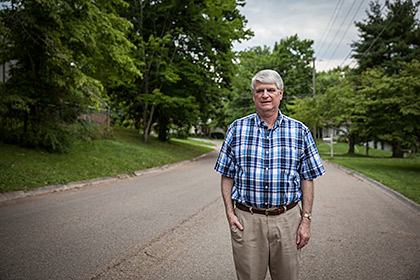 By Sheila Burke • Andrew LeVan, 62, had health insurance until he was laid off in 2009. The only work the Knoxville resident has been able to find since then is a part-time job at a grocery store, which does not provide insurance.
LeVan, who had coronary bypass surgery in 2006, said he can't afford to get sick or get an annual test to make sure there are no blockages in his heart.
"God forbid I got cancer or some other condition that requires extensive medical care. What am I going to do?" LeVan said.
Beginning Oct. 1, LeVan and other uninsured Tennessee residents will be able to choose among several plans offered through the insurance exchange, also called the marketplace, created under the Affordable Care Act (ACA).
He's looking forward to that but said he doesn't know how to enroll or how much it's going to cost him.
To help people like LeVan figure out the process, AARP Tennessee is training volunteers to make sure uninsured residents know about the exchange and how to enroll.
Volunteers attend health fairs and other events to get the word out. AARP will host a tele-town hall Sept. 23 and will email residents with details of the exchange.
"We're hopeful at AARP that we can get the information to people so that when the health insurance marketplace becomes available, they will know that this is available to them, and they will be able to access it," said Shelley Courington, AARP Tennessee advocacy director.
In 2011, nearly 196,000 Tennessee residents aged 50 to 64 did not have health insurance, according to the AARP Public Policy Institute.
Basic health care covered
The plans offered through the exchange must cover basic health care such as doctor visits, hospital stays and prescription drugs.
They can't charge a copayment for preventive care such as mammograms, Pap smears and blood pressure or cancer screenings.
The ACA prohibits insurers from denying coverage or charging higher premiums based on preexisting medical conditions, a person's gender or occupation. It also eliminates most annual and lifetime coverage caps. Adult children are able to stay on their parents' insurance until age 26.
Older people who buy private insurance before they are eligible for Medicare at 65 can't be charged more than three times the rate of younger customers' premiums.
For those covered by Medicare, the ACA gradually closes the "doughnut hole" in Medicare Part D prescription drug coverage.
Five health insurance companies have submitted coverage proposals for Tennessee, where the federal government is operating the exchange. The plans and prices will be determined this month. Some insurers offer plans statewide; others offer plans only regionally.
Ways to apply
"The easiest way to apply will be online," said Jennifer Tolbert, director of state health reform at the Kaiser Family Foundation, a nonprofit that studies health care policy. "But consumers will also be able to apply by mail and phone."
Consumers will be able to call 800-318-2596, a 24-hour hotline, for more information. They also will be able to meet with a federally trained "navigator," who will explain how to apply for coverage.
Information will be available at the HealthCare.gov website by Oct. 1. The Spanish-language website is CuidadoDeSalud.gov.
People who enroll by Dec. 15 will have coverage on Jan. 1. People who enroll later will receive coverage about a month after they sign up.
Low- and middle-income people may qualify for a subsidy that can be used to lower the monthly premium or can be taken as a tax credit on their federal income tax returns.
For instance, Kaiser figures show that those who qualify for the subsidy or tax credit range from single people with no dependents who earn up to about $46,000 to a family of four with an income of up to about $94,000.
The ACA requires nearly all Americans to have health insurance beginning next year or pay a penalty of at least $95 on their federal tax return.
For more information about the ACA, go to healthlawanswers.org.
Sheila Burke is a writer living in Nashville