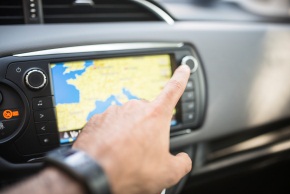 By Julie E. Lee

When shopping for a new vehicle, there's a lot more to consider than four-wheel drive and heated seats. With the variety of new tech offerings available in today's vehicles, now is a good time to reference a recent study conducted by AARP Driver Safety's partners at MIT Age Lab and The Hartford. The study determined the most helpful vehicle technologies for drivers 50 and older, and how well these technologies meet the unique needs, concerns and priorities of experienced drivers.

So the next time you upgrade your vehicle, refer to this list of top vehicle technologies:



Smart Headlights: Finding a safe balance between the intensity of your headlights and the darkness of the night is a difficult task. However, smart headlights can now help you adjust the range and intensity of light based on the distance of traffic. This reduces glare and improves night vision.

Emergency response systems: While many drivers expect to use their cell phones to contact emergency personnel, it might not be the best option in every situation. Thankfully many vehicles are now equipped with emergency response systems that offer quick assistance to drivers in the case of a medical emergency or collision, often allowing emergency personnel to get to the scene more quickly. Some systems even turn on interior lights, unlock doors and shut off fuel when airbags deploy.

Reverse monitoring systems: These systems – often composed of rearview cameras and sound alerts – help a driver judge distances and back up safely. These tools are especially helpful for drivers with reduced flexibility who may have trouble turning their bodies around to see out of rearview mirrors properly. Additional research from The Hartford and MIT Age Lab reveals that exercises like chest and shoulder expansions can help drivers maintain their flexibility. Although drivers shouldn't solely depend on this reverse monitoring system, along with rearview mirror checks it can help the driver better assess the environment around his/her vehicle.

Blind spot warning systems: Blind spots create challenges for all drivers, especially when trying to change lanes on major highways or park in a crowded lot. These systems help you consistently monitor your blind spots without taking your eyes off the road. However, you should also take steps to limit your vehicle's blind spots. Make sure your rearview mirror is properly adjusted so that you can see your entire rear window. You will know your left and right mirrors are properly adjusted when you can barely see the left and right back of your vehicle as you look through the mirrors respectively.

Drowsy driving alerts: Did you know drowsy driving can be just as dangerous as driving under the influence of alcohol? According to a poll by the National Sleep Foundation, nearly 60% of adult drivers admit to having fallen asleep behind the wheel. Moreover, the National Highway Traffic Safety Association reports that drowsy driving is responsible for over 100,000 crashes each year. For this reason, drowsy driver alerts are premiering in new vehicles to prevent drivers from falling asleep at the wheel. This new technology monitors drivers' inattentiveness and alerts them when they might be dozing off.
For the full list of top technologies and to watch demonstrations of how they work, visit  AARP's Driving Resource Center.

We must remember the driver is still the most critical part of the driving experience. While new systems are intended to help reduce human error and make the driving experience easier and more enjoyable, it's critical that, as drivers, we refresh our knowledge and skills. An AARP Smart Driver™ course can help you stay current with changes to technology and the driving experience. To find a course in your community, visit www.aarp.org/safedriving or call 1-877-846-3299.

# # #

Julie E. Lee is Vice President and National Director of AARP Driver Safety in the Education and Outreach group at AARP. She directs the largest driver improvement course in America designed for drivers age 50 and older. She can be reached at julielee@aarp.org .