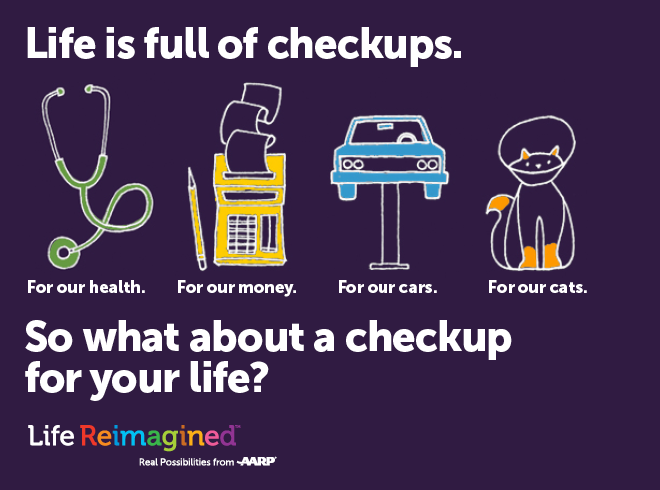 Life Reimagined is about helping people navigate change and inspiring them with new possibilities. Our Life Reimagined Checkup offers you a fresh, personalized, authentic and thought-provoking approach to help you navigate the next phase of your life. It is the perfect way to help you figure out what you really want to do and how to get there, one step at a time. Your world is full of possibilities: new passions to pursue, work that's rewarding, people to connect with, healthier ways to live.

Participants engage in reflection activities and guided conversations that help them think about where they are in life, their goals and dreams, and what their next move could be. We hope that you can join with us for this two hour experience. See registration details below. Seating is limited so register as soon as possible.

"Life Reimagined Check Up"

DATE: Tuesday, June 16, 2015


TIME: 5:30 pm: Dinner

6:00 pm—8:00 pm: Life Reimagined Check-Up



LOCATION: AARP Utah State Office

6975 Union Park Center, Suite 320

Midvale, UT 84047

Life Reimagined is all about possibilities – envisioning them, evaluating them and making them reality.

Attend this free workshop to receive expert guidance and resources for your situation, along with support from your peers pursuing similar goals for work, relationships, health and finance.

No products or services will be promoted at this event. Visit www.lifereimagined.org for further information.

Call toll-free to reserve a seat: 866-542-8164.