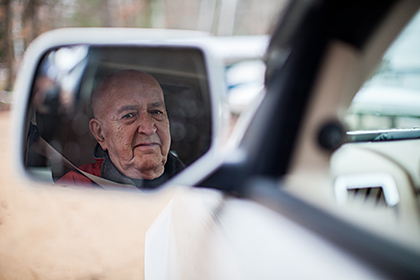 By Sue Lindsey
Bob Monroe had a spotless driving record going into his 70s, so when a police officer waved at him as he passed through a school zone, it never occurred to him there was a problem. He waved back, figuring it might be someone he knew.

Monroe, who was pulled over and ticketed for going 4 miles per hour over the speed limit near that Henrico County school, ended up being grateful to the officer.

"I may have been approaching a time when I wasn't as vigilant as I had been," he said.

Monroe, 81, of Midlothian, got back on track by enrolling in an AARP Driver Safety class, which recently was updated and renamed the AARP Smart Driver Course. Monroe not only completed the course in 2005 but has been teaching it at least once a month ever since.

Last year, 9,147 people took the eight-hour course in classroom settings around the state or online, said Dave Talley, AARP Driver Safety coordinator in Virginia. The course costs $15 for members and $20 for nonmembers, and is usually offered in two four-hour segments.

Online, the cost is $17.95 and $21.95. April is National Distracted Driving Awareness Month. The online course is 40 percent off from April 1 to April 30 with the promotion code APRIL40. To register for the online course, go to
aarpdriversafety.org
.
Under Virginia law, those 55 and older with good driving records who complete the course receive a discount on their auto insurance rates, Talley said. The amount of the discount is left up to insurance companies.

New laws, technology
The course was updated this year to help drivers 50 and older stay current with driving laws and technology. Research by Eastern Virginia Medical School in Norfolk helped AARP develop additional training in areas such as roundabouts and pavement markings as well as safety issues including seat belt and turn signal use. Instructors discuss features such as antilock brakes that weren't around when most of the class participants learned to drive.

The course includes tips to help drivers remain safe when dealing with vision and hearing loss and slower reaction times, said Talley, of South Prince George near Petersburg.

"If you're at an intersection and you see an 18-wheeler coming at you, you think about it and look again," he said. "We teach them to be very careful."

Participants also learn to adjust their rearview mirrors to reduce blind spots. Talley said the driver should lean against the side window and move the left mirror until he or she can barely see the left rear of the vehicle.

The course can alert participants to problems they may not be aware of, Monroe said. "They may continue to drive in the daytime, but after we talk about the problems we have seeing, they may decide not to drive at night," he said.

Talley, 78, has been teaching the course for 16 years. In that time, three people have told him afterward that they planned to give up their car keys.

"It makes me feel good, because someone decided to retire from driving" at an appropriate time, said Talley, who stressed that instructors neither encourage nor discourage driving. "We just give them the facts."

Monroe, a Clifton Forge native who had a lifelong career in firefighting, is one of 51 instructors certified for the Smart Driver Course in Virginia. Talley said he could use 100 more volunteers to help teach the classes.

To learn more about the AARP Smart Driver Course or to find one near you, call 888-227-7669 toll-free or go to aarp.org/drive.
Sue Lindsey is a writer living in Roanoke, Va.