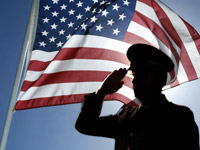 Many veterans of the wars in Iraq and Afghanistan came home with stress disorders, brain injuries or loss of limbs. AARP members are helping such veterans heal through a program that gives them a weeklong, all-expenses-paid break on the island of St. John.

Team River Runner, a national nonprofit organization, promotes health and healing of wounded warriors through adaptive kayaking and snorkeling. Members of AARP St. John Chapter 4777 help raise funds to host about 20 to 25 veterans per year.

Local businesses donate money to buy equipment, which is adapted to accommodate disabilities. At the end of each session, the chapter cohosts a farewell lunch for the soldiers.

Go to aarp.org/vi and teamriverrunner.org for more information.