En español | The U.S. Virgin Islands introduced no-excuse absentee voting in 2022, but you'll need to request a ballot.

The 2022 midterms decided races for the delegate to the U.S. House, governor, lieutenant governor and the Virgin Islands legislature. The next territory-wide elections are in 2024.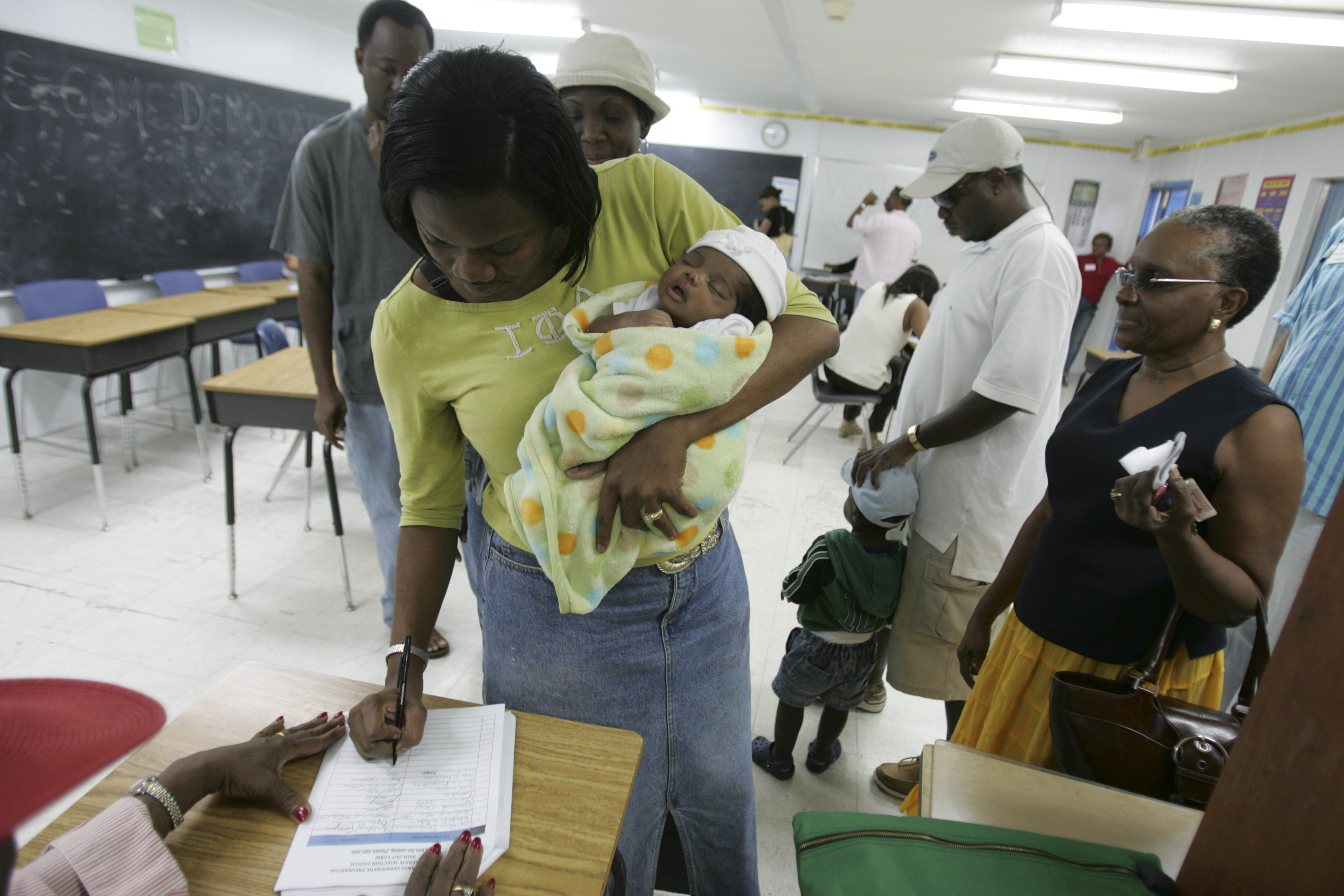 Essential info:
Upcoming elections: Visit vivote.gov for information about elections when it becomes available.

Absentee voting: All registered voters can vote absentee by mail without giving a reason.
Early in-person voting: Available at early voting centers. Check with your Election System office or visit vivote.gov for details.

Voting at the polls: You won't need to show ID, unless you're a first-time voter.
Have there been recent changes to voting in the Virgin Islands?
Legislation passed in 2022 allows all voters to cast an absentee ballot, but you'll need to request one. Previously, voters needed a reason to vote absentee, such as an illness or disability.


How do I register to vote?
You must register in person at one of the Election System office locations, where you'll need to provide an original version of one of the following:


A birth certificate
A U.S. passport
A military discharge form (DD214)
A naturalization certificate
Confirm your registration with the voter lookup tool.


Does my party affiliation matter when I vote in the primaries?
Yes. Only voters who have declared membership with a political party can vote in that party's primary. You can change your political affiliation up to 30 days before an election.

How can I get an absentee ballot? Are there important deadlines?
You can request an absentee ballot in several ways:

By email or fax: Download a copy of the absentee ballot application at
vivote.gov. The completed form can be emailed or faxed to esviballotstx@vi.gov or 340-773-4523 for St. Croix, and esviballotsttj@vi.gov or 340-776-2391 for St. Thomas and St. John.
By phone: To request that an absentee ballot be mailed to you, call 340-773-1021 for St. Croix, 340-774-3107 for St. Thomas, or 340-776-6535 for St. John, the latter of which is open only on Tuesdays and Thursdays. Or you can call the toll-free number for the Election System of the Virgin Islands at 877-773-1021.
In person: Visit an Election System office. It's preferred, but not required, that you go to the one in your district.
How do I return my absentee ballot during an election?
Completed absentee ballots can be mailed at no cost or hand-delivered to your Election System office. If you hand-deliver your ballot, drop it off by 7 p.m. on Election Day.

If you mail the completed ballot, it must arrive at your Election System office no more than 10 days after the election to be counted.

If you have an emergency and are unable to get to a voting center or are confined to a bed in a nursing home or hospital, you can send a representative to pick up an absentee ballot for you on Election Day.


Can I track my ballot?
While the Election System of the Virgin Islands does not provide tracking numbers, ballots are tracked internally though a voter registration database. To check the status of your ballot, call the St. Croix office at 340-773-1021, the St. Thomas office at 340-774-3107, or (on Tuesdays and Thursdays) the St. John office at 340-776-6535.


Can I vote in person before Election Day?
Yes, at an early voting center in your district. Visit vivote.gov for details.


What do I need to know about voting at the polls on Election Day?
Cast your ballot at any voting center in your district. Find locations at vivote.gov. Check with your Election System office to confirm voting hours. If you are in line before the polls close, you'll be allowed to vote.

Do I need identification to vote?
Only first-time voters need to show identification to vote. Acceptable forms of ID include:

U.S. Virgin Islands voter ID card, which is issued when you register to vote and can be replaced for a small fee
U.S. Virgin Islands driver's license
U.S. passport
Any other government-issued ID
Editor's note: This guide was updated on Nov. 21, 2022, with information about how to vote in the U.S. Virgin Islands. The guide was first published on Aug. 4, 2020.


Also of Interest:
About AARP Virgin Islands