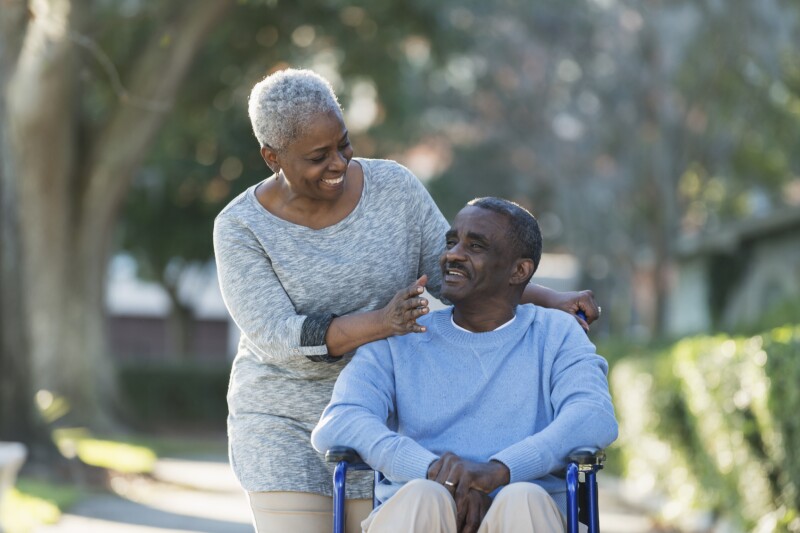 En Español Many of us know that caregiving is a challenging task that can be physically tedious, emotionally draining, and unbelievably exasperating. Those in the know would agree it can be one of the most difficult things one can do during their lifetime.

But how many of us can relate to the degree of frustration and exhaustion that would cause a caregiver to even toy with the idea of abandoning a loved one, despite the legal and moral consequences?

Caregiving for loved ones with dementia or Alzheimer's is generally physically, emotionally and spiritually taxing. Family members who care for such loved ones too often forget to care for themselves. They fail to eat, sleep, take care of their own household chores, do their own banking, and even fail to stay current with their own medical issues. As a result of their trying to provide the best possible care to their loved one, they totally drain themselves of the things that they need to keep going, let alone going strong!

The Department of Human Services (DHS), VI Family Caregiver Support Program (VIFCSP), know this all too well. Arleen Evans-O'Reilly and Shirma Henry from St. Croix and St. Thomas respectively, have been working with caregivers who have experienced the overwhelming feelings of frustration, fear and hopelessness that comes with ongoing, intense caregiving.

"Many caregivers come to us at their most vulnerable moment," stated Arleen Evans-O'Reilly, Family Caregiver Support Program Director, "Too often they don't understand the disease process that ultimately changes the personality of their loved one. These caregivers are doing double-time, caring for their loved one, sometimes holding a full-time job, doing the shopping, housecleaning, laundry, taking their mom or dad to the doctor and doing the banking. They don't understand why, after all they are doing, their loved one seems to turn on them and say hurtful things or become physically violent. As untrained but loving caregivers, they are doing their best to make ends meet and make sure the recipient is properly cared for," continues Evans-O'Reilly, "They just don't understand how the care recipient's feelings could have changed so much to allow them to say they no longer love them."

"It's all part of the disease process," adds Shirma Henry, Assistant Director, "Once you are familiar with some of the mental changes that can occur as a routine part of "the disease process," then everything changes. The hurtful comments coming from mom or dad no longer become the poison darts that the caregiver perceives are aimed at them. The caregiver is able to realize that these comments are not coming from the person that the caregiver used to know and love. Just knowing this makes the task of caregiving a whole lot easier to bear."

Both ladies have worked with caregivers for 13 years as part of the VI Family Caregiver Program. "Today, we have about 142 participants in the program territorially, which is actually down from where we've been in the past. Government budgets over the years have been tight. However, we anticipate an increase in participation since we are now able to conduct more consistent schedules of caregiver reimbursements."

During the monthly meetings caregivers are able to meet other individuals who are going through the same experience. They are able to vent, to share best practices, to laugh and to get a break from what has become their day-to-day life as caregivers.

"The truth is, caregiving is very hard work," states Henry, "The physical and emotional stress of caregiving ages people rapidly. The key to combatting this is to take the best possible care of yourself so that you are able to continue caring for someone else."

"Personal care while caregiving can't be stressed enough," adds Evans-O'Reilly, "We have seen a few caregivers in the territory die as a result of not taking proper care of themselves while caregiving; leaving the person they were originally "caring for" all alone."

VIFCSP provides all kinds of aide to caregivers. Along with helping caregivers to provide care via education and training, the program also provides a critical respite program where the caregiver can be reimbursed for the cost of having an adult sitter or secondary caregiver stay with their loved one so they can take a much needed rest.

Secondary caregivers can be someone the caregiver already knows or the VIFCSP can make a recommendation of someone who is already vetted by the DHS. Arrangements for the adult-sitters' temporary tasks and duties are fully described during a meeting occurring prior to the respite break and achievement of these tasks is overseen by DHS, specifically the VI Family Support Caregiver Program. So the primary caregiver can be confident that during their absence, the care recipient will get the best possible care and attention.

"The ongoing support from VIFCSP is perhaps what helps even more than the respite breaks," continues Evans-O'Reilly, "Being there for caregivers is probably what helps most. Having a safe place where caregivers can cry, scream, shout, share what's happening and learn techniques to cope, on an ongoing basis is invaluable to the caregiver."

VIFCSP conducts many support groups throughout the Territory each month. Caregiver programs on St. Thomas, St. John and St. Croix happen twice monthly, and the Grief and Loss occurs monthly. Participants on all three islands also get together for other special events to include the Program's "Movie and a Pizza" night, in-service training, and other activities during National Family Caregiver's Month each November.

"The services we offer are critical for caregivers," states Evans-O'Reilly, "Unfortunately not enough people are aware that this program exists. Despite conducting regular public outreach at Health Fairs and other community events, most people find out about us through word-of-mouth. We are making herculean efforts to get the word out in doctor's offices, churches and through the Veteran's Administration. We are even organizing a Faith Based Summit to reach more people who need these services. But we need help to get VIFCSP more widely known."

The VI Family Caregiver Support Program is available on all three islands. The VI DHS phone numbers are: 340-774-0930, extension 4120 and 4168 on St. Thomas/St. John and 340-773-2323, extension 2024 and 2011 on St. Croix. In addition to training and support programs, caregivers can also receive financial assistance to help pay for secondary caregivers during respite breaks as long as funds are available. Caregivers, on all three islands, who are interested in learning more about the Family Caregiver Support Program, are urged to contact the VI Department of Human Services for more details.


About AARP Virgin Islands