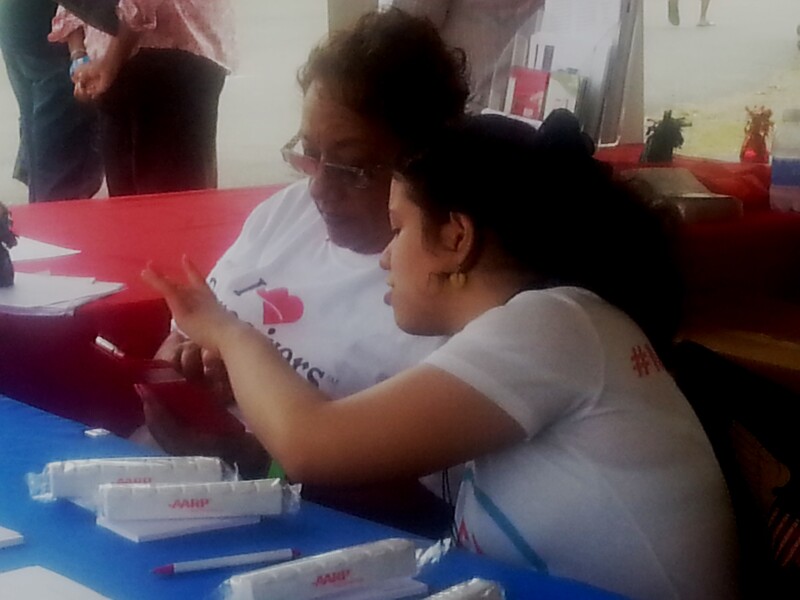 Español AARP Virgin Islands is generally known for multi-tasking and our recently launched AARP VI Digital Coach Program is no exception. This new program comes under AARP national's broader program entitled Mentor Up.

AARP VI Digital Coach Program, developed as a senior digital learning experience in the Virgin Islands, was launched earlier this year at the St. Croix Agricultural and Food Fair. Seniors who participated in Ag Fair were able to talk directly to the student teachers and 56 seniors immediately signed up to take the classes. The program is designed to pair young, high school students with seniors who want to learn how to take advantage of all the features of their smart phones, tablets or other digital equipment.

The senior's ability to use smartphones, tablets and computers is becoming unavoidable. Federal programs, like Medicare and Social Security are all converting their member communications from paper (mail) based systems to electronic communications such as email and internet-based web pages where it is assumed users will garner information and get answers to their questions. Furthermore, American pension systems, like the VI's Government Employees' Retirement System (GERS) are also making the transition from paper-based checks to electronic, direct deposits, so it is becoming vital that everyone have a solid understanding of how to use both computers and digital equipment.

Unfortunately, in the VI many seniors are very intimidated by the digital equipment that is available to them due largely to their lack of exposure to the digital environment. However, on the other hand, young Virgin Islands students can't get enough enjoyment and practical usage from their phones and tablets!

AARP VI staff thought: ' What better way to share that knowledge and enthusiasm than to pair a senior with a student for digital classes'. And better yet, since all VI high school students must provide 100-500 hours of community service in order to graduate (per Act No. 6640), students are providing the classes for FREE. So, not only will VI seniors get these fresh, enthusiastic learning experiences, but they won't have to find money in their already tight budgets to participate in this essential training! This makes the AARP VI Digital Coach program the best possible WIN-WIN for everyone.

Classes are scheduled to run from April to December 2015, and anyone can sign up to participate in the one-on-one, hands-on, training. To take advantage of the AARP VI Digital Coach program individuals interested in signing up can go online to: aarp.cvent.com/2015vimentorup or telephone: 1-877-926-8300 and ask for more information about the Virgin Islands Digital Coach Program.
About AARP Virgin Islands