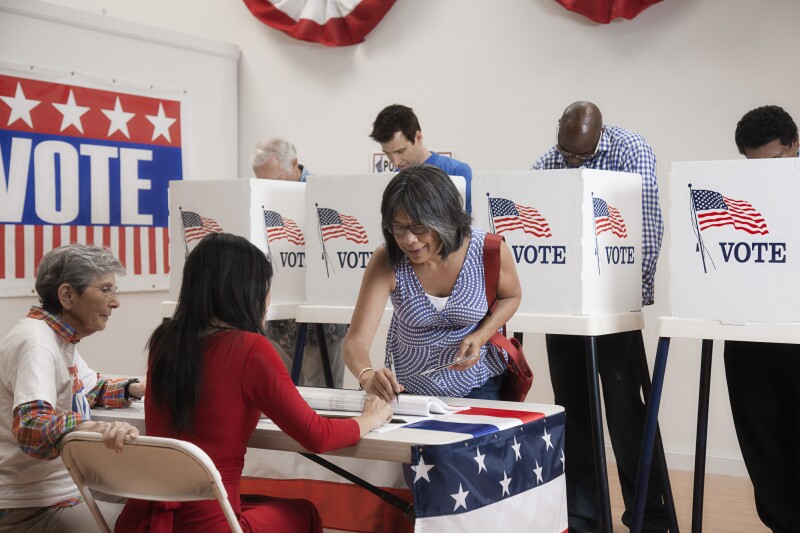 In closely watched race, Democratic candidate has the preference of key voter group.

AARP Virginia released a poll Tuesday, October 9, 2018, taken of voters ages 50 and older in the state's 10th Congressional District (CD-10), which is one of the most heavily scrutinized races in the country. The survey found that this group of voters will make their election choices driven by concerns about health care costs and financial security, as well as by a strong sense of unhappiness with their current leaders in Washington, DC.

The survey also found that voters 50-plus in CD-10 will turn out in large numbers to vote. More than 9-in-10 (93 percent) of these voters say they're at least likely to vote, including 83 percent who say it's very likely that they will do so.

"Here's the most important thing that candidates should take from this survey: almost every one of the 50-plus voters in their district are going to vote," said Jim Dau, AARP Virginia State Director. "The candidates would be wise to listen to and discuss their positions on the issues that these voters say are important."

HEALTH CARE
The top issue cited by 50-plus voters in CD-10 as being very important in making their choice for Congress (73 percent) is lowering health care costs. Around half of all 50-plus voters in the district (51 percent) say that they worry at least somewhat about not being able to afford the health care they need.

These voters are largely united in their positions on key elements driving health care costs:

• 77 percent think that it should be legal to safely import lower-priced prescription drugs from Canada or Europe;
• 81 percent think it's unfair for insurance companies to deny coverage or charge more to people with pre-existing conditions; and
• 80 percent oppose an increased "age tax" that would require some people to pay as much as five times more for their health insurance based on their age.

Importantly, these voters want their elected leaders to work across party lines to shore up the current health care system (78 percent) as opposed to scrapping the current system and building a new one (15 percent).

FINANCIAL SECURITY
While a significant number of CD-10's voters 50-plus think positively about the national economy, their opinion dims as they think of the economy more locally. Around half (49 percent) of these voters say the national economy is getting at least somewhat better, but only 39 percent say the same about Virginia's economy. Only 30 percent of these voters say that they're the personal financial situation is improving, while almost the same amount (28 percent) say that they're struggling to keep up or falling behind.

Around 2-in-3 of these voters say that the candidates' positions on strengthening Social Security (68 percent) and on jobs and the economy (65 percent) are very important in making their choice for Congress. Sixty-seven (67) percent say that the government should act immediately to strengthen Social Security, and 63 percent strongly support providing an income tax credit to help family caregivers who incur expenses supporting their loved ones.

"While voters ages 50 and older in this district largely say that the economy is going well overall, they're not feeling it closer to home," said Dau.

POLITICAL OPINIONS AND PREFERENCES
Voters ages 50 and older in CD-10 are largely unhappy with their current leaders in Washington. More than half of these voters disapprove of the job performance of President Trump (35 percent approve – 57 percent disapprove), congressional Republicans (21 percent approve – 63 percent disapprove), and congressional Democrats (29 percent approve – 51 percent disapprove).

Democratic candidate Jennifer Wexton (49 percent) holds a significant advantage among these voters over the Republican incumbent Barbara Comstock (35 percent). In this district, voters 50-plus prefer Democratic incumbent Tim Kaine (52 percent) to his Republican opponent Corey Stewart (31 percent) in this year's race for U.S. Senate.

This group of voters overwhelmingly says that leaders from both major political parties should work together and be willing to compromise (91 percent), rather than adhering to partisan purity (4 percent).

"The message couldn't be clearer for candidates who want to win the votes of these Virginians," added Dau. "It's well past time for leaders to abandon the current culture of partisan warfare if they want to get – and keep – their jobs."

The survey is part of AARP's "Be the Difference. Vote" campaign designed to encourage older Americans to make their voices heard at the ballot box this fall. For more information on AARP's "Be The Difference. Vote," campaign and to pledge to vote in this year's elections, go to www.aarp.org/vote.

The poll, conducted by Alan Newman Research, surveyed 602 voters 50 and older between Sept. 7-17, 2018, and has a margin of error of +/- 4 percentage points. View full survey results here.

AARP does not endorse candidates or make contributions to political parties, political campaigns or candidates.

To learn more about what AARP Virginia is doing in the community, visit our website, or follow us on Facebook and Twitter.

AARP is the nation's largest nonprofit, nonpartisan organization dedicated to empowering people 50 and older to choose how they live as they age. With a nationwide presence and nearly 38 million members, AARP strengthens communities and advocates for what matters most to families: health security, financial stability, and personal fulfillment. AARP also produces the nation's largest circulation publications: AARP The Magazine and AARP Bulletin. To learn more, visit www.aarp.org or follow @AARP and @AARPadvocates on social media.