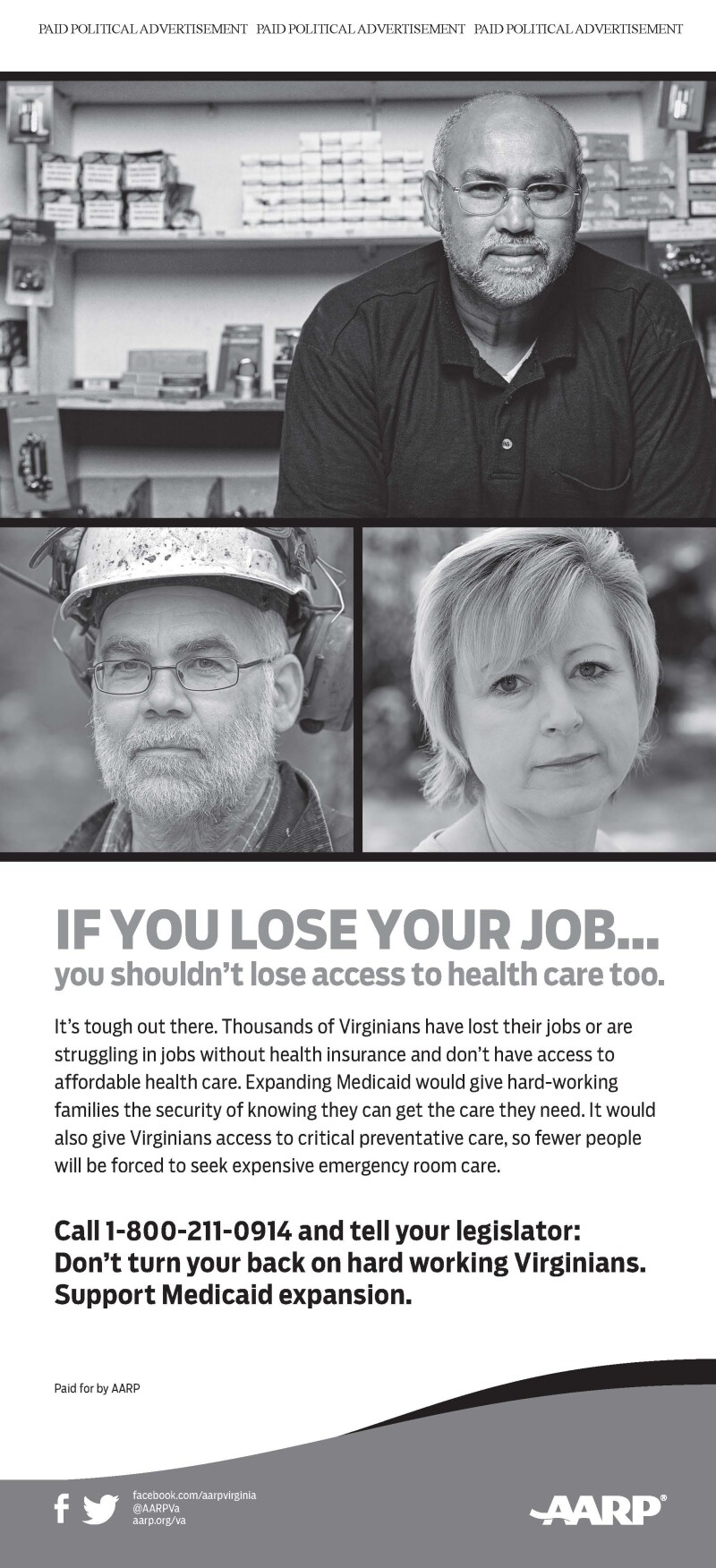 MEDICAID EXPANSION WOULD PROVIDE COVERAGE TO 62,000 VIRGINIANS AGE 50-64

RICHMOND _ AARP Virginia was one of more than 60 organizations today who urged the General Assembly to implement Medicaid expansion without delay.

"Everyone should have access to affordable health care; that includes 62,000 Virginians 50- to 64-year-olds who have lost their jobs or are struggling in jobs without health insurance and can't afford to buy private insurance," said AARP Virginia State Advocacy Director David DeBiasi.

Starting January 1, 2014, millions of hard working Americans will have health insurance through expanded Medicaid eligibility, but 400,000 Virginians will be needlessly waiting, DeBiasi said.

Virginia legislators have recognized the importance of expanding Medicaid under the Affordable Care Act, but are considering a bill to postpone accepting federal funding until at least July 1, 2014 and maybe longer.

"The poorest Virginians would continue to needlessly go without health care for six months while the Commonwealth loses $5 million dollars a day in Federal funding," DeBiasi said.

AARP Virginia urges lawmakers to do the right thing: adjust the budget so Medicaid expansion can begin on January 1, 2014 like it will in other states.
If Virginia delays expanding Medicaid:

• 400,000 low income Virginians will remain uninsured. Most will be unable to get private coverage through the health care exchange, leaving a huge gap in coverage.
• hospitals that serve the uninsured will lose more money.
• private health insurance premiums could rise even higher because of ongoing uncompensated care and fewer people in insurance risk pools.
• Virginia loses the economic benefit of over $2 billion in federal spending each year and continues to pay for health programs and services for indigent care with state or local money.
• Virginians' federal tax dollars will help people in other states.

To learn more about AARP Virginia, like us on Facebook at www.facebook.com/aarpvirginia and follow @AARPVa on Twitter at www.twitter.com/aarpva.

AARP is a nonprofit, nonpartisan organization with a membership that helps people 50+ have independence, choice and control in ways that are beneficial and affordable to them and society as a whole. AARP does not endorse candidates for public office or make contributions to either political campaigns or candidates. We produce AARP The Magazine, the definitive voice for 50+ Americans and the world's largest-circulation magazine with nearly 35 million readers; AARP Bulletin, the go-to news source for AARP's millions of members and Americans 50+; and our website, AARP.org. AARP Foundation is an affiliated charity that provides security, protection, and empowerment to older persons in need with support from thousands of volunteers, donors, and sponsors. We have staffed offices in all 50 states, the District of Columbia, Puerto Rico, and the U.S. Virgin Islands.