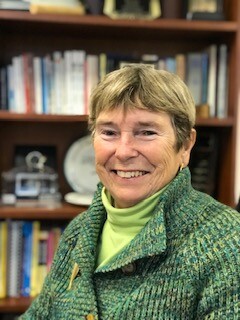 AARP Virginia state president carol downs will represent more than 1 million aarp members statewide
Carol Downs of Alexandria has been named AARP Virginia's volunteer State President after a decade of service with AARP and other organizations that support people age 50+. The State President is a vital part of AARP's volunteer workforce, serving as a strategic partner with the team's staff and providing a leadership voice on behalf of the volunteers in the state.
"I am excited about getting to know what AARP can do to help with both statewide and local issues and I am looking forward to representing an organization that promotes such positive change in the community," Downs said.
Since retiring in 2008, Downs has volunteered for AARP Virginia as a Community Outreach Volunteer as well as an advocate on the State Legislative Team. She is currently on the AARP Leadership Council for Northern Virginia. Downs has been a member of the Alexandria Commission on Aging (COA) for more than 10 years and served as the chairperson of the Commission for two years. She has also been chairperson of the virtual village, At Home in Alexandria (AHA); and a member of the Northern Virginia Aging Network (NVAN), an organization that focuses on state legislative issues affecting seniors.
"We are beyond thrilled – and even more grateful," said AARP Virginia State Director Jim Dau. "Carol is a talented leader and dedicated partner to staff, volunteers, and other community organizations. We are very lucky to have her assume the State Presidency."
To maintain a sense of balance and levity, Downs enjoys being with her nine grandchildren, working in the garden and traveling to places she's never been. She lives by the motto of "If you're not having fun, don't do it."
Since graduating in 1995 with a Master's Degree in Social Work (concentration in gerontology) from Catholic University of America, Downs has been involved in issues that impact the lives of seniors and their families. Her professional life has included working as a Program Specialist for AARP's national office; Director of Patient Services for the American Cancer Society, Vienna, VA; Program Specialist for the National Association of State Units on Aging; and most recently as Executive Director of the Shepherd's Center of Oakton-Vienna in Vienna, VA. Prior to working in aging issues, Downs worked for 3M Company for several years in sales and marketing. She started her professional life as an elementary school teacher in Connecticut and California.
At AARP Virginia, Downs will lead more than 250 active volunteers representing all Virginians age 50+, including more than 1 million AARP members. Through this leadership position, she will help further AARP's mission to enhance the quality of life for all as we age, by promoting independence, dignity, and purpose through education, advocacy and service.
To learn more about AARP Virginia, like us on Facebook at www.facebook.com/aarpvirginia and follow @AARPVa on Twitter at www.twitter.com/aarpva.