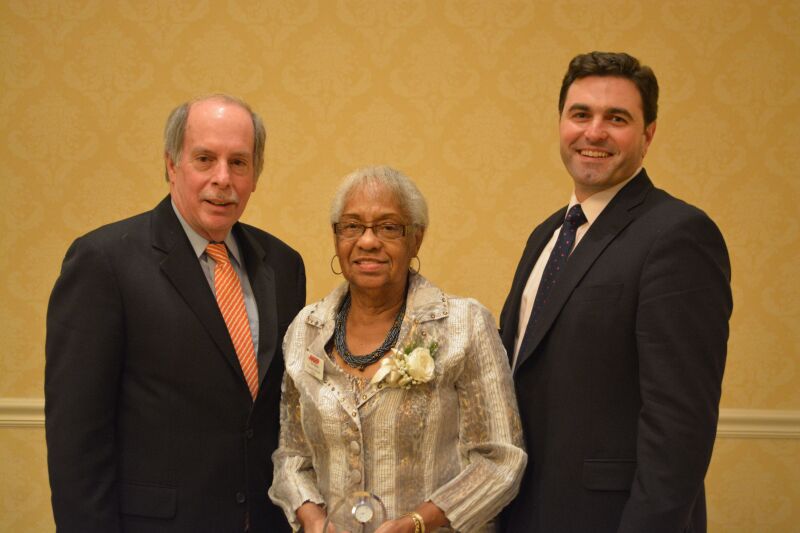 Virginia Volunteers Honored for Community Service



RICHMOND_ AARP Virginia has presented Altamese Johnson of Richmond with the celebrated Elvira B. Shaw Advocacy Award.



Johnson is a retired City of Richmond school teacher who has been on the AARP Virginia advocacy team since her retirement 21 years ago.



"She thrived as a team member back in the days when it was more difficult for an African- American woman to have a voice amidst an AARP volunteer group of predominantly white men," said AARP Virginia State Advocacy Director David DeBiasi. "True to her character, Altamese knew the power of many voices and wanted to provide a meaningful contribution to the group."



DeBiasi called Johnson "a quintessential team player. She always puts AARP's legislative priorities first."



The Elvira B. Shaw Advocacy Award was presented to Johnson at the All-Volunteer Assembly Recognition Awards Banquet in Staunton on November 12, 2015.



The Elvira B. Shaw Advocacy Award was created in 2013 in memory of Elvira Beville Shaw's outstanding service as an advocate for over 40 years on behalf of AARP Virginia. The annual recipient of this award may be an individual or a team who has demonstrated dedication to AARP's legislative priorities, effectiveness in advocacy outcomes, and exceeded the call of duty in their willingness to serve.



Johnson embodies the qualities of a successful leader. She helps the group get the job done by being a role model and is a living example of "be the change you want to see in others."



"Altamese always knows the issue at hand," DeBiasi said. "She has been a voice for AARP advocacy at the state and federal levels day after day, year after year, for two decades. Perhaps most importantly, her work, leadership, and style very much capture the spirit of Elvira B. Shaw.



It is significant that Johnson joined AARP Virginia's advocacy team in 1994 at the behest of Shaw. They met at a political event and quickly struck up an acquaintance. Shaw reportedly invited Johnson to an AARP meeting with Congressman Bobby Scott taking place later that week and the rest is history. They were seldom apart, whether it was for advocacy events or visiting nursing home residents together. They became close friends and were part of one another's lives until Shaw passed away.

Johnson's dedication to AARP is second to none at both the state and federal levels. Because she lives in Richmond, she is often called upon for extra duty at the State Capitol and she is always ready to be there, even with short notice. Johnson does not look for the limelight and often says, "I don't want to be in a leadership role, but I will if you need me." This includes testifying before committees, speaking to reporters, or representing AARP at utilities commission meetings, which she did from 2009 until 2011. Her dedication predates the creation of AARP state offices.



"She was on board during the days of the VOTE program when she went door-to-door registering voters in poor neighborhoods and learned more about the plight of the disenfranchised," DeBiasi said.
In 2012, when AARP's primary legislative priority was protecting voting rights, Johnson agreed to be interviewed to express her passion for the issue. Her video, posted on social media, told a courageous story from her childhood which shaped her life. She remembered the day before a presidential election when a pickup truck full of white men drove down her street shooting a rifle and shouting, "There will be no voting by any of you tomorrow!" Johnson spoke on camera of how the right to vote was hard-earned and should not be taken away by threats in the Jim Crow era or with voting rights restrictions in 2012.



AARP Virginia also recognized area volunteers with the following awards at the banquet:

Andrus Award for Community Service: The annual Andrus Award for Community Service is AARP's most prestigious and visible volunteer award. It recognizes individuals who are sharing their experience, talent, and skills to enrich their communities in ways that are consistent with AARP's mission, vision, and commitment to volunteer service, and that inspire others to volunteer. Only one Virginia volunteer (or couple performing service together) can receive the Award.

Gordon Morton Award : The Gordon Morton Award is presented to an individual AARP volunteer who has made outstanding contributions to the work of AARP in a manner consistent with the dedication and quality of work modeled by Gordon Morton, an AARP volunteer who passed away in 2002.

Chapter Awards: The purpose of the Chapter Awards is to recognize the education, advocacy, and service work of chapters that contribute to achieving AARP's mission by highlighting outcomes and impact on their communities regardless of Chapter size or demographic. These awards give Chapters the opportunity to showcase their work for countless hours of service devoted to enhancing the experience of aging and AARP's mission.

President's Awards: The President's Award for Community Service is given to deserving individuals or groups chosen at the AARP state president's discretion. Past recipients have included exceptional chapter presidents and community outreach, advocacy and training volunteers who have furthered AARP's social impact agenda.

Bob Blancato, who has served as AARP Virginia's state president for three years , is the chief volunteer representing more than one million AARP members in Virginia and an advocate for all Virginians age 50+. He lives in Arlington and is President of Matz, Blancato, & Associates, a full-service firm integrating strategic consulting, government affairs, advocacy services and association and coalition management based in Washington, DC. He is the National Coordinator of the Elder Justice Coalition.

AARP is a nonprofit, nonpartisan membership organization that helps people 50+ have independence, choice and control in ways that are beneficial and affordable to them and society as a whole. AARP does not endorse candidates for public office or make contributions to either political campaigns or candidates. We produce AARP The Magazine, the definitive voice for 50+ Americans and the world's largest-circulation magazine with over 35.5 million readers; AARP Bulletin, the go-to news source for AARP's 40 million members and Americans 50+; AARP Segunda Juventud, the only bilingual U.S. publication dedicated exclusively to the 50+ Hispanic community; and our website, AARP.org. AARP Foundation is an affiliated charity that provides security, protection, and empowerment to older persons in need with support from thousands of volunteers, donors, and sponsors. We have staffed offices in all 50 states, the District of Columbia, Puerto Rico and the U.S. Virgin Islands.