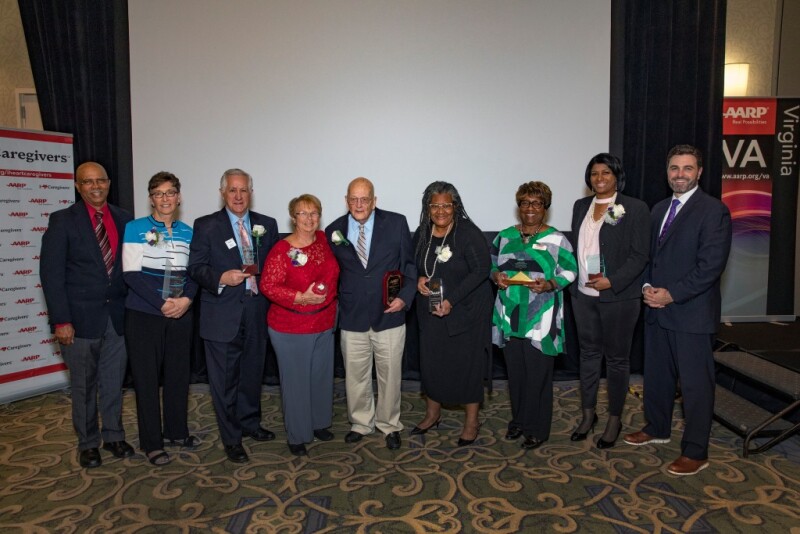 Charlottesville, Virginia – AARP Volunteers were awarded for their exemplary efforts at the 2018 All Volunteer Assembly (AVA). Devoted to honoring AARP Virginia's most dedicated volunteers, this year's AVA Highlighted individuals committed to community service and helping everyone age with dignity and purpose.

The highly distinguished Andrus Award for Volunteer Service – AARP's most prestigious award -- was awarded to Patricia "Pat" Hyer of Blacksburg. Since joining the AARP Blacksburg Chapter over 5 years ago, she has done everything from fundraising to becoming a founding member of the Lifelong Learning Institute at Virginia Tech. Recently Hyer's work for the Community Health Center of the New River Valley has proven her to be a strong advocate for social change in health care and community development in Virginia.

This year's President's Award for Community Service winners were Iris James of Norfolk, and Sandy Troth of Roanoke. James has volunteered through AARP and numerous other organizations to equip seniors with the resources needed to live with choice, dignity, and purpose in life through community Outreach and partnerships. Troth has impacted her community through her development of the Grayson County Senior Advisory Council and her passion towards the betterment of seniors and her embodiment of AARP's mission and values.

The Gordon Morton Award for Volunteer Service is given to an AARP volunteer who has made outstanding contributions to the work of AARP consistent with the work modeled by Gordon Morton. This year's recipient was Juanita Channel of Fredericksburg. Currently serving as the Community Service Chairman of the AARP Fredericksburg Chapter, Channel has been working to use chapter resources to support community areas in need such as local homeless shelters, food banks, veteran support groups, and the Senior Visitors Program.

This year's Rookie of the Year Award recipient was Michelle Oliver. Oliver has spearheaded grassroots social media marketing efforts that have significantly increased the awareness of AARP. She has met with local businesses, volunteer groups, and community activists to help AARP become further involved in the community and increase the support of AARP events.

The Chapter Service Awards are meant to recognize the education, advocacy, and service work of chapters that contribute to achieving the AARP mission by highlighting outcomes and impacts on their communities regardless of the chapters size or demographic. These awards give chapters the opportunity to showcase their countless hours of service work devoted to the enhancing the experience of aging. This year's winner was the Locust Grove Chapter #5239. The chapter's volunteers have reported a collective 6,763 hours of service this year alone which is not only contributed towards AARP support, but towards assisting the community as a whole.

The Elvira B. Shaw Advocacy Award is presented in honor and memory of Elvira Beville Shaw to an individual or team of volunteers that display exceptional advocacy on behalf of AARP Virginia. This year's winner of the award was Lorraine Bratton of Vinton for her 16 years with the AARP Advocacy Team working on many AARP issues including Social Security, Medicare, Medicaid and the Affordable Care Act.

At the Nov. 7 awards banquet held at the Omni Charlottesville hotel, Bill Lukhard of Henrico was recognized upon his "retirement" after serving more than 30 years as an AARP Virginia volunteer. Lukhard retired from the Commonwealth of Virginia where he served as Commissioner of the Department of Social Services. During his tenure as an AARP volunteer, he served the organization at both the national and state levels. Nationally he was a member of the National Legislative Council (1991-1996) and served as Chairman for 2 years. He served on several advisory committees to the National Board of Directors including the Volunteer Restructure Committee and Strategic Plan Implementation Team. His state level service focused on state advocacy work with emphasis on long term care services and Medicaid expansion. He served as interim state president and on the Executive Council. Lukhard received the Virginia AARP Andrus Award for Community Service for 2008.

To learn more about what AARP Virginia is doing in the community, visit our website, or follow us on Facebook and Twitter.

About AARP



AARP is a nonprofit, nonpartisan, social welfare organization with a membership of nearly 38 million that helps people turn their goals and dreams into real possibilities, strengthens communities and fights for the issues that matter most to families — such as health care, employment and income security, and protection from financial abuse. Learn more at www.aarp.org .