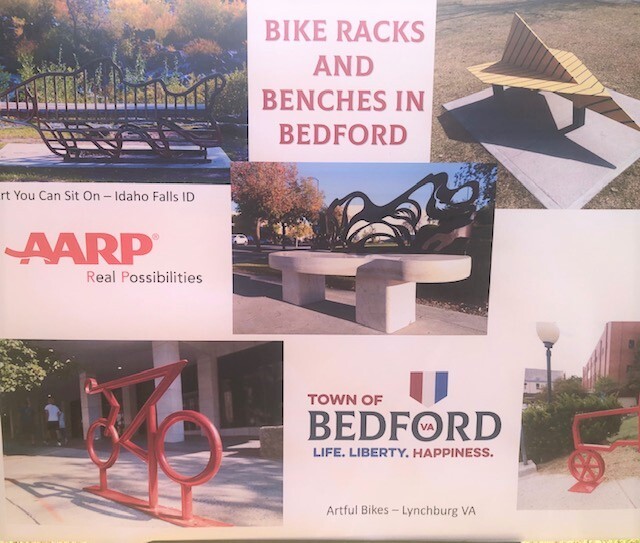 A surprise announcement was made at a press conference at the former Bedford Middle School on July 17—that Bedford has been chosen as one of two Virginia communities and one of 159 communities across the U.S. to be awarded part of $1.6 million grant given by AARP.

Mary Zirkle, Economic Development Coordinator for the Town of Bedford, welcomed attendees including members of the Town Council, representatives of the Bedford police department, AARP Virginia volunteers and Brian Jacks, AARP Virginia Associate State Director for Community Outreach of Southwest Virginia.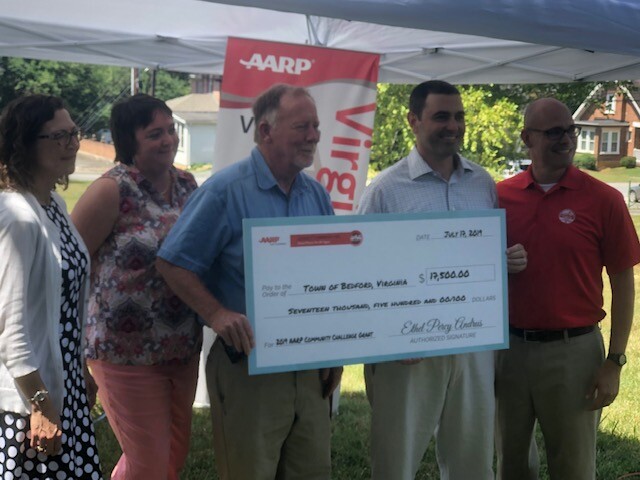 On hand to present the $17,500.00 check to Mayor Steve Rush was Jim Dau, State Director for AARP Virginia. Incorporating this project into the "Bridge Street Area Plan" and its "Bike/Walk Plan," Bedford will use its grant to create new and improve use of existing walking "loops" through town. The Town will add benches, bike racks, signage and trash cans along the loops, and integrating public art with input from residents and artisans.

Criteria to be eligible for the grant were designed to achieve one or more of the following outcomes:

Create vibrant public places that improve open spaces, parks and access to other amenities.
Demonstrate the tangible value of "Smart Cities" by engaging residents and policymakers in accessing, understanding and using data to increase quality of life for all.
Deliver a range of transportation and mobility options that increase connectivity, walkability, bikeability, wayfinding, access to transportation options and roadway improvements.
Support the availability of a range of housing that increases accessible and affordable housing options.
The other grant in Virginia was received by the Richmond City Health District which will receive $4,500 to improve Richmond's Northside through creating more comfortable and accessible bus stations with benches and trash cans.

Congratulations to both winners and to the communities that will benefit from these grants from AARP seeking to create a network of age-friendly states and communities.

A full list of grantees can be found at https://www.aarp.org/livable-communities/community-challenge/info-2019/2019-grantees.html

The announcement was big news in the small town with a population of a little over 6,000. Check out some of the news coverage:
WSET-TV ABC 13
WDBJ-TV CBS 7
The Bedford Bulletin
The Brookneal Union Star