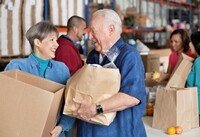 AARP Virginia is joining with CAAB to help fight hunger in Fairfax during their annual summertime Food Drive. Please join us in addressing this important community need.
When? July 1 - 31st

What food items are most needed at this time?

Canned tomato products (crushed, peeled, diced, etc.)
Canned meat (chicken, beef, turkey, or seafood)
Rice
Spaghetti sauce
Fruit, fresh (in season) or canned (packed in fruit juice)
Beans, dried or canned (black, kidney, pinto, etc.)
Canned chili
Canned pasta
Fruit juice (100% juice)

Where can I drop off a food donation?
All Fairfax County Board of Supervisors Office are collecting donations. Click here to find the closest Supervisors' office to you.
Donations are being accepted at all branches of United Banks located in Fairfax County, City of Alexandria, and Arlington County.
You may also take your donation directly to Food for Others in Fairfax.
Where is the food I drop off being donated?
Food for Others will receive all the donations we collect from this effort.
What is CAAB?
The Community Action Advisory Board (CAAB) advises the Fairfax County Board of Supervisors on the needs, concerns and aspirations of low-income persons; and recommends policies that promote meaningful change. The mission of the Community Action Advisory Board is to make a positive difference in the lives of low-income families and individuals in Fairfax County. Mandated by Federal law, the board provides oversight for state and federal Community Services Block Grant (CSBG) funds. The grants, along with matching funds from Fairfax County, are used to to support community-based initiatives identified through the county's Consolidated Community Funding Pool competitive grant process.
What is Food for Others?
Food for Others is an important part of Northern Virginia's safety net for those needing food when an emergency strikes, and for the growing number of working poor who are unable to make ends meet and need to supplement their inadequate food supplies.
Food for Others obtains much of its food through food rescue operations and food drives. Staff and volunteers pick up good food that would be thrown away from local grocery stores and other retail food establishments. The food is brought to the warehouse for temporary storage, including refrigeration as appropriate. Food drives provide most of our non-perishable food.