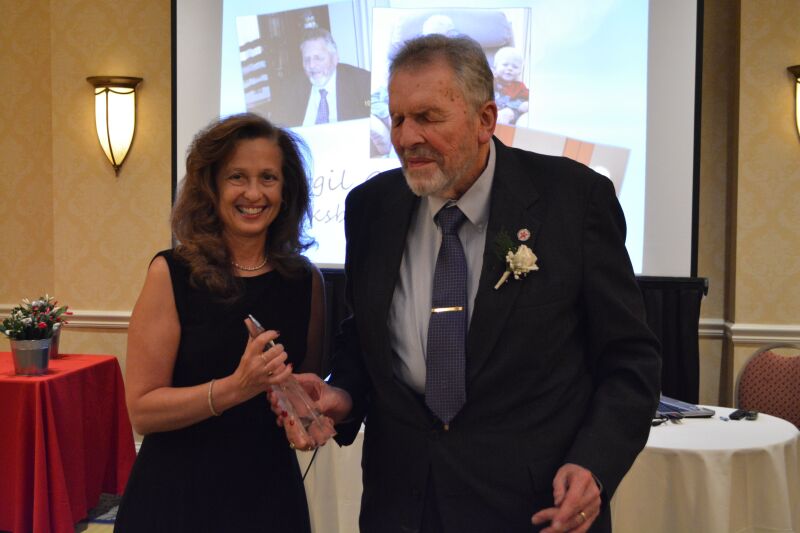 Virgil Cook of Blacksburg was recently bestowed the Andrus Award for Community Service, AARP's highest volunteer honor. During his acceptance speech at a banquet in Staunton, Cook reflected upon the numerous volunteers who helped him throughout his life. They serve as his inspiration for giving back to others.

Voluntarism and the Blind

As a person with a major, physical handicap, I want to focus my remarks on the benefits—some of which were life-changing—that I received from volunteers. Some of these services go back to my early school years.



While at the Virginia School for the Deaf and the Blind, less than a mile from here, I was a Boy Scout. Here, the volunteer time of teachers allowed me and my fellow students to acquire many camping skills as well as values that help make a good citizen. The skill of tying the myriad of knots that I was taught have largely disappeared, but the compass skills still prove useful when my wife Elaine and I are traveling in an unfamiliar area.



During these same years, at least one Roanoke-Area Lions club invited Roanoke Valley, blind residents to a yearly Christmas dinner at Hotel Roanoke. To a growing boy who had eaten mostly institutional food for over three months, a traditional, Christmas dinner at a highly-regarded restaurant was quite attractive. Each guest was asked to choose a gift. I usually chose a pair of shoes. The clubs made no distinction between the poor and the affluent. Even though my parents could afford to keep me in shoes, that annual certificate to a downtown shoe store was still very welcome for a child whose feet seemed to outpace the rest of his growing body.



When I entered Roanoke College, a very resourceful counselor and an area caseworker at the Virginia Commission for the Blind—now the Virginia Department for the Blind and Vision Impaired—arranged for volunteers from the Roanoke Junior League to read some of my textbooks. The readers made recordings using a Sound Scriber, a competitor to the Dictaphone, which recorded on a thin, plastic disk. Some of the same volunteers continued to record books during my four years at Roanoke College and throughout another four years of graduate work at Vanderbilt University. How many hours did these dedicated women devote to reading what proved to be most of my textbooks? I can't begin to hazard a guess. (When Elaine and I were engaged, my dad and I drove her around Roanoke to meet some of these wonderful women who had rendered such a valuable service to me.)



During that first year of college, I also obtained recordings of two of my freshman-composition texts from the National Braille Press (NBP) in Boston. Even after I began teaching, NBP recorded two books for me on magnetic tape.



NBP's most valuable service, however, was their hand transcribing a French textbook and two French readers. I later learned that one of the volunteers was over 80 years old. Also, during graduate school, NBP Brailled a German text and a reader for me to use while studying for the German examination required for the Ph.D. Later NBP volunteers transcribed the text of the edition of The Poems of Richard Lovelace, a crucial resource for preparing my master's thesis. In those days, hand transcribing was a very slow, tedious process, requiring a person with knowledge of Braille and its complex rules for using contractions. Now it is possible to run the computer file of a scanned, text copy of a book through a Braille-translation program. Indeed, by the time I retired from Virginia Tech in 2002, I was scanning my textbooks, translating the files into Braille files and printing them on a Braille embosser.



Yet another volunteer organization provided recordings of textbooks. Recording for the Blind—later Recording for the Blind and Dyslexic and now Reading Ally—also made many books available. Any student or blind professional who needed a recorded book could send two copies to the organization's headquarters in Princeton, New Jersey, for recording. The reading was then assigned to a branch unit with readers who have knowledge of the genre of each book. . For example, many of my books were recorded by the unit in New Haven Connecticut, the home of Yale, whose undergraduate and graduate programs are strong in the arts and humanities. While a reader narrated the book, a monitor followed along in the second copy of the book to avoid errors.



Even today, what sets Reading Ally apart from other organizations that I have covered previously is that once they read a book, a master copy is placed in the organization's library of recorded books so that anyone else who needs the book can obtain a copy very quickly. Many of the anthologies and novels that I used during my teaching career were already available from Reading Ally. Reading Ally has mastered the technique of announcing page numbers and footnotes so accurately that it is now possible to use these recordings in scholarly research.



Yet another service came to my attention when our children were small. The Christian Record Foundation, an organization of the Seventh Day Adventist Church, took children's books, copied the text in Braille, cut the books apart and then reassembled the books, interleaving the Braille pages in the reassembled book. The text was copied in such a way that the Braille text that duplicated a particular page appeared on the facing page. About once a year, even though I am not a Seventh Day Adventist, a regional representative of the Foundation would visit Elaine and me and describe the books that it had adapted over the past year. We chose the books that we thought our children would like, and they would arrive in a couple of weeks. What a joy it was to read to my children every night!



Apart from our daughter, who was born on Christmas Eve, the best Christmas gift that I have ever received was an interleaved copy of the classic children's book Make Way for Ducklings. The second and by far the most important gift was not the book itself, but Elaine's learning Braille so that she could copy material for me. During the fall, Elaine had gotten a copy of the Library of Congress' manual for training Braille transcribers. She mastered her Braille skills on the sly while I was at work. This event took place in the early 1970s, long before computer technology made books so much easier to obtain. Until I mastered a few computer skills and obtained a Braille embosser, Elaine transcribed much of the poetry that I taught in my literature classes.



Today several organizations create children's books. The largest is probably National Braille Press. I have no idea whether they use any volunteer labor to create the books, but they write the Braille on clear, plastic sheets so that the Braille is on top of the page that you are reading. NBP, through special grants—usually from the publisher of the particular book--makes the books available for the same price as the print edition. We still subscribe to NBP's book club so that I can read the latest books to our younger grandchildren.



Most of these volunteers have remained anonymous, but one encounter with one of those volunteers is germane to my discussion. Some 30 or so years ago, Elaine and I attended a reception for volunteers for the Virginia Tech Radio Reading Service, a station that broadcasts on a sub-carrier of WVTF Public Radio in Roanoke. Volunteers read from local newspapers and popular, national magazines. At the reception, I heard the familiar voice of a volunteer who had read for the Junior League in the late 1950s. I told Elaine that I must meet this woman. I introduced myself to Joyce Hewitt, an active volunteer for the Radio Reading Service. What a joy it was finally to meet the person whose voice I had heard so many times. Subsequently, Joyce and I served on the board of Voice of the Blue Ridge (now New Vision Roanoke) that numbers as one of its projects support for the Radio Reading Service. Here was a person who helped provide access to print media for the blind and vision impaired from the 1950s until her death in the 1990s.



My story is a story about volunteers: from those early scout leaders, the Roanoke Junior League, the National Braille Press, Reading Ally, the Christian Record Foundation, and the hundreds of volunteers that made the work of these groups possible. Because of these volunteers, I have had access to printed material. That access has allowed me to live a full life.