Every week, a dozen or more deaf seniors and college students gather at their computers for a virtual chat on Zoom. For the older participants, it's a chance to escape isolation. For the students learning sign language, it's way to improve their signing skills.

"It's great seeing deaf seniors and ASL (American Sign Language) students conversing," said Patricia Beech, from Ashburn, Va., who is deaf and in her late 60s. "The students learn more vocabulary from us, and we learn some things from the students."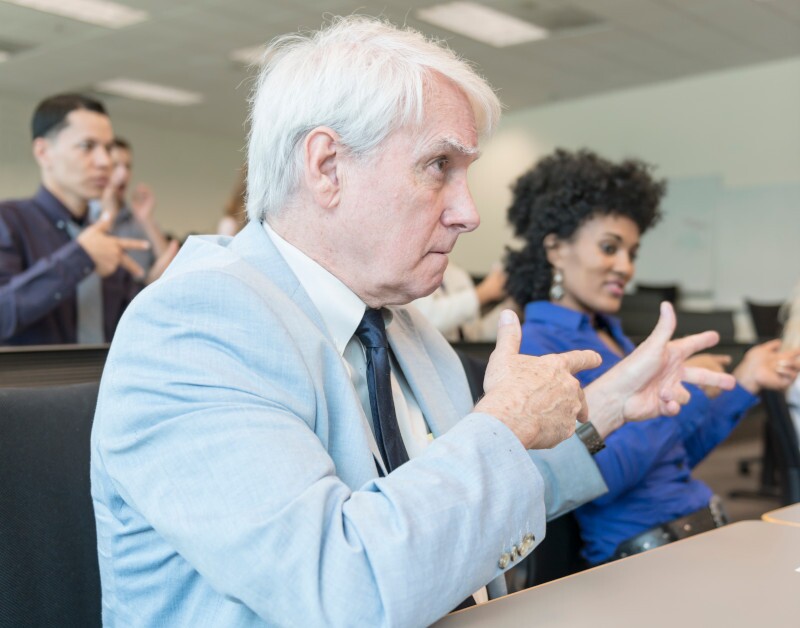 Deaf Seniors Stay Connected is an innovative, intergenerational program from the Northern Virginia Resource Center for Deaf and Hard of Hearing Persons (NVRC). Beech was on a committee that launched the free, weekly chats in 2019 and has been a participant since.

Originally the program was focused just on reaching deaf seniors, many of them housebound, whose need for communication grew more urgent during the pandemic in 2020. Then organizers saw a chance to include students in the conversations.

"We knew when COVID hit we had to keep this going," said Dr. Eileen McCartin, executive director of the NVRC. Students did not have in-person classroom work and were looking for ways to sharpen their skills. Bringing students into the program gave them real-life experience, McCartin said.

This year the program won an award and a $2,000 grant from the state's Commonwealth Council on Aging. May is Better Hearing and Speech Month and the NVRC is teaming up with AARP Virginia on a series of online programs to raise awareness about hearing loss and encourage people to get their hearing checked. For more information, visit aarp.org/hearbetter.

An estimated one-third of those 65 and older will experience some hearing loss – now the third most prevalent condition in older Americans after arthritis and hypertension. Hearing loss later in life can lead to withdrawal, isolation and even depression.

Deaf seniors can benefit from recent advances in hearing aids, speech-to-text features on phones and other devices. But as the Deaf Seniors Stay Connected chats demonstrate, the best technology enables direct communication with others.

Each free, weekly chat is moderated by the program coordinator, Barbara Eger-Klatt, and focuses on a topic to get the conversation going. Sessions range from a dozen to about 20 participants, but any more can get unwieldy. Smaller breakout sessions are often set up.

Organizers had to learn the best lighting to follow the rapid hand movements of signing, and ways to highlight the "speaker" in the Zoom screen. Older participants may lack some finger mobility, but have more extensive vocabularies than the students, said Dr. McCartin. But students can know some new signs that others don't.

The generational benefits flow both ways. "Older people feel like they are helping – not the ones being helped," said Dr. McCartin. "The students are learning some real-life skills."

Michelle DeCarlo, 40, of Gaithersburg, Md., is one of those students. She's working toward a degree in American Sign Language at Gallaudet University in Washington, D.C., and wants to be an interpreter, but with 3 children she's on a parttime schedule. Real practice with ASL is essential.

"I'm not on campus that much, so these chat sessions are invaluable," said DeCarlo. "I learn something new every week and have made some good friends. I've also learned about deaf culture and history."

That's important for DeCarlo, who is not deaf. She remembered the story of an older participant who described how as a child she had her hand slapped at school for using sign language.

"I feel like we are helping seniors who are cut off in some ways, but we students get just as much out of these sessions," she added.

For more information on Deaf Seniors Stay Connected, visit nvrc.org.

To access the presentations on hearing awareness by AARP Virginia and the NVRC, visit aarp.org/hearbetter. The presentations cover new technology, late-onset hearing loss, and different communications strategies.