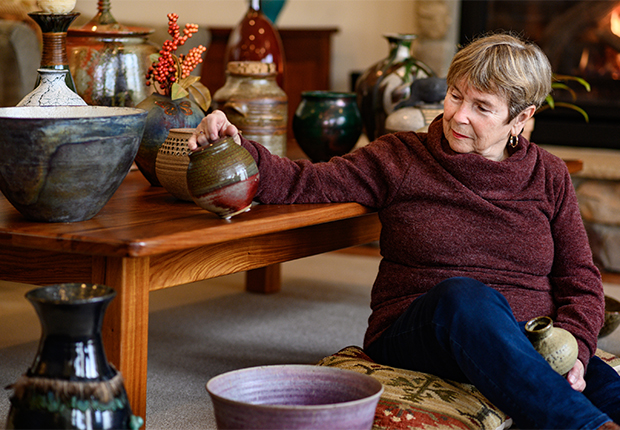 By Sue Lindsey

Carol Downs treasures her collection of pottery. But at age 80, she knows that the day is coming when she will have to part with it.

"My daughter recently said to me, 'Mom, when you move out of this house, I don't want any of your pottery. I know you love it, but it doesn't mean the same thing to me,' " said Downs, of Alexandria, AARP Virginia's volunteer president.

It's a theme older people hear from adult children, said Matt Paxton, an expert on downsizing and decluttering who has developed a program for AARP Virginia to help people decide what to keep and what to part with.

"We're a nation of consumers," said Paxton, 43, of Richmond. "We're paying the price for that."

About 20 volunteers have been trained to present the Downsizing and Decluttering program in the state beginning this spring, said David DeBiasi, AARP associate state director for advocacy.

Paxton learned at 23 how hard it is to discard things when his father, stepfather and both grandfathers died within one year.

"I was left with four houses to clean," he said. "I was filled with grief and sadness, and I had no idea what to do."

Paxton gradually figured it out and discovered he could earn a living helping people get rid of stuff. At first he focused on hoarding, and appeared in dozens of episodes of the TV series Hoarders, starting in 2009.

Through his business, Wayforth ( wayforth.com), he sells services to people with downsizing needs.

What's worth keeping?

"We hold on to physical stuff because we have great memories attached to it," he said.

The workshop helps people learn to let go and how to display things you really want to keep.

"The goal is to make space to really celebrate and keep the things you want," Paxton said.

One idea to remove clutter is a "10-minute sweep" of a room, in which you clean the room for that amount of time five days a week. "If you do that week after week, that room starts to get clean," he said.

He recommends making four piles when deciding what to do with things: "keep," "donate," "sell" and "trash." Place the "donate" and "sell" piles on either side of you and the "trash" pile nearby, with the "keep" items farther away.

"You would be amazed at how much more you donate," he said.

Those caring for aging relatives often worry about what to do with their belongings, said Downs, who presents AARP workshops for caregivers.

"Looming over you may be this houseful of things, and you have no idea what to do with them," she said.

Mike D'Ostilio, 70, of Fredericksburg, is an AARP volunteer who presents its HomeFit program, helping people prepare their homes to accommodate aging. Downsizing and Decluttering will tie in well, he said.

D'Ostilio said he and his wife, Marietta, 69, are decluttering their own house, after acquiring items when his mother and her parents died. They had hoped their two children would take some silver dishes and trays. They declined.

"That's really the punch line of the class," Paxton said. "Nobody wants your stuff."

To schedule a workshop for your group, email aarpva@aarp.org or call 866-542-8164.

Sue Lindsey is a writer living in Roanoke.