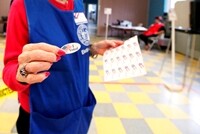 Who are Election Officers?

They are our neighbors, our co-workers and our community club and organization members that have pledged their time to do non-partisan work in the voting precincts on Election Day. Fairfax County has 241 precincts to staff. The County is seeking citizens to serve the 2016 elections on March 1 st and November 8.

What's Required?

In order to be an Election Officer, you must:

Be fluent in English
Be a registered voter in the Commonwealth of Virginia
Be able to fulfill the Federal I-9 employment eligibility requirements
Attend a 3-hour training class
Arrive at the polling place at 5:00 am and remain until all work has been completed after the polls close at 7pm
Have basic computer skills

What does an Election Officer do?

The Election Officer's main priority is to ensure the accuracy and integrity of the election process. A typical Election Day consists of:

arriving one hour before polls open to set up voting equipment
hanging up pertinent signage
preparing the polling room for voting
processing voters throughout the day
assisting with operating voting equipment
securing voting equipment and closing down the polling place at the end of the day


Election Officers are offered a stipend of $175 for serving a full day. We especially encourage bilingual citizens to serve as we need language assistance in many precincts. Residency in Fairfax County is not required. To apply, call the office at (703) 324-4735. You can also email or visit the Office of Elections website for more information.