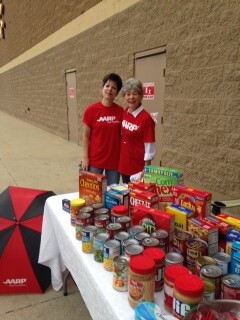 The sign-up period for volunteering for the 2015 Food Drive has begun and the deadline to participate is July 30, 2015!
Some people can't afford to splurge on certain luxuries–unfortunately, food is considered a luxury for many. Every day, nearly nine million older Americans face the risk of hunger. They're our friends, our neighbors and our family, and they don't want to be a burden–so they suffer in silence. That's why AARP and AARP Foundation have teamed up for Drive to End Hunger.
Help make a difference in your community. Volunteer during our Community Food Drive in September 11-20, 2015 to help fight hunger in Virginia.
Sign up to work in teams at your local grocery store during the drive!
Volunteers make the difference! Our diverse group of volunteers will work in teams inside local grocery stores and encourage shoppers to donate by purchasing individual non-perishable food items. The results from our 2014 food drive volunteer teams were astounding: over 12,000 pounds of food were collected adding to the states total food drive total of 160,000 pounds of food and cash donation! All of the donations benefit local area food banks or local pantries .
Volunteers are needed to work in teams at local grocery stores during the week of September 11-20.
Check out some pictures and stories from last year's successful event.
Check out some photos from the 2014 Community for the Hungry campaign on Facebook
If you would like to help but can't join a food drive team we hope that you will help us by donating to our campaign to help fight hunger. Every dollar we raise in our Virtual Food Drive will help provide 8 meals to hungry families in Virginia. For more information or to sign up to be a volunteer, contact Stephanie Gossett at sgossett@aarp.org or by calling 804.344.3063 or toll free 1-866-542-8164. Together, we can make hunger fall back on effecting families in need in Virginia!