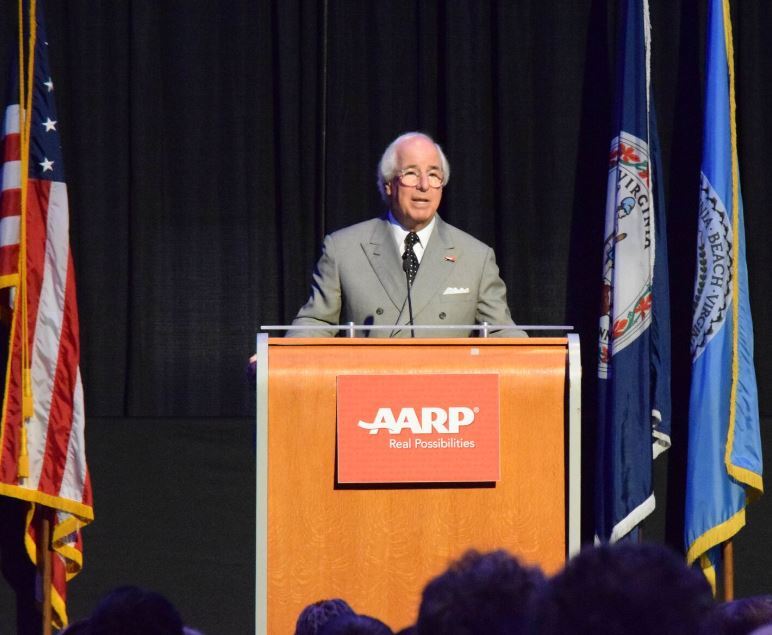 There is no soundtrack. No pomp. No circumstance. No paparazzi.
When you first see Frank Abagnale, what you see is not what you expect. He's friendly, quiet, unassuming, and most surprisingly, still remorseful.
In late July, Abagnale was the keynote speaker at the AARP Virginia Fraud Watch Event in Virginia Beach. He presented to an audience of over two hundred on "How To Avoid Scams, Protect Families From Fraud." This year marked his fourth tour with AARP across the country.
He presented such sage advice as using credit cards for all transactions versus your bank's debit card, use a credit monitoring service to keep track of your finances, shred publications and periodicals from your mail, especially those with your address along with the barcodes, and on social media never post a picture of yourself singularly, but in a group shot or with a pet because of software that can track you by using facial recognition programs.
He announced that due to a law passed by Congress earlier this year, starting Friday, September 21, 2018 consumers can freeze their credit for free to help battle against identity theft. For a guide to the process, visit aarp.org/CreditFreeze.
Additional day-long events that took place included:
Held an Interactive Telephone Town Hall that reached over one thousand Virginians on fraud. Callers had the opportunity to ask Frank questions pertaining to scams and how to prevent them.
Collected over seven thousand pounds during the on-site document shred event.
Inside in the Exhibition Hall, there were various vendors including the Virginia Beach Police Department, identity theft program services, and a free prescription drug "Take Back" section that collected over twenty pounds of prescription medication.
Throughout the day, all the exhibitors offered several tools of the trade and resources to visitors.
From a young teen to his early twenties, Abagnale cleverly got away with committing high stakes fraud while posing as an airline pilot, a lawyer, and a physician. His life story was written in the book "Catch Me If You Can," which was later made into a blockbuster film directed by Steven Spielberg and starring Leonardo DiCaprio as Abagnale.
Once caught and after serving time for his crimes, Abagnale was approached by the FBI to work as an advisor to help outsmart savvy con artists and stop fraud offenses worldwide. Today, he still continues his association with the FBI and is considered a top leader in dissuading forgeries, embezzlement and so on. Abagnale has partnered with AARP and the Fraud Watch Network campaign and has made several appearances across the US continuously informing consumers on how to protect themselves from Identity Theft and how to be armed with knowledgeable tools to spot fraudulent scenarios.
The AARP Fraud Watch Network was developed as a "go to" resource service to gain information on how to protect yourself from identity theft, investment fraud, and scams. All information and tools are available free of charge.
The AARP Fraud Watch Network provides access to:

The latest breaking scam alerts delivered directly to your email inbox
Scam-tracking maps warnings
The Con Artists Playbook is a pamphlet which highlights common strategies that con artists use for theft schemes and gives consumers the instrumental advice guarding themselves against the criminal's tricks
To learn more about Fraud Prevention, Watchdog Alerts, Tips and Resources, visit: www.AARP.org/fraudwatchnetwork 
To learn more about Frank Abagnale, visit: Abagnale.com