FOR IMMEDIATE R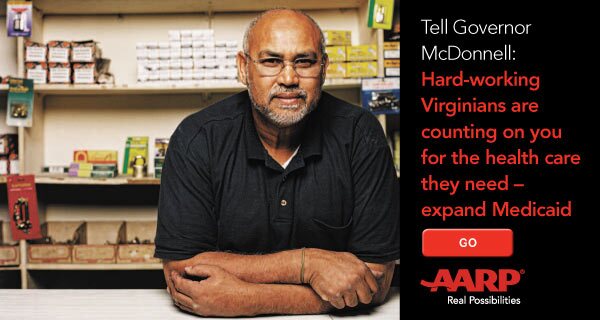 ELEASE
March 12, 2013

AARP TELLS Gov. Bob McDonnell: HARDWORKING VIRGINIANS ARE COUNTING ON YOU
GROUP LAUNCHES AD CAMPAIGN, RAMPS UP GRASSROOTS NETWORK to urge governor to approve medicaid expansion without changes
RICHMOND _ AARP Virginia is urging its more than 1 million members across the state to contact Gov. Bob McDonnell to tell him to approve the Medicaid expansion budget approved by the General Assembly.
"Governor McDonnell, hardworking Virginians are counting on you," said AARP Virginia State Director Bill Kallio. The plea also is the headline in newspaper ads and the primary message of radio spots sponsored by the organization. Kallio today sent letters to McDonnell and Virginia Health and Human Services Secretary William Hazel urging the acceptance of the General Assembly's decision.
The Virginia General Assembly approved a budget that includes expanding the Medicaid income eligibility guideline to 133 percent of poverty – or about $32,000 for a family of four – before it adjourned on February 23. McDonnell has until March 25 to sign it into law, giving 400,000 uninsured Virginians access to health care coverage. The House passed the budget 83-17 while the Senate approved the measure 32-8.
"More than 80 percent of Virginia's legislators approved a budget that includes Medicaid expansion," Kallio said. "The Governor should let their decision stand and permit Medicaid expansion to be implemented as the General Assembly intended, without changes."
He said to delay Medicaid expansion puts lives at stake and continues to jeopardize the health of hardworking, low-income citizens-- including more than 33,000 military veterans in Virginia.
"Expanding Medicaid will help tens of thousands of 50 to 64-year-olds who've lost their jobs or are struggling in jobs without health benefits but don't currently qualify for Medicaid health coverage," Kallio said.
The ads directed at McDonnell say, "If taking care of hard-working Virginians wasn't enough of a reason to approve Medicaid expansion, it will also create jobs and pump money into our state's economy."
The state will receive $23 billion in federal funds to expand the income guidelines for the program. The expansion is expected to support more than 30,000 new jobs.
In addition to the advertising campaign, AARP is activating its grassroots network and the public through e-mails, telephone calls and social media, urging Virginians to call and email McDonnell urging him to let the plan to expand Medicaid move forward without changes. Emails and social media posts include a link, http://action.aarp.org/ExpandVA, to a form letter to email McDonnell.
"Call 1-800-211-0914 and tell Governor McDonnell to let the plan to expand Medicaid move forward without changes so Virginians can get the health care they need," the ads say.
More than 40 AARP state offices across the country are engaging members and volunteers, lobbying governors and legislators, running ads and working in coalitions to ensure access to health care for all Americans. In Michigan, for example, Governor Rick Snyder announced his support of Medicaid expansion at an event hosted by AARP and other health advocates. In Arkansas, AARP is running ads in newspapers across the state encouraging legislators to support Medicaid expansion.
A recent paper from AARP's Public Policy Institute examined the implications of states accepting Federal dollars and expanding Medicaid for uninsured low-income midlife adults. Between 2006 and 2011, the number of uninsured adults ages 45-64 increased from 14.2 percent to 16.3 percent; that's a 15 percent increase. The rise in unemployment and the associated lack of employer-provided health coverage left many midlife Americans looking for work and without access to health care.
The federal government will pay 100 percent of the Medicaid costs for the first three years of the expansion. Therefore, states that expand Medicaid early – beginning in 2014 – will receive greater financial advantage than those that expand in later years.
For more on AARP's Public Policy Institute paper on Medicaid expansion, visit: http://www.aarp.org/health/medicare-insurance/info-02-2013/after-scotus-decision-implications-of-expanding-medicaid-low-income-midlife-adults-AARP-ppi-health.html.
Follow AARP Virginia on Facebook at www.facebook.com/aarpvirginia and on Twitter @AARPVa.
AARP is a nonprofit, nonpartisan organization, with a membership of more than 37 million, that helps people turn their goals and dreams into real possibilities, strengthens communities and fights for the issues that matter most to families such as healthcare, employment security and retirement planning. We advocate for consumers in the marketplace by selecting products and services of high quality and value to carry the AARP name as well as help our members obtain discounts on a wide range of products, travel, and services. A trusted source for lifestyle tips, news and educational information, AARP produces AARP The Magazine, the world's largest circulation magazine; AARP Bulletin; www.aarp.org; AARP TV & Radio; AARP Books; and AARP VIVA, a bilingual news source. AARP does not endorse candidates for public office or make contributions to political campaigns or candidates. The AARP Foundation is an affiliated charity that provides security, protection, and empowerment to older persons in need with support from thousands of volunteers, donors, and sponsors. AARP has staffed offices in all 50 states, the District of Columbia, Puerto Rico, and the U.S. Virgin Islands. Learn more at www.aarp.org .

--30--
View the newspaper ad and click the link to listen to the radio spot: