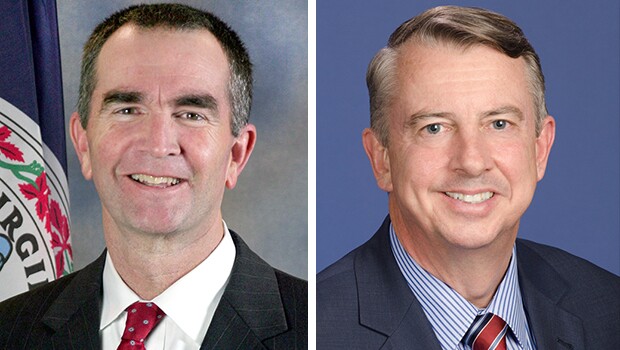 By Tamara Lytle

Virginia voters will choose this fall between candidates for governor who differ on taxes, health care and jobs.

Republican Ed Gillespie, 56, chaired the Republican National Committee, was a White House counselor to George W. Bush and, more recently, worked as a lobbyist and political consultant. He lives in southern Fairfax County.

Lt. Gov. Ralph Northam, who turns 58 this month, is the Democratic nominee in the Nov. 7 election. He is a pediatric neurologist and an Army veteran who served in the state Senate from the Eastern Shore.

Virginia's gubernatorial race is drawing national attention because it's one of only two (with New Jersey) this fall. Governors elected this year and in 2018 will influence redistricting, which could affect which party controls Congress during the 2020s, said Jennifer Duffy, senior editor of the nonpartisan Cook Political Report.

In the primary in June, Nor­tham easily defeated former Rep. Tom Perriello, who appealed to the liberal wing of the party in the mold of Vermont Sen. Bernie Sanders. Gillespie had a tough primary against Corey Stewart, chairman of the Prince William Board of County Supervisors and an admirer of President Trump.

Duffy said that neither Gillespie nor Northam is as far from the mainstream as the other party will make him out to be.

Here's where they stand on key issues, based on AARP interviews with both candidates.

Taxes: Gillespie proposes cutting state income tax rates over three years by 10 percent across the board, contingent on growth in state revenue.

"It benefits all Virginians. It would provide much-needed relief and make us more friendly to small-business expansion," Gillespie said.

Northam opposes Gillespie's plan. "Cutting taxes for the wealthy at the expense of the working class and certainly those with low incomes would be irresponsible," he said.

Northam said he would cut or eliminate the sales tax on groceries for low-income residents and work with both parties in the General Assembly on tax reform.

Jobs: As a small business owner of his medical practice, Northam said, "I know what it takes to grow a small business in Virginia." His jobs proposal would offer free education at community colleges for an associate's degree or work credential in areas like cybersecurity, health care, and construction in exchange for a promise of one year of pubic service.

Gillespie's jobs plan focuses on helping smaller businesses grow and cutting businesses' costs of interacting with the state by half. "We can have sensible regulations and streamline and modernize them," Gillespie said.

Health care: The Affordable Care Act offered states federal funding to expand the Medicaid program to cover more moderate-income people, but the Virginia General Assembly has resisted efforts by Gov. Terry McAuliffe (D) to do that.

Gillespie opposes expansion: "It puts Virginians at risk long term in terms of the budget. Medicaid costs grow 8 percent a year as it is. To expand it would be unsustainable."

Northam favors expanding Medicaid. "We've got 400,000 working Virginians who don't have access to coverage," he said. "Morally, we think it's the right thing to do."

Minimum wage: Northam favors raising the minimum wage to $15 an hour; Gillespie disagrees.

"It's literally impossible for someone to support themselves and their families on $7.25 an hour," Northam said of the current minimum.

But Gillespie warns that the higher wage would force businesses to eliminate jobs. "There are better ways to make wages rise than a government mandate."

AARP Virginia is helping voters ask the candidates questions on Twitter with the We Want to Know campaign. Use the hashtag #WW2K to find voter questions and ask your own, and add the tag @AARPVa.

Tamara Lytle is a writer living in Vienna, Va.