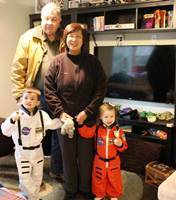 Meet Corazon Foley, founder of a senior center "Without Walls"!
Corazon Foley (Cora for short) is one of those retired people who are busy with their post-work life. She has written seven books since her retirement in 2007 from the State Department, and she started the Burke/West Springfield Senior Center Without Walls (BWSSCWoW), a complex name for a simple idea: A senior center that moves from place to place as needed in the northern Virginia community where she lives.
If that weren't enough, she's now also running for Springfield Supervisor, with a campaign with no fundraising that focuses on the issue of unfair treatment of Springfield senior taxpayers and their families "Other districts have 17 permanent senior centers; Springfield District NONE!," she says via email.
The Senior Center Without Walls is already her legacy to the community. "After I retired … I volunteered to drive ladies in their 80s to their fitness programs," she recalls. "They used to ask me why we needed to drive so far away when we should have a senior center in our Burke/West Springfield area. So in 2007, I started inquiring from County officials who told me the same story: no money nor staff for the program."
The answer? the 'Without Walls" concept -- a public-private partnership whereby churches and private organizations donate facilities while volunteers monitor classes, and Fairfax County provides liability coverage and administrative support without adding any new hires.
"We started with a pilot program of line dancing with 70 seniors in 2009 and today, in 2015, we have four registrations that total some 1,000 registrations annually," she says, with a waiting list of people who want to sign up.
In 2014, she initiated a petition for a permanent facility for the Senior Center – giving it walls. When she found her supervisor wasn't responsive, began she petitioning in March to get her name on the ballot and mobilize voters.
Foley is Filipino American, and her volunteer work has covered a pan-Asian range. "In 2008 I founded the Fairfax County Asian American History Project (FCAAHP) to document the history, heritage, and experiences of the Asian American community that has been the largest minority group in Fairfax County since 1990. We have published three books: 'The Fairfax County Asian American History Project' (2010); 'VALOR: Asian American Soldiers, Police and Firefighters Protecting Fairfax County and Our Nation' (2013); and 'Second Generation Vietnamese Americans: A Comparative Perspective' (2014).
She's currently working on a fourth book in the series, on Asian American diplomats. She was also the First Filipino American to be recognized as "Lady Fairfax 2009" for her work on local history and the senior center.
Foley says she's aware of her role as an Asian American. "There are specific challenges because of language and history for Asian American seniors. For example, the Vietnamese American seniors who came as refugees deal with generational differences in world perspectives with their American-born children and grandchildren."
"I am a senior who looks back at life with a lot of gratitude for the blessings that I have received. And I am grateful for having been born in the Philippines and later becoming an American who was honored to represent the US as a diplomat. I look at the future with great optimism because our grandchildren have provided us with so much joy."
It's those next generations, she says, that keeps her working as a busy volunteer.
"So in order to protect our children and grandchildren from having to carry difficult burdens related to the aging of my husband and me, I have worked on programs to provide physical fitness, intellectual stimulation and social interactions for seniors like me. I want our children and grandchildren to prosper without my aging hindering their progress -- I guess that's what drives me in my work to support health programs for seniors."
Written by Gil Asakawa, AARP AAPI Marketing Communications Consultant
Also of Interest: