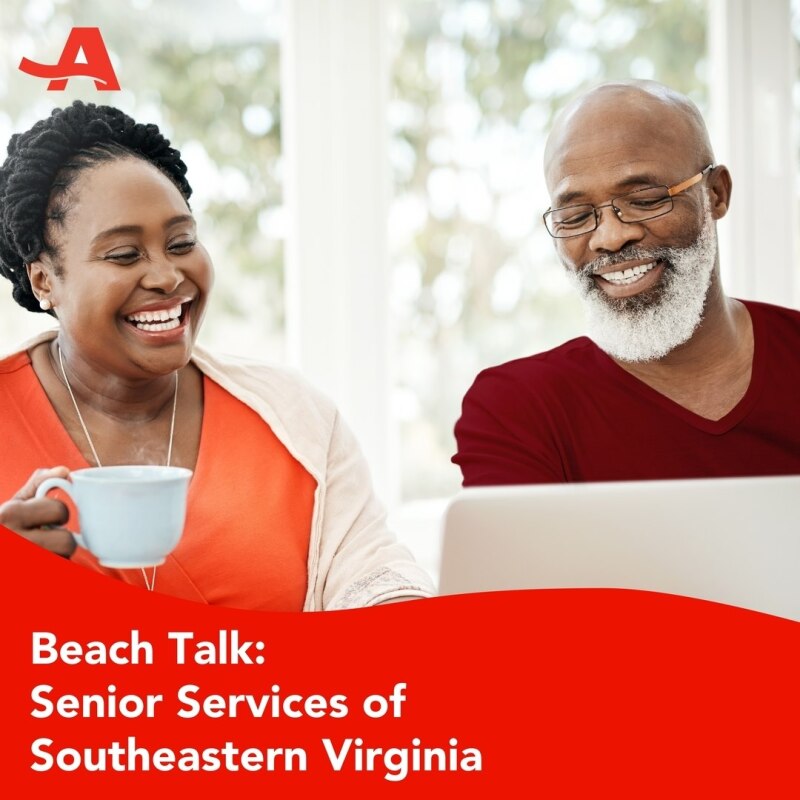 Senior Services of Southeastern Virginia was the featured agency on the debut edition of Beach Talk, a new AARP Virginia virtual program highlighting leaders and influencers in the Virginia Beach area.

Steve Zellos, Chief Executive Officer of Senior Services of Southeastern Virginia, was the guest on the online Zoom event. He has 20 years of experience and shared that service means a desire "to care for individuals, to locate the assistance they need with a level of compassion."

As CEO, Zellos said he goes out into the community with state and community leaders to meet people who are homebound. He said this interaction gives a voice to the those who are voiceless and often forgotten. When this part of the older population has a voice by having direct contact with leaders in the community, this empowers them, he said. Zellos said he misses direct involvement with older adults as he reflected on his experience as a young man of helping his uncle in Greece. This gave him the vision of realizing that there are needs that seniors have that they cannot navigate on their own, he said.

Zellos said he also feels strongly about Senior Services of Southeastern Virginia's ability to connect seniors to services. He said he sees pressing issues in the areas of crisis preparedness and prevention, as well as social isolation, which can present itself in physical, spiritual, or emotional ways.

COVID-19 clearly showed that the most vulnerable in our community are the older adults, Zellos said. He said any crisis can potentially keep older adults from being able to navigate such things as transportation, housing, isolation, and knowledge of services available to them.

Transportation

Transportation is a major issue for some older adults, Zellos said. Senior Services of Southeastern Virginia serves the cities of Norfolk, Virginia Beach, Chesapeake, Portsmouth, Suffolk, Franklin, and Isle of Wight and Southampton counties. The transportation program serves seniors who are age 60 and older and those with a disability. Adults who need transportation to a medical appointment can call 757- 461- 9481. Options Counselors coordinate with volunteers to provide transportation.

Housing

Senior Services of Southeastern Virginia also provides affordable housing at the Hayden Village Center in Franklin. A conversion of the historic Hayden High School to 28 residential units provides affordable housing in a diverse community, Zellos said. Residents of the community have transportation to and from the facility throughout the day. The uniqueness of this living arrangement is that the residents have all they need in the village, he said. The agency holds listening sessions to learn the needs of the seniors, and the community offers a variety of wellness and social activities.

Zellos said the agency has no plans to provide affordable housing in Virginia Beach at this time. He emphasized that Senior Services of Southeastern Virginia is open to providing affordable senior housing through partnerships in the community.

Other Services:

Virtual connectivity is also important because the world is changing in the age of COVID-19, Zellos said. Healthwise is a program where a team member or volunteer teaches a senior how to use computer technology during a coaching session. The volunteers are not computer specialists but often are seniors who are willing to teach others that much-needed skills.

Senior Services of Southeastern Virginia is the primary provider for the Meals on Wheels program in in the Hampton Roads area.

The agency also offers a benefits counseling program for individuals who are considering activating benefits, or during Medicare open enrollment, to learn about Medicare benefits and other services for which they could be eligible.

Senior Services of Southeastern Virginia is planning booster vaccination information events. Vaccine Ambassadors will share information about vaccinations to educate and motivate seniors to take advantage of vaccinations, Zellos said.

Zellos said to prevent social isolation during the pandemic, the agency sent out 1,450 activity kits designed to engage the seniors receiving them. In addition, the agency performed approximately 10,000 wellness checks on seniors in the area. For a 12-months period, more than 22,000 calls for assistance were received, including heating energy needs in the winter, and summer cooling concerns.

Zellos is not sure of the exact number of people that Senior Services of Southeastern Virginia has helped over the years, but he said he is confident that it is important to connect seniors in need to services as the world around them is in constant flux.

For more information about the agency and the services it provides, visit the website: https://www.ssseva.org.