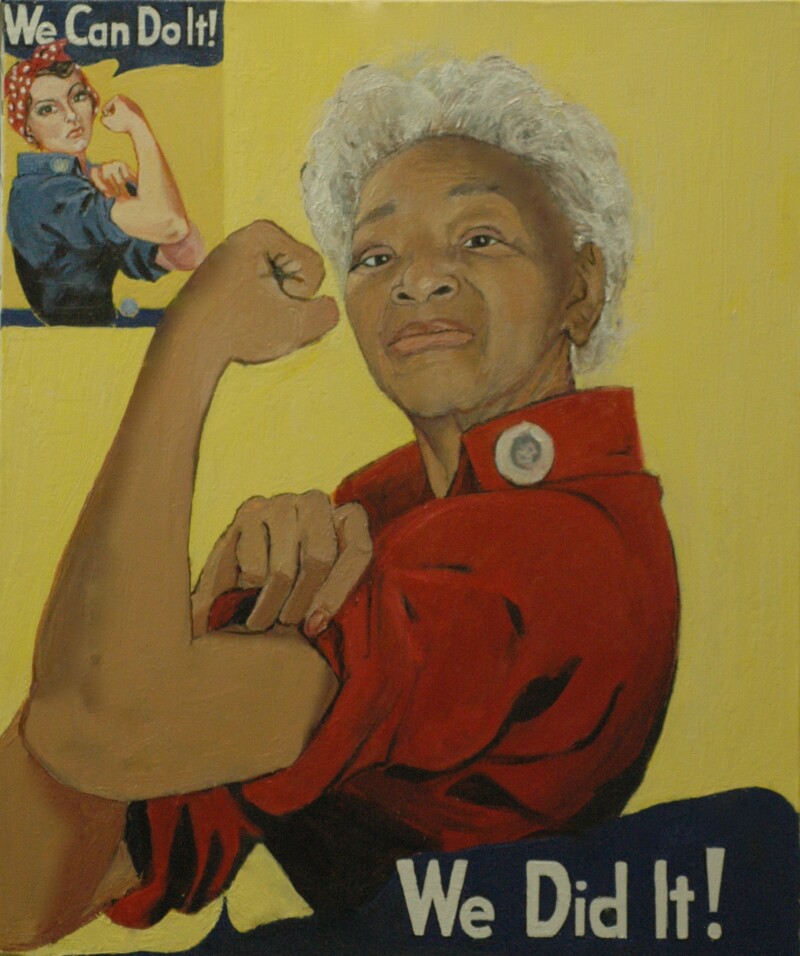 You are probably familiar with the iconic "We Can Do It" poster, depicting one of the millions of American women known collectively as Rosie the Riveters. With her rolled-up sleeve over an imposing bicep, she came to symbolize the millions of American women during World War II who stepped into jobs previously held by men called to war.

Among that workforce were 600,000 African American women who did not get the same recognition as their white counterparts. These "Black Rosies" helped pave the way for women to enter jobs in industry and government.

Now their stories are being told in a feature-length documentary, "Invisible Warriors: African American Women in World War II," by historian and filmmaker Gregory S. Cooke. He discussed the film during a recent presentation of AARP Virginia's Tuesday Explorers series.

The "invisible warriors" were quiet pioneers in the workforce who courageously overcame racism and sexism to create job opportunities for themselves and future generations of African American women.

When Cooke began actively researching the role of African American women during the war, he found that most available information was on white women. He was aware that African American women also came forward because his mother, Ethel Rebecca "Becky" Jones-Cooke, served as a clerk-typist at 18 for the U.S. Patent Office during the war.

Finding other black women became a challenge, since most were in their early 90s when he began his research. He reached out to friends, family members and nursing or senior-resident facilities, eventually locating eight former "Rosies" who agreed to be interviewed for the film.

Most of the women were modest about their wartime accomplishments and contributions. Only one of the eight recognized that what they did was a significant part of social change. Instead, most simply saw the work as a good job opportunity.

"They didn't see it as a big deal," Cooke said, and many family members were unaware of their work.

Before the war, African American women worked mainly as domestics or sharecroppers. They saw the war as an opportunity to earn good money, if only for a few years. Following the war, most returned to domestic work, a letdown for many.

Others, however, channeled the self-confidence and self-determination they gained from their wartime employment to improve their prospects, as well as those of future generations. Two became famous: poet Maya Angelou and actress Ruby Dee. And there were others:

Gwendolyn Faison was an electronics assembler for RCA. She continued to work for RCA after the war and was one of the first African American women to sell products on television. She later was elected as the first female African American mayor of Camden, N.J.
Ruth Wilson quit her job as a domestic to work as a sheet metal worker at the Philadelphia Navy Yard. Her husband was in the Army and deployed to England, and she enjoyed dancing at the USO clubs. She later worked at several jobs, earning multiple pensions, a rare achievement for African American women of her generation.
Susan King was a true Rosie the Riveter, working on an assembly line for Eastern Aircraft. She later earned her graduate degree and became a teacher.
Life as a Black Rosie wasn't easy for most because discrimination was widespread. African Americans supported the war effort, but they were still second-class citizens. Many adopted the "Double V," or victory symbol, rallying against Nazism overseas and against racial discrimination at home. Like all Americans, they wanted an end to the war, but for different reasons.

While the war created opportunities for African Americans, many white people resisted that progress, fearing they would lose something. World War II, said Cooke, was probably one of the most racially violent periods of the 20th Century. The influx of African Americans into many Northern cities meant competition with white people for jobs, housing, education and other services.

In 1943, there were 250 attacks against African Americans in America alone. Some companies refused to hire African American women, and those who did kept them segregated from white workers, resulting in racial tension. Black women were sometimes attacked, assaulted, and even lynched.

The U.S. Government grew tremendously during the war, creating job opportunities for many women. Before the war, most clerical and typist jobs were held by white men; afterwards, they were known as women's jobs. White and African American women received equal pay within the same pay grade, but often, only white women were promoted.

Many African American women wanted to join the armed forces, but few were allowed. Black nurses were only permitted to care for Black soldiers and Nazi prisoners. Following the war, most Black veterans were unable to benefit from services like the G.I. Bill and housing assistance that were provided to white GIs.

Remember that "We Can Do It" poster? It was popularized, said Cooke, by Westinghouse in 1942 for a two-week ad campaign designed to encourage white women to work for the company and be productive. This short campaign morphed into to the iconic symbol of Rosie the Riveter.

To fundraise for his film, Cooke commissioned a new image with Ruth Wilson, now 99, posing in the same Rosie manner, using the term "We Did It." The original poster appears as a thumbnail in the top corner. The new black Rosie image is titled "Victory."

Cooke said that most of the Black Rosies started out with poor prospects but improved their lives through their wartime jobs. They gained self-confidence, influenced the African American labor movement, and helped spur civil rights awareness.

"These women should be remembered as patriotic, determined, courageous, and faithful – our greatest generation," said Cooke.

This Tuesday Explorers program is available on AARP Virginia's YouTube channel.

The documentary Invisible Warriors: African American Women in World War II will be the featured film in an upcoming AARP Movies for Grownups screening on March 11 at 8:00 p.m. ET. Click here for more information.

Recommendations by Gregory Cooke for additional reading: