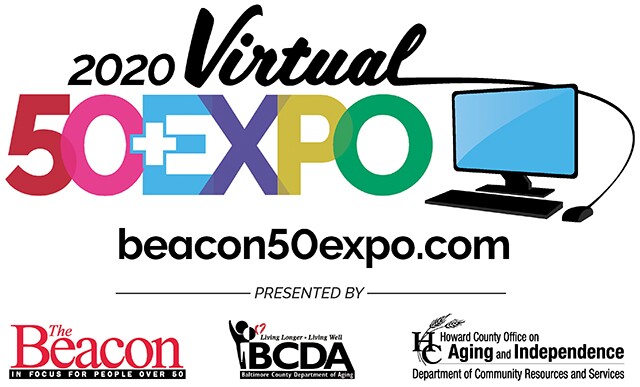 Beacon 50+Expos Go Virtual
For the past 20 years, the Beacon Newspapers has attracted thousands of people each year to its 50+Expos in Montgomery County and Northern Virginia, featuring speakers, exhibits, entertainment and more.

For the same number of years, the Howard County Office on Aging & Independence has produced its own 50+Expo for its residents, and Baltimore County has similarly done so for more than 30 years.

This year, for the first time, all three area Expos will join forces to present a unique Virtual 50+Expo offering many times the content of past years' programs, to be promoted throughout the mid-Atlantic area.

Guests to the event's custom-designed website will obtain immediate, free access to dozens of classes, speakers and entertainers chosen especially for them.

The event's keynote speaker will be a Dr. Ken Dychtwald, a nationally-renowned gerontologist and the author of 17 books on aging. Dychtwald will discuss his most recent book, What Retirees Want, followed by a question-and- answer session with Beacon publisher Stuart Rosenthal.

In addition, the online expo will include 20 demonstrations or classes on tai chi, yoga, Zumba, cooking, meditation and other popular wellness topics. More than a dozen expert speakers will address health and wellness, legal matters and estate planning, money and investments, retirement housing options and more.

Entertainment will range from stand-up comedy and big band sounds to country, rock-and-roll, jazz and classical music.

The Virtual 50+Expo will also include more than 100 informative exhibitors — including government agencies, nonprofits and area businesses offering products and services to older adults and their families.

To enable area residents to enjoy this wealth of material, the 50+Virtual Expo will remain free and accessible 24/7 for three months — from Sunday, November 1, 2020 through Sunday, January 31, 2021.

And to reward repeat visitors, random "door prize" drawings will be held every week.

Corporate sponsors include Gold Sponsor Maplewood Park Place, an award-winning retirement community in Bethesda; Silver Sponsors AARP, Holy Cross Health, Adventist HealthCare Adventist Medical Group, CIGNA and Pepco, and many bronze sponsors.

To register in advance to receive updates and reminders, visit bit.ly/beacon50expo.*
Look for more details in upcoming issues of the Beacon or visit the Expo website at www.beacon50expo.com starting November 1.

*This is not an AARP event. The information you provide to the host organization will be governed by its policies.