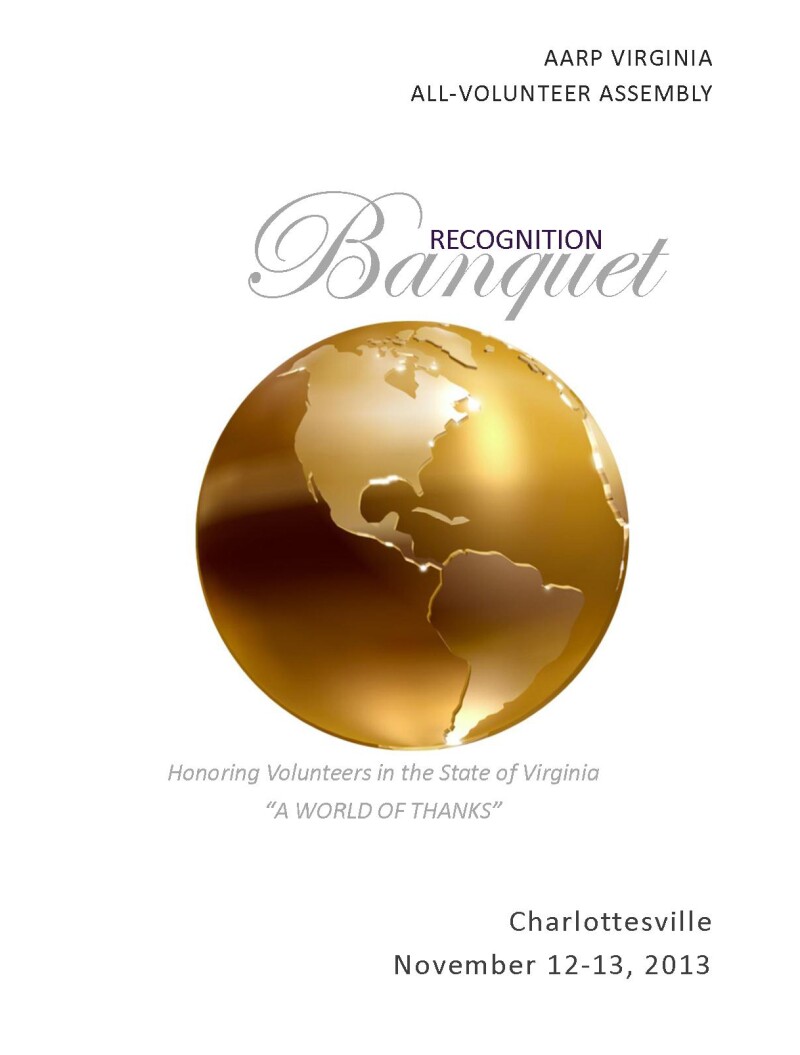 NBC 29: AARP Awards Banquet

CHARLOTTESVILLE _ AARP Virginia has selected David Blackistone to receive the 2013 AARP Virginia Andrus Award for Community Service -- the association's most prestigious and visible state volunteer award for community service.

David Blackistone of Locust Grove was selected for his remarkable service which has greatly benefited his community, supported AARP's mission, and inspired other volunteers. Blackistone has made his mark as a major contributor to his community. He began serving as the coordinator of mission projects for his church which included completely rehabilitating a SAFE House (home for battered women and children), working to bring a home up to code for housing, helping young men caught in the hopeless cycle of unhealthy addiction, and breathing life back into a nearby camp for children.

The Andrus Award was presented to Blackistone at the All-Volunteer Assembly Recognition Awards Banquet in Charlottesville on November 12, 2013.

"This award acts as a symbol to the public that we can all work together for positive social change," said Bob Blancato, AARP Virginia State President. "AARP has long valued the spirit of volunteerism and the important contributions volunteers make to their communities, neighbors, and the programs they serve."

Andrus Award recipients across the nation were chosen for their ability to enhance the lives of AARP members and prospective members, improve the community for which the work was performed, and inspire others to volunteer.

AARP Virginia recognized the following volunteers with awards at the banquet:

Gordon Morton Award : an individual AARP volunteer who has made outstanding contributions to the work of AARP in a manner consistent with the dedication and quality of work modeled by Gordon Morton, an AARP volunteer who passed away in 2002. Sally Cooney Anderson of Fredericksburg is the 2013 award recipient. Sally has been a volunteer leader in local and national organizations with demonstrated success for over 30 years. She has strong experience in organizational and program planning, volunteer recruitment, public relations, communications, visual production and web design. And she has a great ability to engage others in causes that matter. Her unwavering commitment to AARP's mission and her powerful service in VA and beyond are the starting point for this nomination. Since becoming an AARP volunteer, Sally has led significant expansion of The Holiday Project in Virginia

The President's Awards for Community Service: Presented by AARP Virginia State President Bob Blancato, The President's Awards for Community Service are given to deserving individuals or groups chosen at the AARP State President's discretion. This year's winners are: Jane King, Alexandria; Brenda Carswell, Woodbridge; Yvonne Staton, Lorton; Denise Coates, Herndon; Ron Styles, Henrico; Vernon Wildy, Richmond; Liz Jane, Reston; Altamese Johnson, Richmond; and Robert "Sarge" Sargeant, Fairfax.

Community Partner of the Year Award: recognizes an organization/agency that has made outstanding contributions to the work of AARP by collaborating with AARP volunteers and staff to enhance the quality of life for members of the community. The 2013 award recipient is the Local Area Agency on Aging in Roanoke is a private, non-profit organization dedicated to its mission of helping older persons remain independent for as long as possible.

Chapter Awards: Recognizes chapter members that demonstrate effective advocacy, outreach and leadership, have followed AARP guidelines in developing strong chapter organization and have advanced the mission and purpose of AARP programs that reach out to the broader community. Awards were presented to the following members of the Blacksburg chapter: Val Coluni, Leslye Bloom, John Hillison and Sally Anna Stapleton.

Rookie of the Year Award: The Rookie of the Year Award recognizes new volunteers for exceptional service: Susan Payes, Richmond; Marietta D'Ostillo, Fredericksburg, VA; Kathleen Holler, Fredericksburg; Ann Macpherson, Oakton; and Douglas Dockey, Norfolk.