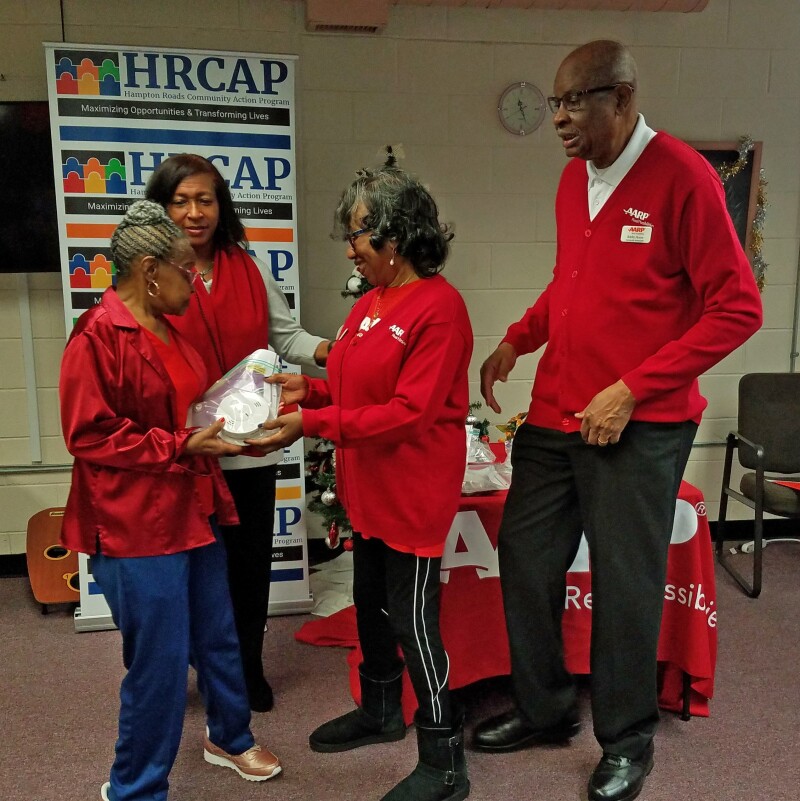 A cold wind rustles the leaves strewn about the yard.
The smell of cinnamon permeates through the air from the aroma diffuser.
The fire logs cackle while emitting a simultaneous combination hue of yellow, orange and red flames with smoke billowing up the chimney.
All of the above are idyllic scenarios during the winter months, but unfortunately so are the disastrous visions of a dried out Christmas tree rapidly on fire, or an overloaded light socket with sparking defective plugs, or a neglected pot burning on the stove.
A lot of times these tragedies could be avoided if homes were equipped with the proper tools to combat these situations from happening.
Thanks to a matching grant from AARP to Home Depot's amount of $1500 each, area seniors within the four regions of Virginia will be able to enjoy the holiday season a little more peacefully.
This initiative, orchestrated by AARP State Volunteer President Carol Downs, and in conjunction with southeastern Virginia's HRCAP (Hampton Roads Community Action Program), many seniors got to participate in 'S.A.F.E. Senior' (Safe Air For Seniors). The goal is to distribute free combination smoke/carbon monoxide detectors to those who may have difficulty to purchase these units on their own.
The objectives and goals for this plan include:
Reduce the risk of death from fires and carbon monoxide poisoning
Increase awareness of the dangers of carbon monoxide poisoning
Build upon increasing relationships between AARP, local fire stations, TRIAD and the Office on Aging
Encourage Home Depot's involvement with safety for seniors
Raise AARP's role in keeping area seniors safe
In the SEVa region AARP volunteers Bobby Horne, Joyce Watson and HRCAP CEO Edith G. White recently visited with some seniors at the Newport News Clark Multi Purpose Center and distributed the combo detector units to the recipients.
HRCAP is a non-profit community action agency that serves residents that live in Southeastern Virginia.The organization provides services in the areas of education, employment, emergency assistance and housing that enable low income individuals and families to escape the grip of generational poverty and find a path to self-sufficiency and prosperity. HRCAP operates 20 programs in the five cities of Chesapeake, Hampton, Newport News, Norfolk and Portsmouth.
AARP is proud to be a part of such initiatives as:
Stop Rx Greed
Fraud Watch
MFGs (Movies for Grown Ups)
Volunteerism
Disrupt Aging
Caregiving