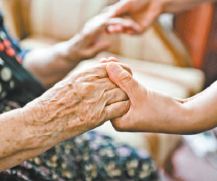 The following guest blog was written by Barbara Katz, RN, MSN Director of Clinical Program Development at VNA Community Healthcare.

Jean Caron of Old Saybrook, an AARP volunteer, knows how frustrating it can be as a family caregiver to find practical advice on performing medical tasks at home. In a recent interview, Jean, who cares for an elderly relative, explained that when her relative was discharged from the hospital after a massive heart attack, the only instructions she got were a piece of paper with minimal instructions. When asked where she went for help with medical tasks for her loved one, Jean replied "Google". "People just have no idea where to go for help", Jean explained. For example, no one offered help with her relative's mobility problems. She went out and bought a walker and a cane, but had no idea how to get them fitted properly or how to use them.

As an AARP advocate, Jean worked for passage of new CARE Act legislation in Connecticut, a top AARP priority in 2015. The Act, which takes effect October 1, 2015 mandates that hospitals let patients appoint a family caregiver and must notify the caregiver before the patient is discharged home and provide instruction in how to do medical tasks that they will need to do at home. Request your free CARE Act wallet card.

According to Jean, "this is a positive first step", but she feels many family caregivers, especially those taking on the care of an elderly loved one or spouse for the first time, would benefit from additional help when they get home.

One new source of this additional help is VNA Community Healthcare's Family Caregiver Education Series. Jean was part of a group of volunteers who pilot tested the series created by a nonprofit, home healthcare agency located in south central Connecticut. The development of the series was funded, in part, through a grant from the Agency on Aging of South Central Connecticut.

The program consists of practical, hands-on workshops designed to help family caregivers learn medical skills they can use at home. Jean says she learned a lot of things she didn't know. For example, in the class on dealing with resistance in people with dementia, she learned about "sun-downing" -- a term that describes how confusion can often become worse later in the day. Using this information, Jean now saves all important discussions for early in the morning when her relative is fresh and more coherent. Jean says she found the classes offered a friendly, supportive environment where family caregivers can tell the truth about their feelings and concerns.

The Family Caregiver Education Series is a free, five week program, held at VNA Community Healthcare, 753 Boston Post Rd in Guilford, Connecticut. Workshops will be held on Wednesdays from 1:00 - 2:30 p.m., starting September 9. All sessions are taught by clinical experts including, nurses, gerontologists, physical and occupational therapists. Topics include:

Coordinating medical care (September 9)
Body Mechanics and Assistive Devices ( September 16)
Coping with Incontinence and skin care (September 23)
Dealing with challenging behaviors and dementia (September 30)
Creating a positive home environment for the person with dementia (October 7).


Caregivers must register to attend*. They can choose to come to the full series or to attend single sessions of their choice. Classes are free. To register, call (toll free) 866-474-5230 or visit ConnecticutHomecare.org.

*This is not an AARP event. Any information you provide to the host organization will be governed by their privacy policies.

-----
Download the 2015 Connecticut Caregiver Resource Guide.

Find more AARP resources for family caregivers at aarp.org/caregiving.

Share your caregiving story with us at iheartcaregivers.org.