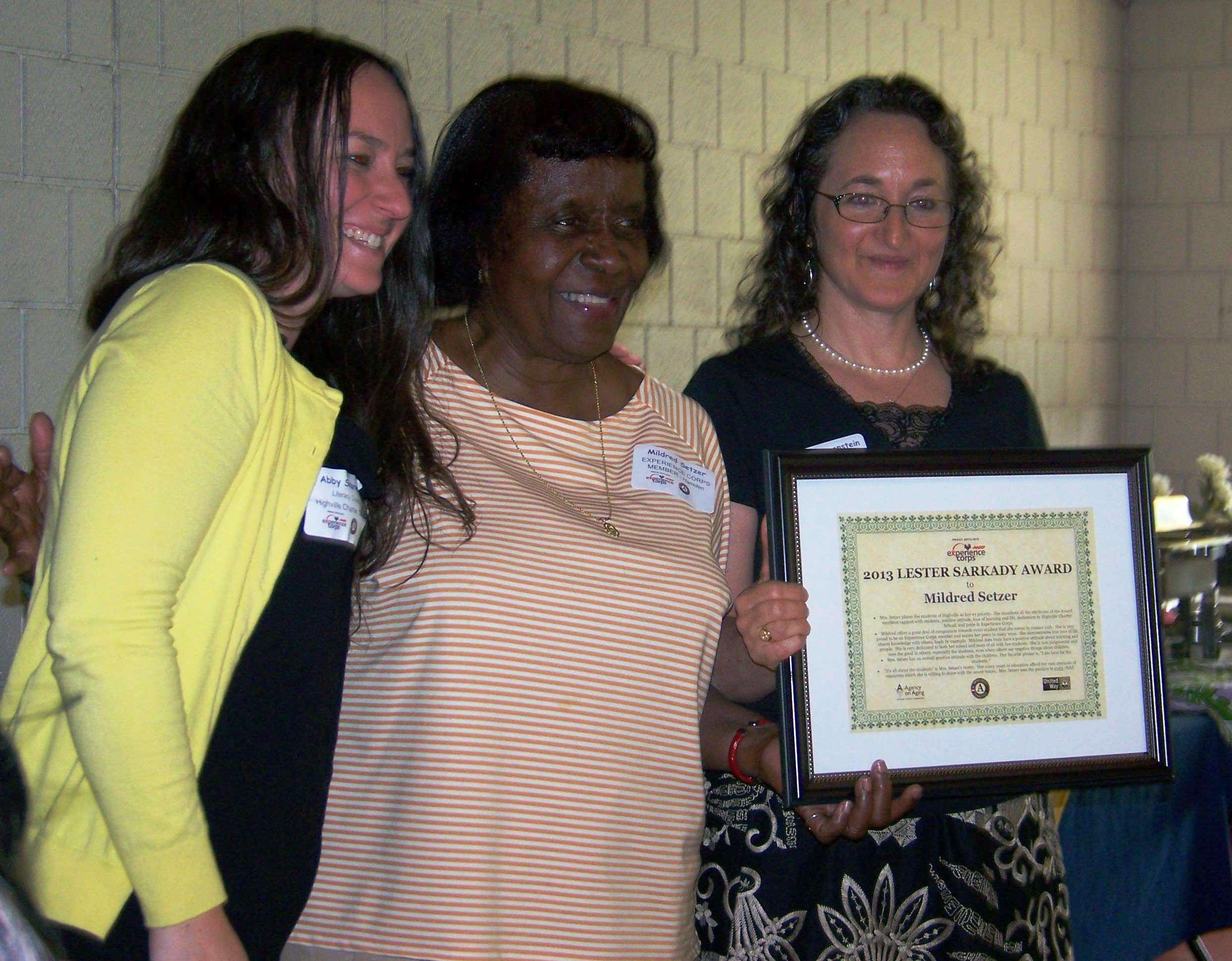 AARP Experience Corps-Greater New Haven is currently seeking volunteers for the upcoming school year and will be hosting information sessions throughut July, August and September. Learn more about the program and how you can get involved below:

Article By Carol Hazlett --

Mildred Battle Setzer, a Connecticut resident, has spent the past several years of her retirement volunteering with AARP Experience Corps-Greater New Haven. Mildred first learned about the program through a friend who spoke highly of it. "Having taught for so many years I saw a need to help others, especially the kids," said Mildred. "It's best to get them while they're little, so as they get older they're prepared to learn more in the higher grades"

AARP Experience Corps is a national program which engages older adults nationwide to serve as literacy tutors in Kindergarten through third grade across 20 states. At school children first learn to read, but at some point in education children start reading so that they can learn. Studies have shown that children who cannot read on grade level by the end of third grade may have a greater difficulty continuing to learn in the more advanced grades.

Originally from Alabama, Mildred has always had a love of children and passion for education. After starting her career teaching middle school in Georgia, Mildred came to Connecticut where she has lived for the past 45 years. Although Mildred has experience in education, she says, "you do not have to have teaching experience to be part of AARP Experience Corps. If you have ever taught someone something then you are already a teacher. You might not have a degree or taken the educational courses, but anyone who can be a role model is a teacher."

AARP Experience Corps tutors come from all walks of life, from retired accountants to retired nurses; all that is really needed is a desire to work with children, basic reading/writing skills, and the commitment to serve 10 or more hours a week.

"I Like You"

Mildred's fondest memory while tutoring was while working with one little girl. Mildred describes "I was working with this child who always said she couldn't do it and each time I would reply 'yes, you can do it.' One day this same girl said to me 'I like you' and I said 'I like you too.' Eventually this child's mother wanted to meet me because she would go home and talk about me to her family." Mildred goes on to explain, "you have to be firm, but you have to give them confidence. Once they start believing that they can, even that shift in thinking can lead to great success."

Mildred explains "AARP Experience Corps-Greater New Haven has impacted me a great deal, it has kept me active, and it gets me out of the house. It has enabled me to keep doing what I love, to work with kids. I just love it." Mildred goes on to elaborate she doesn't do it for the stipend; she says it is about the children and the society we live in.

This past year Mildred received the annual Lester Sarkady award, which recognizes one AARP Experience Corps tutor who embodies not just the skills to tutor, but a real love of life and learning. She states "I must have done something good. I've already gotten rewards from doing what I do and now I have an award for it."

Mildred believes that she must do whatever she is able because "these kids are future leaders and we need to prepare them for it." Mildred says to the kids, "you have to learn because some day you may be a doctor for me and I'll want you to know what you're doing." As far as the kids are concerned, for Mildred, she points out that "whether it is reading and writing, or just plain basic skills, I try to instill that into the kids each and every day."

If you have time to spare and are looking for a volunteer opportunity where you can use your skills and experience to make a lasting difference in the life of a child, please consider joining AARP Experience Corps-Greater New Haven. Information meetings will be held throughout July, August, and September. For more information about AARP Experience Corps or to reserve your seat at an information meeting, please contact Sheila Greenstein at 203-752-3059 x2900 or volunteer@aoascc.org.

AARP Experience Corps is the recipient of the 2011 Service Impact Award and 2012 Eisner Prize for Intergenerational Intelligence. AARP Experience Corps-Greater New Haven is a program of the Agency on Aging of South Central Connecticut and a proud member of the AmeriCorps National Service Network.