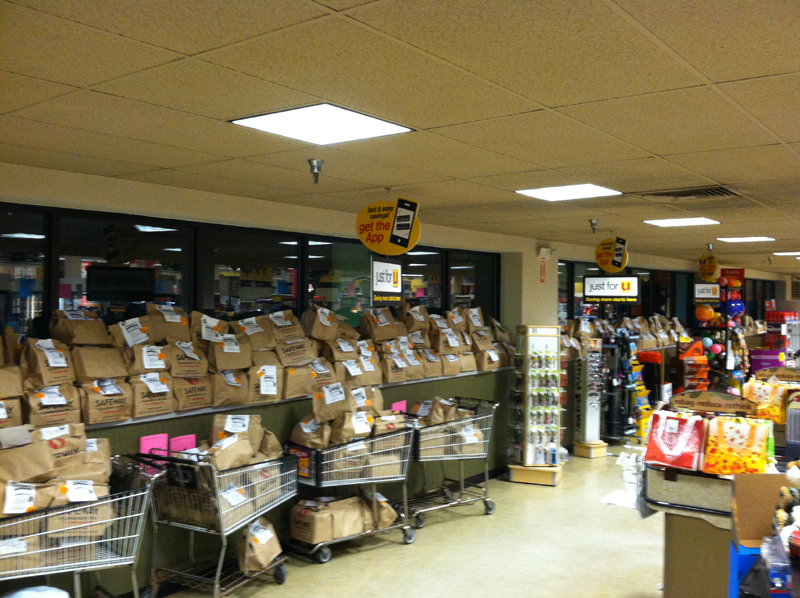 "It's not a bag of food. It's a bag of hope."

This driving message became a mantra and helped to fuel the success of a major anti-hunger campaign last week! Partnering with successful local hunger outreach program Harvest for the Hungry (HfH), Jen Holz, AARP Maryland's Outreach Director, recruited and managed a team of approximately 150 AARP volunteers to staff Safeway stores in Prince George's, Montgomery, Baltimore Metro and Howard Counties, to help encourage purchase of pre-stuffed bags of food from March 2-10. Many of these volunteers are new to AARP!

AARP and AARP Foundation staffers also jumped in to help—taking shifts in stores and bringing their families along as volunteers. This partnership helped to further AARP's "Drive to End Hunger," a national anti-hunger campaign.

The results? Nothing short of amazing. Just a few days after kickoff, the HfH campaign had already equaled its 2012 collection level. At week's end, HfH volunteers helped to sell a total of 6,674 pre-stuffed grocery bags through Safeway—a 60 percent increase over last year—which equates to 45,000 pounds of food! All donations benefit local food banks around DC, Maryland and Virginia.

To see a complete photo album of the event, visit AARP Maryland's Facebook page

Volunteers encouraged Safeway customers to donate by purchasing a $10 pre-stuffed bag of food or by donating a non-perishable food item or online monetary donation. Area residents were also encouraged to leave non-perishable food items next to their mailboxes all week, for pickup by the US Postal Service and delivery to benefit the Capital Area Food Bank.

Here is the first of several stories from AARP Maryland volunteers who helped out during HfH last week. AARP Maryland will be posting select volunteer stories with photos from the event over the next several days:

"This has been our first time ever to volunteer for anything outside our comfort zone, like church and school activities.  Harvest for the Hungry, part of AARP's Drive to End Hunger, has been an experience we will never forget, will cherish for life, and would like to repeat over-and-over again!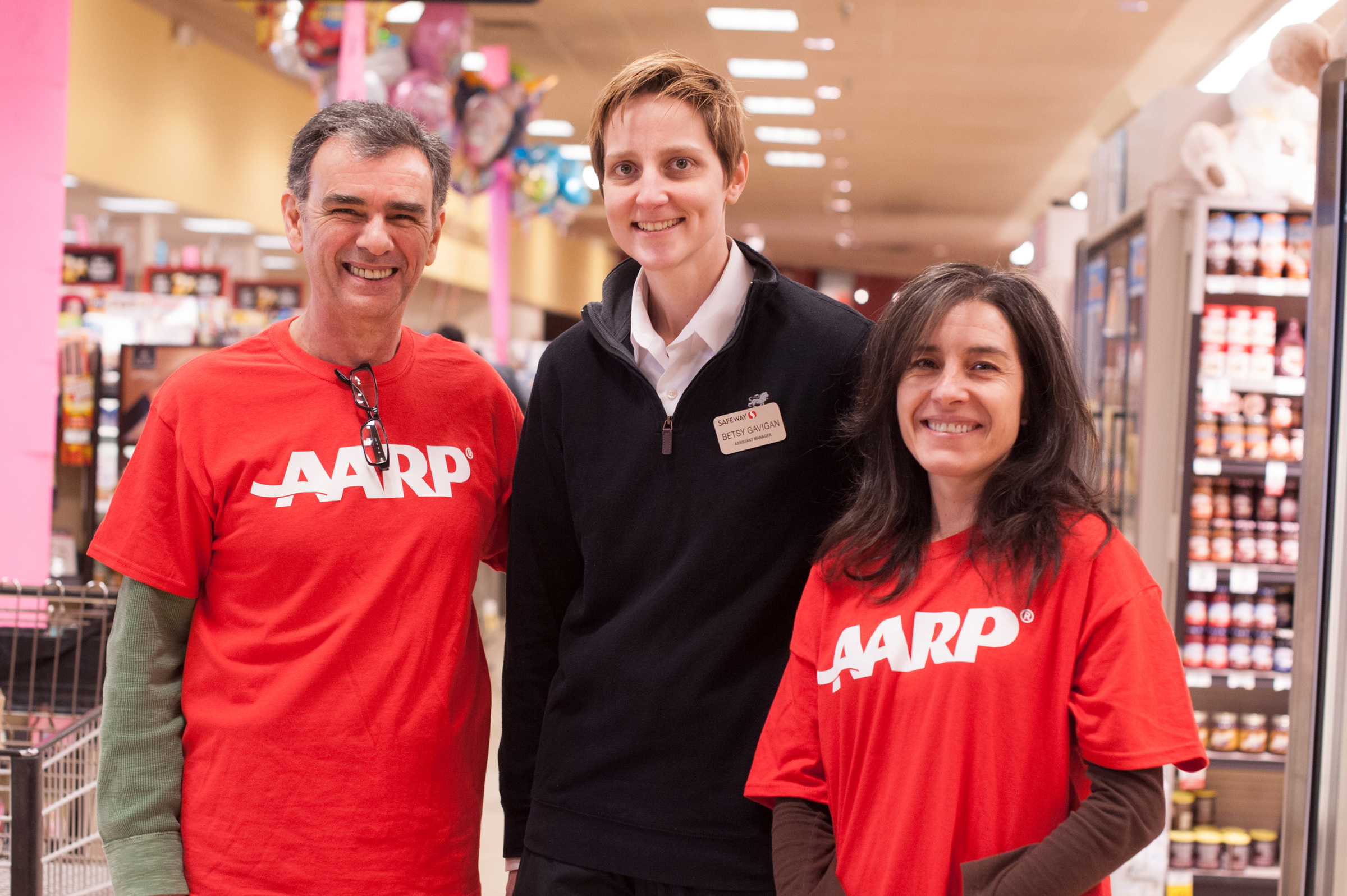 It has also opened our hearts to helping with other volunteer activities.   During this week-long drive, we had the most amazing stories and experiences to share. Our mouths fell open when we heard people's answer our ask for donations with, 'I am fine,' 'I am OK,' 'Not today,' 'I am in a hurry,' and so forth. We heard probably 20 'nos' before we got a 'yes' – but what beautiful yes' we got! One woman said, 'Thank you, I am counting my blessings.' She purchased six bags! We also heard: 'I never give, but today I know I must.' 'Thank you for reminding us to do this.'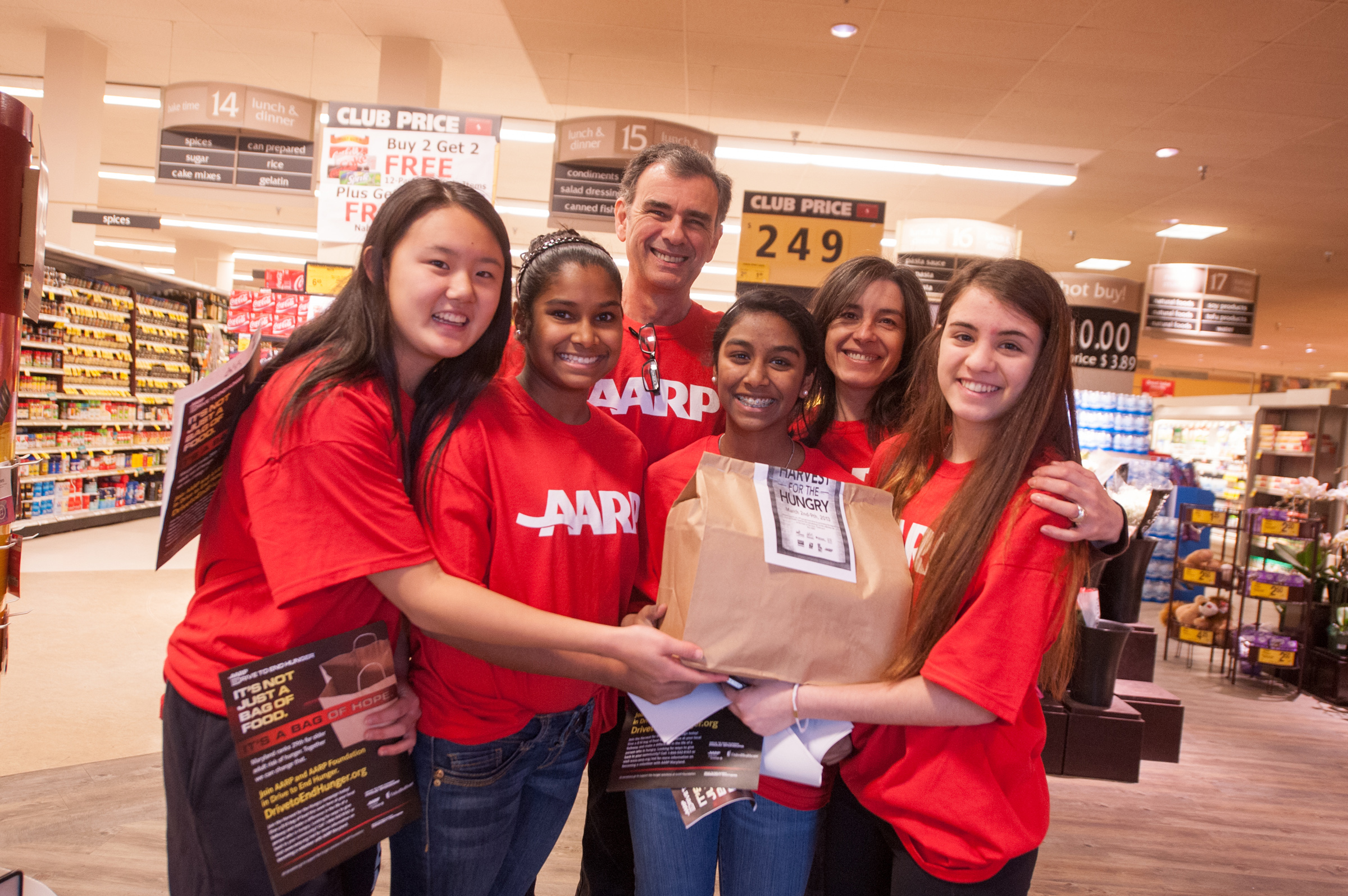 Amazing stories, amazing people...human race, we love you even though we are still trying to understand ourselves. Thank you, thank you, thank you!"

-AARP Volunteers Aldo Asseo, his wife, Maria Ipoucha (top photo, in AARP shirts), and family and friends (seen below). Their Safeway store in Jacksonville, MD, sold 499 bags—the largest amount of any store in during the entire food drive.

Read Elois' volunteer story, Marvin, Ed and Kelly's volunteer stories, and the Visallo family's volunteer story.

Do you want to volunteer your time with AARP in Maryland and help make a difference? Email Jen Holz at jholz@aarp.org. For more information on AARP's Drive to End Hunger, visit http://endseniorhunger.aarp.org/.