Hello there blog readers!

It's been a busy year for AARP Illinois as we've jumped into the "tech space". For a long time our members have told us that they want to stay connected, they want to stay current in the job market, and they want to keep learning about technology. Ask and you shall receive!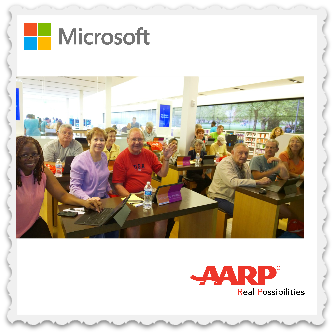 AARP-Microsoft Classes
First for those of you who are interested in learning more about Windows we've partnered with the Microsoft stores in Oak Brook and Schaumburg to offer a plethora of classes and workshops running through the end of the year.

We've got photo workshops, video workshops, OneDrive classes, Windows 8.1 classes, and the entire Microsoft Office Suite including PowerPoint, Word, Excel, classes. We've even got classes to help you protect yourself from those pesky viruses and spammers!



Classes in Schaumburg - are still open but are filling quickly. Check out the schedule here for details on how to sign up.



Classes in Oak Brook are completely full -- but we're adding more classes all the time-- so add your name to the wait list...or if you're like me and you don't like to wait, you can attend a free non-AARP class by checking their store schedule here. (The content is exactly the same -- but you'll be with the general public rather than with your fellow AARP members.)



By the way all of our classes and workshops are FREE. I know right?! Pretty awesome, but RSVP is REQUIRED. We'll provide a device for you to learn on.

AARP-Tek Workshops Tablets 101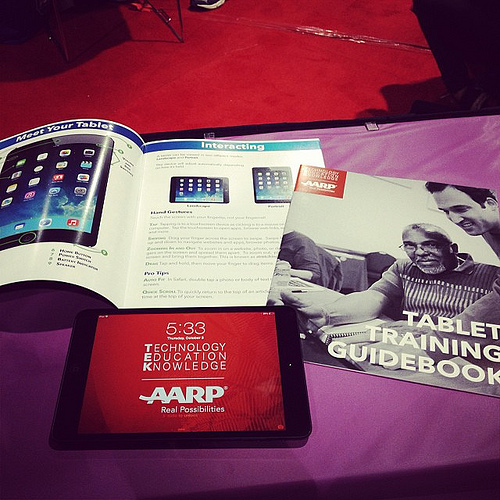 We've taken the show on the road and will be traveling Illinois with our AARP-TEK team doing these free hands on tablet workshops for about 50 people at a time.

Check out our current schedule and sign up for the AARP-Tek workshop nearest to you. These have been EXTREMELY popular. You will learn...

Touchscreen Basics
Apps
Texting
Photo Sharing
Video Chat

All participants will get hands on experience with devices as well as a free touchscreen stylus pen and take-home guidebook.
We look forward to seeing you at one of our technology classes soon. Please help us spread the word by sharing this blog post with your friends! If you have any questions about AARP and Technology you can email me at jbaier@aarp.org