Tennessee leaders are proud but not surprised that Pat Summitt, a legendary basketball coach and courageous Alzheimer's advocate, is being honored with AARP's national Andrus Award. The award was being presented to Summitt at a dinner in her honor Thursday night at the Newseum in Washington, D.C.
"AARP got it right in selecting Pat Summitt as the recipient of the 2012 AARP Andrus Award," said Gov. Bill Haslam. "Pat is a legitimate Tennessee hero. She is a hero not only for what she has done on the basketball court, but in how she is now taking on the challenge of winning the fight against Alzheimer's with fierce determination. We are all proud to have her as a Tennessean."
Summitt, who led the University of Tennessee Lady Vols to more than 1,000 victories during her 38-year career, retired at the end of the 2012 season after announcing her diagnosis of early onset Alzheimer's disease. She serves as Head Coach Emeritus of the Lady Vols.
"It's hard to think of anyone who has had a greater impact on his or her profession than Pat Summitt," said U.S. Sen. Bob Corker. "During her historic career at the University of Tennessee, Pat not only positively influenced the lives of the women she coached, she inspired people throughout the country. It comes as no surprise that Pat continues to impact the lives of families all across the country through her foundation. I know all Tennesseans join me in congratulating Coach Summitt on this honor."
AARP selected Summitt as this year's Andrus Award recipient for the work she has done through the Pat Summitt Foundation, which gives grants to nonprofits that perform cutting-edge research into the treatment and prevention of Alzheimer's disease and provide support services to patients, their families and their caregivers.
"Pat Summitt has become a part of the lives of so many Tennesseans, and we couldn't be prouder of her now, as she uses her trademark courage and generosity to help others through her Pat Summitt Foundation," said U.S. Sen. Lamar Alexander. "It's wonderful to know that people and organizations outside Tennessee can see what we see, and I congratulate Pat on receiving this honor."
U.S. Rep. John J. Duncan Jr. said "Pat Summitt is one of the most remarkable and courageous people I have ever known."
"Coach Summitt is the winningest coach in NCAA Basketball history and her teams won eight National Championships. Even more impressive is that her players had a 100% graduation rate, which speaks volumes about Coach Summitt's character and influence on the lives of young women. In her coaching career and now in her fight against Alzheimer's, Pat Summitt sets an inspiring example for all of us. Through her work with the Pat Summitt Foundation, she has and will continue to improve millions of lives. Pat Summitt is truly a great American and I have never been more proud to call her my friend."
Foundation Director Patrick Wade thanked AARP for honoring Summitt.
"Through the establishment of The Pat Summitt Foundation, Pat is continuing her high profile work on a different national stage, the fight against Alzheimer's disease. The AARP 2012 Andrus Award certainly validates her vision and leadership, and the importance of our mission," Wade said.
AARP Tennessee State Director Rebecca Kelly, who was attending the dinner in Summit's honor, said she is "thrilled that Coach Summitt is the 2012 recipient of the national AARP Andrus Award. She is a remarkable woman who has faced this life challenge as she has faced so many others: head on. Not only is her grace and courage in facing the diagnosis inspiration to people around the country, but she is truly helping make a difference through the work of the Pat Summitt Foundation."
Kelly and then-AARP Tennessee State President Margot Seay presented Summitt with an Inspire Award from AARP The Magazine at the coach's final home game in Knoxville earlier this year.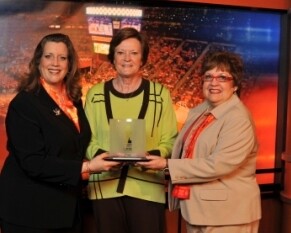 Seay, who is now AARP's National Volunteer Director, also was attending the dinner.
"We are so proud that a fellow Tennessean has won this prestigious award. I'm excited to be a part of the celebration. She has long been an inspiration to my friends, neighbors and family – especially my children and grandchildren!"
Past recipients of the Andrus Award include Maya Angelou, Tom Brokaw, Norman Lear and General Colin L. Powell.
"What an appropriate honor for a woman who is a legend in our community and beyond. Pat Summitt's generosity and leadership in helping those affected by Alzheimer's disease is unmatched. She is a great example of how one person can have a such a positive impact, and is so deserving of this award" said Knoxville Mayor Madeline Rogero.
Knox County Mayor Tim Burchett said his family has known Summitt's since before either of them was born.
"She comes from a very hardworking family, and that shows in her outstanding leadership ability," said Knox County Mayor Tim Burchett. "She is a great person and very deserving of this award, and, to her credit, many of her best qualities are reflected in her son, Tyler. She has had an amazing impact on this community and all of sports, and I am proud to call her my friend."
About AARP

AARP is a nonprofit, nonpartisan organization, with a membership of more than 37 million, that helps people 50+ have independence, choice and control in ways that are beneficial to them and society as a whole. AARP does not endorse candidates for public office or make contributions to either political campaigns or candidates. We produce AARP The Magazine, the definitive voice for Americans 50+ and the world's largest-circulation magazine; AARP Bulletin, the go-to news source for the 50+ audience; www.aarp.org ; AARP VIVA, a bilingual lifestyle multimedia platform addressing the interests and needs of Hispanic Americans; and national television and radio programming including My Generation and Inside E Street. The AARP Foundation is an affiliated charity that provides security, protection, and empowerment to older persons in need with support from thousands of volunteers, donors, and sponsors. AARP has staffed offices in all 50 states, the District of Columbia, Puerto Rico, and the U.S. Virgin Islands. Learn more at www.aarp.org .
About The Pat Summitt Foundation
The Pat Summitt Foundation, A Fund of East Tennessee Foundation, was established by Pat Summitt in November 2011. Dedicated to winning the fight against Alzheimer's disease, its mission as a grant-making foundation is to advance research for prevention and a cure; to provide hope, care, and critical support for patients, caregivers and families; and to educate the public on the impacts of Alzheimer's disease and the urgent need for a cure. Pat Summitt, her family and friends have chosen East Tennessee Foundation to receive and manage contributions to Pat's Fund, and to facilitate their grant-making in support of the mission. To learn more about the Foundation visit the website at www.patsummitt.org