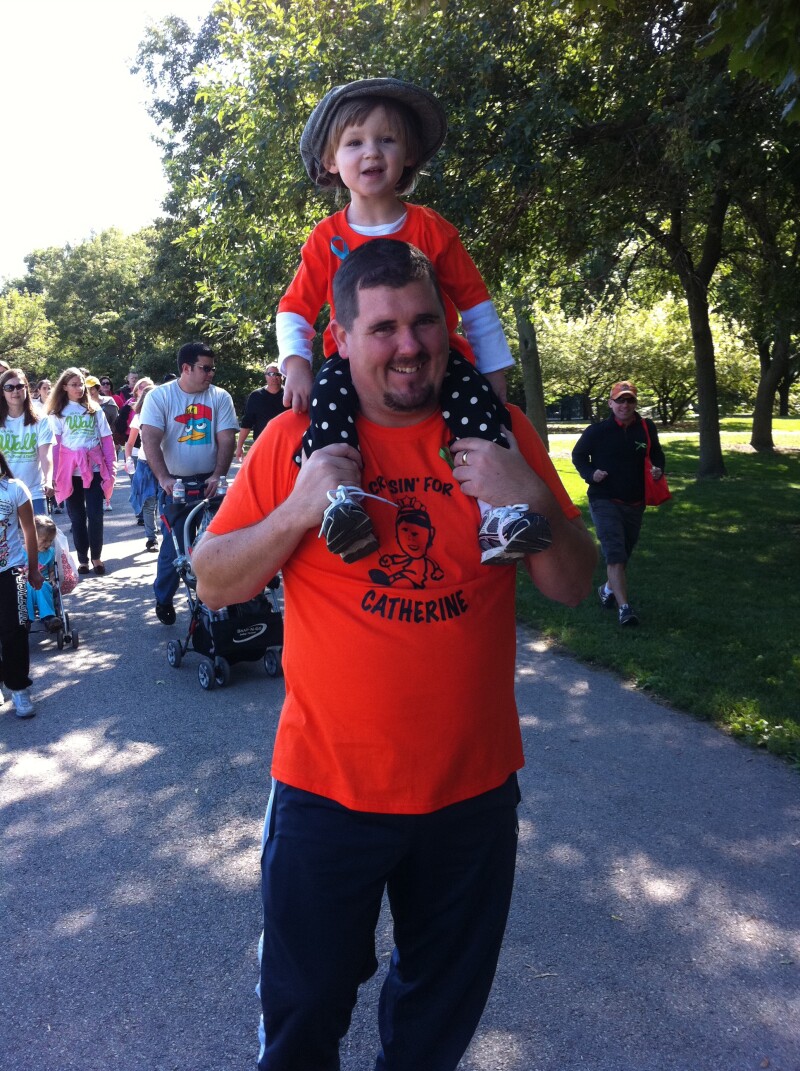 Hi it's AARP Illinois staffer Courtney Hedderman here to give you insight in caring for loved ones with food allergies. Bon appétit (pardon the pun)!
Who is a caregiver? By definition, a caregiver is "someone who is a family member or paid helper who regularly takes care of a child or a sick, elderly, or disabled person". Well, if that's the definition, then that's me.
I have three small children: Catherine 4, Nora 2, and Mary 13 months. I haven't really thought of myself as a caregiver - I'm just a mom taking care of my children. Most caregivers are just like me. They don't think about it, they just do what they have to do to help their loved one(s). Like most caregivers, I have a set of challenges I face. I have a child with special needs. My daughter, Catherine has life-threatening food allergies.
Four years ago I learned the hard way about food allergies. My beautiful newborn daughter began developing red marks on her face after she drank her bottle. Then she began throwing up while drinking her bottle. It wasn't long before she was diagnosed with food allergies: milk, eggs, wheat, and beef. Quite a life changer for two new parents! About a year ago, my husband Jim was diagnosed with food allergies as well; milk, eggs, and lettuce (yes – lettuce). He was deemed a medical mystery for about seven months while enduring massive stomach pains and spent many days and nights in the hospital before he was finally diagnosed with his allergies.
Living with food allergies has been a transition. Some days it feels manageable and other days it's cruel. I've made a lot of changes in our daily living. I now cook with different ingredients; scour food labels with a fine-toothed comb; label shelves with safe foods; and, just in case, carry life-saving medications everywhere we go. I can tell you that we live in a world where food is all around us. There is the obvious - food on a plate, in a cafeteria, and at restaurants. But there is also so much hidden food that we are unaware of – on our hands, our face, our lips, and even our clothes. And sometimes just minimal contact can severely harm someone with food allergies.
I have become an advocate for my daughter, my husband, and all individuals with food allergies. I've noticed how insensitive people are when it comes to food allergies (and I educate them). I've noticed how accepting some people are when it comes to food allergies (and I thank them). I've noticed that too many restaurants don't know what ingredients are in their food (and I'm working to change that too). We live in a world where research and education will drive the change I'm dreaming of for Catherine and Jim. But for now, I'm working on improving the education in our community and making this world a safer place for them. Isn't that what every caregiver would do? Absolutely.
For more information about food allergies, please go to:
http://healthtools.aarp.org/health/allergies/common-food-allergies
http://www.aarp.org/health/conditions-treatments/info-09-2010/mystery_allergy_strikes_adults.html