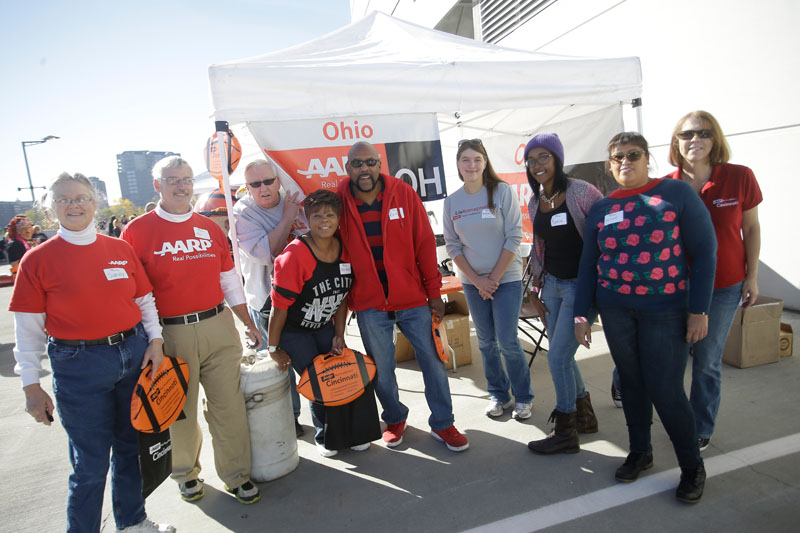 If you want to have fun and make a difference in your community, then volunteering with AARP may be your ticket to an exciting 2015. Your options are many, so we are hosting events where you can pick up information and explore the possibilities by talking with current volunteers over refreshments.
Watch this short video with AARP volunteer Melanie Moon - if you are from Cincinnati, you may recognize her from TV! - as she enthusiastically describes how you can rediscover Cincinnati as an AARP volunteer. Then register for one of our many scheduled volunteer information sessions to learn more.
Among the Real Possibilities you could choose to explore:
Becoming a Life Reimagined guide to help people of all ages, members and nonmembers in the greater Cincinnati area, discover what's next on their journey.
Delivering brief AARP Fraud Watch Network presentations on how to stay ahead of the newest tricks, spot the latest scams and avoid fraud
Joining with fellow members to create plans and staff AARP-sponsored social events in Cincinnati and Northern Kentucky, for example, the Rookwood Pottery tour, a Night at the Cincinnati Observatory and AARP's Movies for Grownups free screenings.
Raising your voice as an online activist who uses social media to spread the word on topics focusing on your health, wealth and personal fulfillment.
Reaching out to state and federal elected leaders to advocate on important issues through the AARP Advocacy Program.
You can get involved as little or as much as you like -- once, a few times, or specializing in specific roles. Learn more by attending one of theses volunteer information sessions in February and March:
Tuesday, Feb. 10 --  6 to 7:30 p.m., at the Holiday Inn Express & Suites, 301 Old Bank Road, Milford. Click the link to learn more and register.

Thursday, Feb. 12 --  6 to 7:30 p.m., at the Hilton Garden Inn, 5200 Natorp Blvd., Mason. Click the link to learn more and register.

Tuesday, Feb. 24 --  5 to 6:30 p.m., at the Anderson Library, 7450 State Road, Cincinnati. Click the link to learn more and register.

Monday, March 16 -- 6 to 7:30 p.m. at the Symmes Township Library, 11850 Enyart Road., Loveland. Clink the link to learn more and register.

Tuesday, March 17 -- 1 to 2:30 p.m. at the Comfort Suites, 1234 Omniplex Drive, Cincinnati. Clickthe link to learn more and register.

Tuesday, March 17 -- 6 to 7:30 p.m. at the Fairfield Lane Library, 1485 Corydale Drive, Fairfield. Click the link to learn more and register.

Wednesday, March 18 -- 6 to 7:30 p.m. at MidPointe Library West Chester, 9363 Centre Point Drive, West Chester. Click the link to register

Prospective volunteers can also email OHvolunteers@aarp.org or call 1-877-926-8300 toll-free for more information