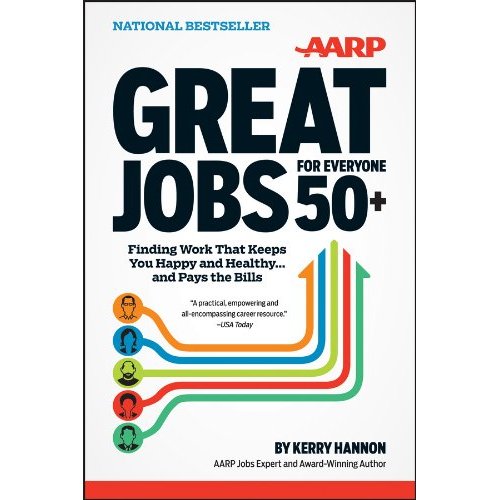 Kerry Hannon exudes the same vibrancy and energy that she says is key for boomers looking for work. It's easy to be inspired by her cheerful motivation, especially when she admits that there's nothing she likes better than seeing somebody who really loves their job.

The best-selling author will keynote AARP's inaugural Work@50+ event, taking place on Saturday, November 2nd at the Long Beach Convention Center. She'll share advice on how to find work that will support you intellectually, financially, and spiritually. The topic has been important to her since she wrote What's Next? Follow Your Passion and Find Your Dream Job, published in 2010.

In researching her book, she spent time talking to boomers around the country and meeting people over 50 who'd lost their jobs. "There was this palpable hunger to find out 'how do I get back into the job market?' All of a sudden they realized they were going for job interviews and the person on the other side of the table was seeing their expiration date. It was so frustrating," she says. She realized she could help address the issue, especially when AARP invited her to start writing a regular Great Jobs column.

The column, aimed at boomers, slowly evolved from Kerry mainly identifying opportunities for part-time or flexible work to also giving advice on how to get a full-time job or transition into a new career. Now the field is her passion. "It's all about giving people hope that yes, indeed, you can find work. It's a lot harder than you might have expected, but that doesn't mean you can't do it," she declares. Today she's AARP's jobs expert, offering guidance to boomers whether they're still in the workforce, looking for a job, starting a business, or seeking to recareer.

Register for Work@50+ to hear Kerry discuss how you can prepare professionally and financially to begin a career transition. The first 100 event attendees will receive a free copy of her newest book, Great Jobs for Everyone 50+: Finding Work That Keeps You Healthy and Happy…and Pays the Bills, a practical, empowering guide to finding personal and professional fulfillment. The book offers different types of jobs boomers can pursue, as well as focusing on strategies to get hired.

Want to read Kerry's columns before the event? Visit her website at kerryhannon.com or follow her on Twitter @kerryhannon.

Today's post is the second in our Work@50+ Wednesday series. Follow us on Facebook and Twitter to keep up to date on the latest in the series, as well as our events throughout the state. On Twitter, check out #workat50plus for the latest research and articles on the topic.