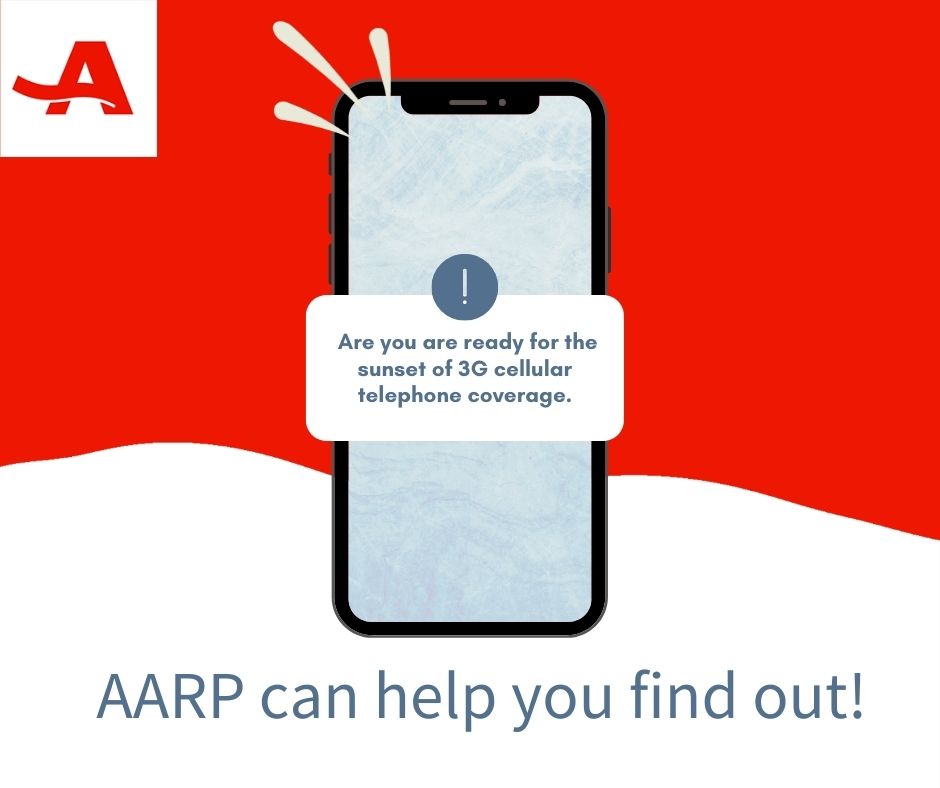 This year major wireless carriers will shut down their third generation (3G) networks, making older cell phones and devices, including home security and medical alert systems, useless. This will impact many older adults in Wyoming and millions across the country who use mobile phones from 2012 or earlier. As a result, people with devices that rely on 3G will no longer be able to make or receive calls and texts, including calls to 911, or use data service.

The major wireless carriers — AT&T, Verizon, and T-Mobile — will be retiring their 3G networks throughout 2022 and replacing them with faster and more efficient fifth generation (5G) networks.

"We are concerned about the potential negative impacts on Wyoming residents, especially those in rural areas where 3G provides critical coverage," said AARP Wyoming State Director Sam Shumway. "To reduce the risks to those affected, many of whom are older adults, any disruption resulting from the transition to 5G can and should be prevented."

The shutdown timeline varies by company. AT&T announced it will finish shutting down its 3G network on February 22. T-Mobile, which merged with Sprint, said it will be shutting down its 3G network between March 31—July 1, 2022, while Verizon announced it will retire 3G by December 31. Since discount providers such as Boost, Cricket, Straight Talk and others piggyback off the major carriers, users of these services will be impacted too.

Examples of phones that will stop working include the Apple iPhone 6 or earlier and the Samsung Galaxy S4 or earlier. The sunsetting of 3G affects far more than phones, however. Some older home security systems, medical devices, medical alert bracelets, vehicle SOS services, tablets, smartwatches, and other devices also are dependent on 3G.

Wyoming residents can contact their mobile providers directly and ask about their plans for 3G retirement. Carriers may offer discounts and special promotions on replacement devices and trade-ins may not be required. Wyomingites should also check with their home security and vehicle SOS system providers to discuss the transition. Wyomingites with a Personal Emergency Response System (PERS), commonly called a Medical-Alert, Life-Alert, or Fall Monitor, should contact the device manufacturer. Devices made before 2019 commonly operate on 3G networks and the need for upgrades to those devices should be evaluated as soon as possible.

The Federal Communication Commission's (FCC) Lifeline program aims to make communications services more affordable for low-income customers in Wyoming. The benefit doesn't cover the cost of a new device, but may help pay for phone and internet services.

###

About AARP

AARP is the nation's largest nonprofit, nonpartisan organization dedicated to empowering people 50 and older to choose how they live as they age. With a nationwide presence and nearly 38 million members, AARP strengthens communities and advocates for what matters most to families: health security, financial stability and personal fulfillment. AARP also produces the nation's largest circulation publications: AARP The Magazine and AARP Bulletin. To learn more, visit www.aarp.org, www.aarp.org/espanol or follow @AARP, @AARPenEspanol and @AARPadvocates, @AliadosAdelante on social media.