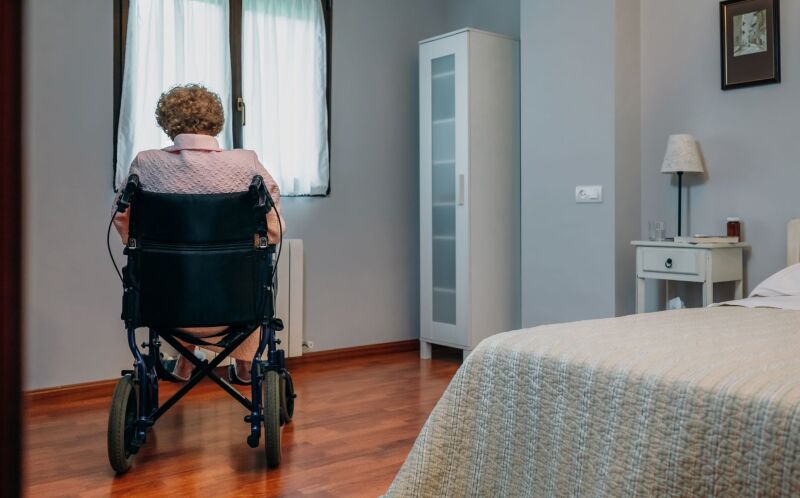 Staffing shortages in Wyoming's skilled nursing facilities continue to rise as COVID-19 becomes more prevalent, according to AARP's latest Nursing Home COVID-19 Dashboard, released on Nov. 12.

Statewide, 52.9 percent of nursing homes in Wyoming had a shortage of direct-care workers (nurses or aides) for the four-week period ending Oct. 18. That is up from 30 percent of skilled nursing facilities reporting a shortage of direct-care workers in the four-week period ending Sept. 20.

The dashboard also indicates an increase in COVID-19 cases among nursing home staff and residents, with 50 percent of nursing homes with confirmed staff cases just below the national average of 52 percent of nursing homes with confirmed cases.

The dashboard does offer a positive sign, that being the increase in PPE available at nursing facilities in Wyoming. While 26.5 percent of nursing homes reported less than a one-week supply of PPE over the four weeks ending Nov. 18, the trend of nursing homes without a one-week supply of PPE continues to go down.

AARP Wyoming State Director Sam Shumway points out the trends are alarming as nursing home residents continue to be the most vulnerable groups of citizens with more than 91,000 residents and staff of nursing homes having died. That is 40 percent of all COVID-19 fatalities in the US. On Monday, Wyoming Governor Mark Gordon released his proposed 2021 Supplemental Budget, which included a proposed $404,000 cut to the Senior Centers, which helps to support senior services at the local level. Shumway says that loss of funding could result in more residents turning to nursing homes.

"The trends are concerning and proposed cuts to the state's budget in the area of senior services have potential to put even more stress on our nursing homes," says AARP Wyoming State Director Sam Shumway. "When we cut funding to Senior Centers, which pays for congregate meals and home services, we push our citizens towards skilled nursing homes, which are disproportionately impacted by COVID-19 in both staffing and deaths."

AARP's Nursing Home COVID-19 dashboard looks at state-level impacts of the COVID-19 pandemic on nursing homes, residents, and staff in 5 categories. The dashboard currently captures impacts and trends from mid-summer through early fall and will be updated on a monthly basis to track these impacts over time. Data was analyzed by Scripps Gerontology Center at Miami University; additional analysis and dashboard preparation by the AARP Public Policy Institute.

This second dashboard aggregates and analyzes self-reported data from nursing homes available from the Centers for Medicare & Medicaid Services (CMS), covering three 4-week time intervals from mid-summer into fall:

July 23 to August 23
August 24 to September 20
September 21 to October 18
The dashboard is specific to nursing homes and contains 5 key measures:

Resident deaths per 100 residents
Resident cases per 100 residents
Staff cases per 100 residents
Percentage of nursing homes without a one-week supply of PPE
Percentage of nursing homes with staffing shortages
Key Findings nationally

The AARP Public Policy Institute is analyzing data and reporting on key findings as the dashboard is reported over time. For the second dashboard, these include:

At the national level, nursing-home resident COVID-19 deaths and cases and staff cases had been declining during the summer. In the last four weeks, this is no longer the case. The rate of nursing home deaths is no longer declining, and resident and staff cases have begun to tick upward. Community spread of the virus continues to rise rapidly throughout much of the country; these rising infection rates present a considerable risk to nursing homes, residents, and staff.
State trends vary dramatically; many states that had elevated death and infection rates in the summer have improved in the most recent four weeks ending October 18. However many other states – particularly in the Midwest – have rapidly increasing rates of deaths and cases in nursing homes.
Direct care staff continue to be infected at a very high rate. In the four weeks ending October 18, more than one-quarter (26%) of nursing homes had at least one confirmed COVID-19 case among residents, and twice as many (53%) had at least one confirmed staff case; in the hardest-hit state, more than 90% of nursing homes had staff test positive for the virus. Per 100 nursing home residents, there were 2.8 COVID-19 resident cases and 2.7 staff cases, corresponding to a total of more than 60,000 cases nationally, up from 55,000 the preceding four weeks.
In every state, nursing homes indicated a shortage of PPE (defined as not having a one-week supply of N95 masks, surgical masks, gowns, gloves, and eye protection during the last four weeks). Nationally, about one in five nursing homes (20%) had a PPE shortage during the four weeks ending October 18, a marginal improvement from 1 in 4 nursing homes during the previous month. In the highest performing state, 5% of nursing homes had a PPE shortage; in the lowest-performing state, 53% did not have a one-week supply.
AARP's Five Point Plan

AARP has called for the enactment of a 5-point plan to protect nursing-home and long-term care facility residents—and save lives—at the federal and state levels:

Prioritize regular and ongoing testing and adequate personal protective equipment (PPE) for residents and staff—as well as inspectors and any visitors.
Improve transparency focused on daily, public reporting of cases and deaths in facilities;
Communication with families about discharges and transfers; and accountability for state and federal funding that goes to facilities.
Ensure access to in-person visitation following federal and state guidelines for safety, and require continued access to virtual visitation for all residents.
Ensure quality care for residents through adequate staffing, oversight, and access to
in-person formal advocates, called long-term care Ombudsmen.